The Finnish Cultural Institute in New York is sponsoring Zero Waste Bistro, a pop-up restaurant concept inspired by Helsinki-based Restaurant Nolla, the first zero waste restaurant in the Nordic region, during this year's WantedDesign NYC. The Bistro is open for brunch and lunch during the run of the show, through May 22.
The installation is co-curated by designers Harri Koskinen and Linda Bergroth, and incorporates tableware and furniture from design icons Iittala, Artek, and pendant lights and stools from Alvar Aalto. The bistro is constructed from innovative new materials like Durat–a completely recyclable surface made from recycled plastics, and walls made from ReWall, a healthy, high performance building material made from upcycled plastics and industrial waste.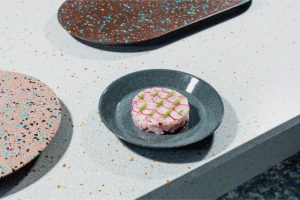 Chefs Luka Balac, Carlos Henriques, and Albert Franch Sunyer have worked at Michelin-starred establishments in Helsinki and beyond, and try to encourage zero waste ideas in the restaurant industry. By developing a circular economy and following the simple philosophy of refusing, reducing, reusing and (only as the last resource) recycling, the Nolla chefs are working to achieve a zero-waste model.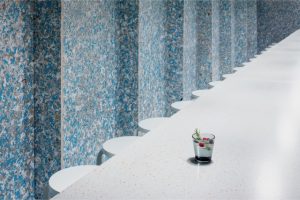 At Zero Waste Bistro in New York, the chefs are presenting a mouth-watering and  thought-provoking menu. "Our dishes are comprised of local and organic ingredients as well as commonly overlooked byproducts of the food system. With a strong focus on sustainability, our menu has emerged from creative thinking and the desire to produce something delicious and authentic out of local ingredients that are often ignored," says Chef Luka Balac. Cocktails for daily cocktail hours are by Kyrö Distillery, the world's northernmost distillery from the Finnish village of Isokyrö, and made with the award-winning Napue Rye Gin.
Zero Waste Bistro is open from Saturday May 19 through Tuesday May 22 at WantedDesign Manhattan. Due to limited capacity the Zero Waste brunch and lunch seatings must be pre-booked and prepaid online. To make a reservation, go to eventbrite.