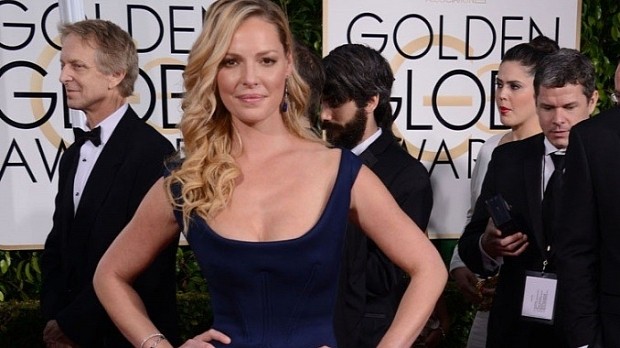 American designer Zac Posen made quite the impact on the red carpet at this year's Golden Globe Awards, with several stars stepping out in his designs.  With his bold color choices and stunning silhouettes, Zac Posen was the must have designer of the evening.  Here is a look at some of our favorite Posen pieces from the Golden Globes.
Lena Dunham in Zac Posen Spring-Summer 2015 Ruby Duchess High-Low Gown
Actress, producer, and writer Lena Dunham wowed in red at the Golden Globes in this demure Posen look.  The beautifully cut boat neck sits perfectly on Dunham's frame, and the asymmetrical hemline ads a bit of whimsy to the look, nodding to Dunham's youthful spirit and quirky style.
Katherine Heigl in Zac Posen Pre-Fall 2015 Admiral Blue Neoprene Gown
Katherine Heigl turned heads on the red carpet in this stunning navy blue Zac Posen gown.  The mermaid cut and tulip hem highlighted Heigl's feminine figure, giving her the perfect hourglass shape.  With minimal accessories, the gown was truly the focal point of Heigl's Golden Globe look.  Classic and refined, this is the look every woman strives for on the red carpet.
Rita Ora in Zac Posen Spring 2015 Ruby Red Crêpe Bonded Neoprene Architectural Gown
Rita Ora wowed in this gorgeous red Zac Posen mermaid gown.  The bold color and unique, rounded bodice fit the singer's signature edgy style, while the classic silhouette kept her looking elegant and refined.  Never has edge and elegance blended so seamlessly as they have in this fabulous frock.
Christine Baranski in Zac Posen Pre-Fall 2015 Burgundy Double Faced Crêpe Gown
Actress Christine Baranski looked marvelous in this beautiful burgundy gown.  The timeless silhouette complimented her figure perfectly and the cutout detailing along the neckline gives the gown a subtle modern flare.  Baranski is the embodiment of classic beauty in this classic gown.
While all designers were wonderfully represented on the red carpet, Zac Posen's designs truly stole the show at this year's Golden Globes.
– by Caitlyn Bahrenburg