On Wednesday, March 31st, don't miss the livestream of Ralph Pucci International 5th annual Jazz Set-The Lowdown: Conversations with Christian McBride, to benefit JAZZ HOUSE KiDS. Sponsors and VIP ticket holders enjoyed the virtual live performance with McBride and Wynton Marsalis on the 18th. All ticket proceeds from both events will benefit JAZZ HOUSE KiDS.
The exciting evening features McBride, a legendary bass virtuoso, composer and Artistic Director of the Newport Jazz Festival, with jazz icon Wynton Marsalis, trumpeter, composer and managing and artistic director of Jazz at Lincoln Center. The pair perform several numbers and talk about their influences and the importance of jazz in their lives and in the culture.
SUPPORT A WORTHY CAUSE
The livestream of this exciting evening will air on Wednesday, March 31. Tickets are available through the JAZZ HOUSE KiDS website. JAZZ HOUSE KiDS is an award-winning nonprofit that uses America's original musical art form – jazz – to transform lives by helping students gain an artistic edge through music, mentoring, education and leadership. Additionally, the JAZZ HOUSE builds tomorrow's community leaders and global citizens, and serves all students, regardless of their financial circumstances.
JAZZ ICONS WYNTON MARSALIS AND CHRISTIAN MCBRIDE
A native son of New Orleans, WYNTON MARSALIS met 14-year-old CHRISTIAN McBRIDE when he visited McBride's Philadelphia high school classroom. Today, they are two of the most influential musicians on the scene. They share a life-long passion for mentoring the next generation of young jazz musicians.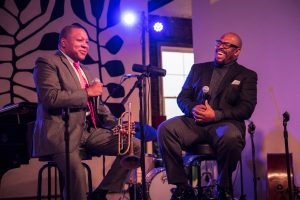 This year, McBride and Marsalis are backed by a quartet of talented young professional musicians. The young musicians – ZOE OBADIA on alto, JULIAN LEE on tenor, ISAIAH THOMPSON on piano, and ZACH ADLEMAN on drums – all started at the JAZZ HOUSE in middle school and continued through high school. A couple returned as teaching assistants at the JAZZ HOUSE Summer Workshop each year. All participate in special alumni projects.
Wynton Marsalis is a longtime supporter. "JAZZ HOUSE KiDS students consistently impress, not only because of their musical abilities, but also because of their focus, presence and commitment to quality," says Marsalis.  "[The organization] is doing more than educating musicians: they are developing cultural leaders – something we desperately need at this time."
This is the fifth year RALPH PUCCI has partnered with JAZZ HOUSE KiDS and its Artistic Director CHRISTIAN McBRIDE to turn the New York luxury furniture design gallery into a world-class jazz club. Pucci and McBride's past special guests have included Diana Krall, Laurie Anderson, John Pizzarelli and Esperanza Spalding. Says Pucci, "It's very simple. Jazz is the soundtrack."
Click here to purchase tickets to this exciting evening.
.