For the 11th year in a row, Veuve Clicquot welcomed more than 9,000 polo enthusiasts to Liberty State Park to kick off the summer season with its Veuve Clicquot Polo Classic. With stunning views of Manhattan and the Statue of Liberty serving as the backdrop, guests enjoyed an afternoon fête complete with a fast-paced polo match, stylish fashions and, of course, Veuve Clicquot champagne.
VEUVE CLICQUOT POLO CLASSIC GUESTS
Always a star-studded event, the Veuve Clicquot Polo Classic was attended by celebrities and friends of the brand including Penelope Cruz, Sienna Miller, Sam Rockwell, Freida Pinto, Laura Harrier, Darren Criss, Winnie Harlow, and many more.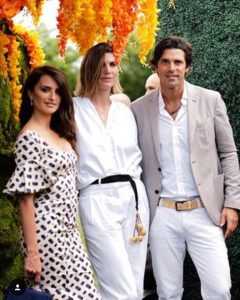 Once again, Veuve Clicquot proudly supported the Friends of Liberty State Park, an organization dedicated to keeping Liberty State Park a free, green, and non-commercial urban waterfront oasis. The park is only a stone's throw from the Statue of Liberty with sweeping views of the Manhattan skyline.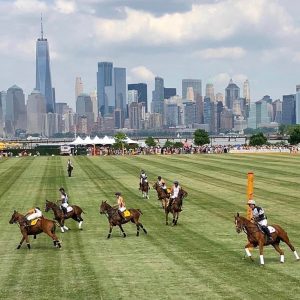 Actress and Broadway sensation Sutton Foster kicked off the day's festivities with her striking rendition of "The Star-Spangled Banner." The ceremonial ball toss thrown in by Winnie Harlow was a great start to the polo match, while Coco Rocha stomped divots in style during half-time. Castmates Darren Criss and Penelope Cruz caught up over glasses of Veuve Clicquot, and Sienna Miller enjoyed some mother-daughter time during the match with her date for the day, her Mom. Delfina Blaquier and Nacho Figueras made a great team both on and off the field, with Delfina being awarded MVP of the game and gifted a limited-edition timepiece from luxury watch brand Hublot.
Hublot served as the official timekeeper and scoreboard sponsor of the polo match, and also created eleven limited-edition timepieces named the Spirit of Big Bang. The watch includes two interchangeable straps—one in Veuve Clicquot Yellow alligator and the other in black alligator – and retails for $27,300 at the Hublot Fifth Avenue Boutique.
FRESH COCKTAILS, FOOD, AND FUN
In celebration of 2018 marking the 200th anniversary of Veuve Clicquot creating the world's first blended Rosé Champagne, Freida Pinto struck a pose as she cut into a Rosé-inspired cake in the VIP tent designed and created by Chef Stephanie Nas. Glasses were filled with Veuve Clicquot Rosé from large format magnums to perfectly top off this celebratory moment. The 200th-anniversary festivities continued in the Rosé Garden, an elevated consumer experience at the Veuve Clicquot Polo Classic. Here guests enjoyed glasses of Veuve Clicquot Rosé, gourmet lunch boxes, and premium views of the match from an exclusive and beautiful garden setting with open lounge seating.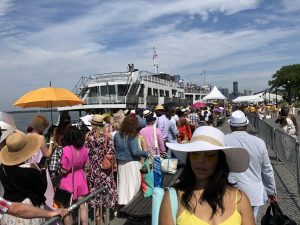 The 2018 VIP crowd consisted of Penelope Cruz, Sienna Miller, Sam Rockwell, Laura Harrier, Freida Pinto, Darren Criss, Winnie Harlow, Gayle King and more enjoyed the VIP tent with refreshing glasses of Champagne and shelter from the scorching sun, beneath elegant chandeliers mingling while taking in the afternoon's match.
Always a fan-favorite, guests sipped Veuve Clicquot Rich and Rich Rosé, the House's Champagne offerings. These are inspired by mixology and designed to be served over ice and mixed with fresh fruits, vegetables or herbs. The two specialty cocktails for this year's event were the Clicquot Rich Classic and Clicquot Rich Rosé Twist, which feature cucumber and lime, respectively.
As a complement to Veuve Clicquot Champagnes, guests enjoyed gourmet summer fare from some of the best food trucks in the city. These included Red Hook Lobster Pound, Neapolitan Express, Yankee Doodle Dandy's, Mobile Mardi Gras, Bona Bona, Carlitos Barbecue Taqueria, Gorilla Cheese, and more.
FASHION MOMENTS
Known as one of the most glamorous and stylish daytime events of the season, celebrities and guests at the event stepped out to enjoy the beautiful day in some of the summer's hottest styles. Sienna Miller and Winnie Harlow rocked the all-white trend, and Penelope Cruz donned a fitted polka dot Zac Posen dress. Guests donned breezy dresses, colorful suits, chic shorts, and iconic wide-brimmed summer hats; classic polo style. 
Off the polo field, Veuve Clicquot illuminated New York City with a second-annual lighting of the Empire State Building in the iconic hues of Veuve Clicquot Yellow and Rosé – a special nod to the 200th anniversary – on May 31. Veuve Clicquot's President & CEO Jean-Marc Gallot, US Vice President Aygline Pechdo, polo player Nacho Figueras, and the Empire State Building team gathered at the world-famous building for an honorary lighting ceremony. Nacho, atop a polo horse, flipped the official switch and gifted a signed polo ball to commemorate the event for years to come.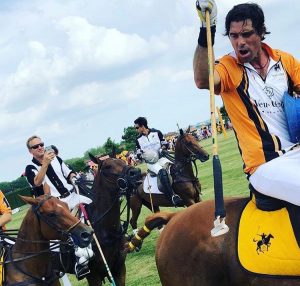 ABOUT VEUVE CLICQUOT
Since its creation in 1772, Veuve Clicquot played an instrumental role in establishing and evolving the champagne industry as we know it today. Located in Reims, France, Veuve Clicquot prides itself on using only the most distinct grapes reflecting Madame Clicquot's motto "only one quality, the finest." Now, more than 200 years later, Veuve Clicquot Champagne inspires the world to "Be Clicquot": modern, audacious and premium quality. For more information, please visit www.veuveclicquot.tumblr.com.