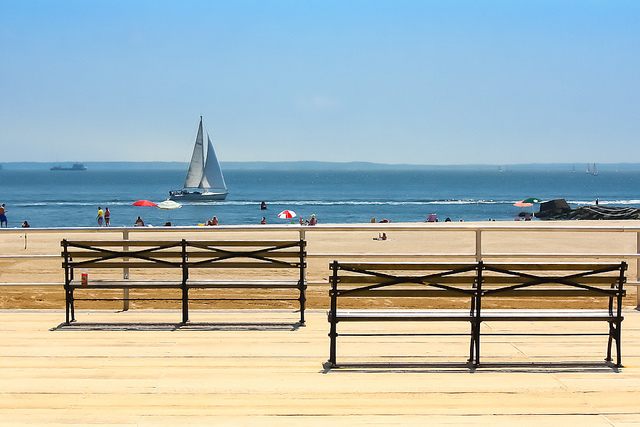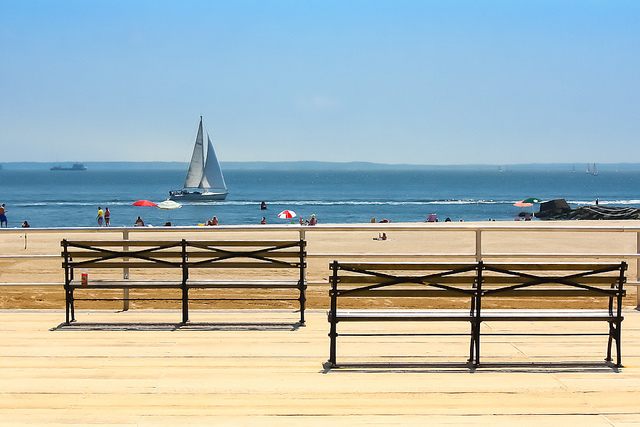 Image by: drpavloff
Cars honk, alarms sound, people chatter away…sometimes it's essential to escape the hustle and bustle of city living. Too busy for a full-length vacation? We understand. That's why we've chosen the top five beach hot-spots that are just a drive away from home. So pack your car and take your pick; come Monday you could be tanned, well-rested, and ready to get back to business!
Image by: Eric Wahlforss
1. Water Mill. The rolling hills of Water Mill are simply gorgeous. Green and lush, the grass grows around the array of astonishing mansions and deep blue Atlantic waters. It is a town rich in history just waiting to be uncovered. Take a stroll along the beach at Water Mill and be sure to check out the first watermill ever built in NY. It resides on a forty-acre lot, put there back in 1644 by Edward Howell. For dinner be sure to book your reservations at Robert's, ranked #1 restaurant in Water Mill on tripadvisor. Rustic yet elegant, Robert's Italian Cuisine is the perfect end to a relaxing day in Water Mill! Estimated Travel Time: 2 hours, 24 mins.
Image By: Ani Od Chai
2. Southampton. The beaches of Southampton are the perfect place to get back in touch with nature! The waterfront views are amazing, and make for the perfect place to spend the day in your boat. And for the weekend, treat yourself to some top-notch Bed and Breakfast at A Butler's Mansion. Famous for it's lovely furnishings and gourmet menu, A Butler's Mansion is a great place to come back to after a relaxed day in Southampton. And if you just need a place to sit down and enjoy a lunch or dinner, then come by Little Red and taste some American Cuisine in a laid-back environment. Estimated Travel Time: 2 hours, 17 mins.
Image By: Kazuko Oguma
3. Westhampton: Westhampton is your relaxation headquarters this summer! Wake up and grab one of Goldberg's famous bagels and coffee for breakfast before heading to spend a day on the beach…or out golfing and working on your tennis game. Either way, Goldberg's sandwiches and bagels are known by many to be the best – and totally worth the carbs! And the Westhampton Country Club features one of Long Island's most beautiful golf courses for any lovers of the sport. There's loads to do in Westhampton for the family with various hobbies! Estimated Travel Time: 2 hours, 7 mins.
Image By: Terry Ballard
4. Mill Neck. Mill Neck is the place to be if you want a weekend filled with scenic strolls and fine dining. If you've got furry friends to travel with, then be sure to treat them to a walk through Shu Swamp. This beautiful place of trees, water, and grasses is vibrant in the summer and rustic as the season changes to Fall. For some great dining experiences, check out the Heirloom Tavern or Wansuapona Musu (if you're in the mood for something a bit different!) Both places have earned great reviews and great reputations by providing customers with a quality experience, part of which being a fun yet romantic ambiance. Estimated Travel Time: 1 hour, 10 mins.
Image By: emilydickinsonridesabmx
5. Bridgehampton. Bridgehampton is the place to be for those in the pursuit of great style and great seafood. Stop for a bite at Almond, a quaint place with stylish decor and quality French cooking. Almond offers guests all foods from Escargot to Mussels and other savory dishes. And if you've got the time and Bridgehampton has peaked your interest, then educate yourself! The history of all of the Hamptons is so rich and ready to be discovered by you and your family. Stop by the Bridgehampton Museum if you ever get yourself off the beach and delve into centuries of hidden treasures on Long Island. Estimated Travel Time: 2 hours, 30 mins.
-Kelly Fleming