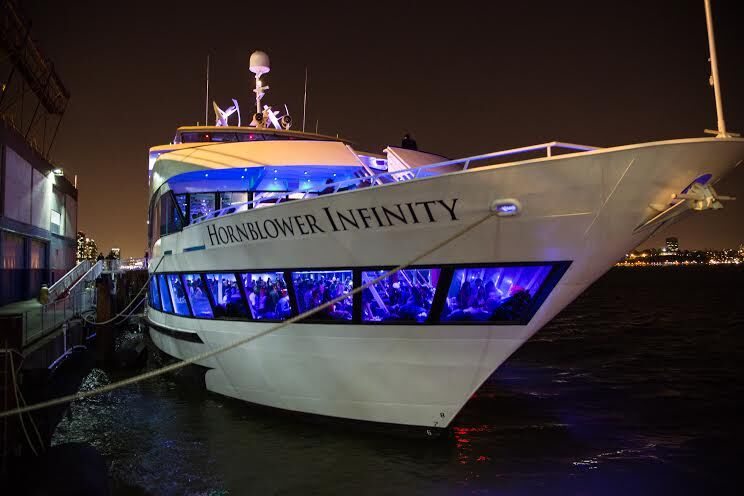 When the cold winter weather is upon us, the likelihood of a New York City getting on a boat is pretty slim. Unless it's a cruise to escape New York City. But The Village Voice is to rescue of those looking to get out on the water while having themselves some cultured fun. Enter The Village Voice's 3rd Annual Holiday Spirits Cocktail Cruise, taking place on Thursday, Nov. 19.
Running from 6 p.m. to 10 p.m. – and leaving port at 8 p.m. — the Holiday Spirits Cocktail Cruise leaves from Pier 40 at West Houston Street. Hosted on the Hornblower Cruises' Infinity Yacht, nearly 30 distilleries and wineries will be on-board and ready to serve. Beyond unlimited sampling of those brands, cruise-goers will also be treated to live music, a buffet dinner, and a souvenir tasting glass for their $55 ticket. A select number of guests will have access to a VIP deck and take home a VIP gift bag in exchange for $70.
In advance of the Nov. 19 sail date, I had the opportunity to talk to Rosemary R. Jorda, Village Voice Marketing & Events Director, and her Marketing & Events Manager counterpart Christina Pettit. Separate from Rosemary and Christina, I also conducted Q&A with Colin Spoelman, the Co-Founder and Master Distiller of the Kings County Distillery, one of the award-winning vendors that attendees will be able to sample from. Ultimately, the three interview subjects all came across with tremendous enthusiasm.
For further information on this event – including the non-profit organization that it benefits – click over to http://www.villagevoice.com/holidayspirits. Christina also provided information on the next event being put on by the Voice, which will happen in March 2016.
Rosemary R. Jorda: The Village Voice Holiday Spirits event features 25+ of NYC and beyond's best distilleries, wineries and more aboard Hornblower Cruise's Infinity Yacht. At the event, you can sip on Van Brunt Stillhouse's whiskey, taste Brooklyn Winery's Chardonnay and imbibe on dozens of signature cocktails, in addition to enjoying a complimentary dinner buffet and music all evening from a live salsa band and DJ Tim Martell. The event's nightcap is an evening sail around the New York Harbor. Where else in New York can you meet local artisanal distillers while sailing past the Statue of Liberty?
This year is the third edition of the cruise. How does what's planned for it compare to the last two years?
Christina Pettit: This year's Village Voice Holiday Spirits event will feature many new distilleries on the New York scene, including Kings County Distillery — who won "Best Local Distillery" in our Best of NYC 2015 issue and is NYC's oldest operating whiskey distillery — Queens Courage Gin from Astoria; Port Morris Distillery from the Bronx, Denning's Point Distillery from Beacon, Iron Smoke Distillery from upstate Fairport; and Sag Harbor Rum from the eastern end of Long Island. The event also features spirits beyond New York, such as Hood River Distillers from Oregon. We've expanded this year's event to feature a more extensive dinner for all guests, our first ever live salsa band in the Rums of Puerto Rico Lounge where you can shake your tail feather, and a longer New York Harbor sail around Manhattan.
What is the criteria for a vendor that wants to exhibit on a future Holiday Spirits cruise?
R: We curate the Holiday Spirits event by inviting local distilleries and wineries that are focused on creating artisanal and unique spirits within New York City. We also extend invites to some of our favorites beyond New York City as well and always welcome distillers who are passionate about their craft that want to reach New York City's cocktail and drink connoisseurs. It's important to us each year to change the lineup and introduce our guests to new flavors in the spirits world, as well as bring back some returning event favorites.
For those who like great spirits but fear seasickness, do you have any advice to pass along?
C: The Hornblower Infinity is a beautiful, large yacht and they are the experts at party sailing and making sure all guests have a great, safe time. Our Holiday Spirits attendees are usually rocking to the music instead of rocking on the boat so it's easy to forget that you're sailing! The event starts at 6 p.m. and will sail at 8 p.m. sharp.
How did Lifebeat wind up getting involved with the Holiday Spirits event? 
R: All Village Voice events give back to the community. This is our second year partnering with Lifebeat, Music Fights HIV/AIDS. They are the leading national nonprofit dedicated to educating America's youth — ages 13-29 — on HIV and STD awareness and prevention. We support their mission and dedication and like to partner with them to raise awareness amongst our event attendees and readers.
Once this event is over with, which other Village Voice events are on your agenda? 
C: Our 9th annual Choice Eats Tasting Event is right around the corner on Friday, March 11 at Metropolitan Pavilion [125 West 18th St.]. This event is a testament to our extensive and unparalleled restaurant reviews featured in The Village Voice. You can find 50+ restaurants, sweets, craft beer, liquor and wine under one roof — save the date, and your appetite! Sign up for our Dining Newsletter to receive a presale code when tickets go-on sale in January at www.villagevoice.com/choiceeats.
Finally, Rosemary, any last words for the kids? 
R: The Village Voice Holiday Spirits cocktail cruise is the perfect way to kick off and toast the upcoming holiday season. Where else can you sample 25+ of the hottest distillers, wineries and more plus enjoying a full dinner, dancing and dazzling sites of a NY Harbor Cruise? If you're looking for a girls' night out, date night or a fun time with friends, this is a not-to-miss event! See you on Thursday, Nov. 19 at Holiday Spirits! Cheers to the holiday season – don't miss the boat – snag tickets now at www.villagevoice.com/holidayspirits.
And per my Q&A with one of the vendors, Colin Spoelman of Kings County Distillery:
When it came time to naming your distillery, what brought the decision to say "Kings County" instead of "Brooklyn" in the name?
Colin Spoelman: It's funny, eight years ago, when the idea first came up, no one knew that Brooklyn was Kings County unless you went to the hospital, paid taxes, or had jury duty in Brooklyn. Now that Brooklyn is a fairly well-tread topic in journalism, it's a too-frequent synonym for the borough but it wasn't always that way. For us, it was a way to suggest the older history of Brooklyn, when distilleries were more common here, and rural associations that people have for distilling. We were aiming to make whiskey for our neighbors, so it was aimed at insiders, though I guess, there are a lot more insiders now.
Rumor has it that your distillery was the smallest commercial distillery in the United States, yet your bourbon was recently named #2 craft bourbon by Eric Asimov of the New York Times. Was an honor like that surprising?
C: It was very surprising but also very gratifying. People assume that age is the only criteria that makes good whiskey. So for our bourbon and other younger spirits to do so well, from a respected source, I think [it] was vindication that focusing on better ingredients, lower yields, and better distillation could have as much impact on the finished spirit as a longer aging process. But I'm grateful to our supporters who appreciated us from the outset, tasted early on that we were different and interesting. We began making whiskey very consciously different from what is done in Kentucky, even if our respect for the tradition is very strong. I think knowing and appreciating the tradition and being selective about which values matter is what makes is possible to have so many great whiskeys in the world.
Is Kings County Distillery the first spirit you've worked with?
C: Yes, and I don't think I would work for or with any other. The distillery is really a group of people who love whiskey and to me, our whiskey is really a reflection of the people that make it, so coming into another brand that I hadn't been a part of would be hard. That's why we don't source whiskey from other producers. This is really a collaboration between many different hands, but everyone has very high standards and feels very invested in making great whiskey that is really personal to all of us.
What is the greatest part of your job?
C: Every barrel is a mystery. After letting whiskey age for two, three, and now we have some four-year barrels, there's a lot yet to discover as we — and our whiskeys — mature. Cracking a barrel is opening a time capsule, and you never quite know what you are going to get, though it's almost always good and interesting.
For attendees of the Holiday Spirits cruise, what should be expected from your company? 
C: We are going to pour our moonshine, bourbon, and the popular — and controversial — chocolate whiskey, so people should look out for that. It's bitter, dark, and unusual.
Are tours and/or tastings offered at your distillery?
C: We have tours every Saturday from 1 p.m. to 3:45 p.m. and on Wednesdays and Fridays at 3 p.m. Over the summer, we had a popup tasting garden where people could buy cocktails and flights. So we are working on making that a permanent offering.
Aside from the distillery, what is your favorite way to spend a non-working day?
C: I like to be outside as much as possible, that's pretty much the only criteria. I also like to tour other distilleries, so any opportunity to do that is fun.
Finally, any last words for the kids?
C: All alcohol is bad for you, but some alcohol is less bad than others.
-by Darren Paltrowitz