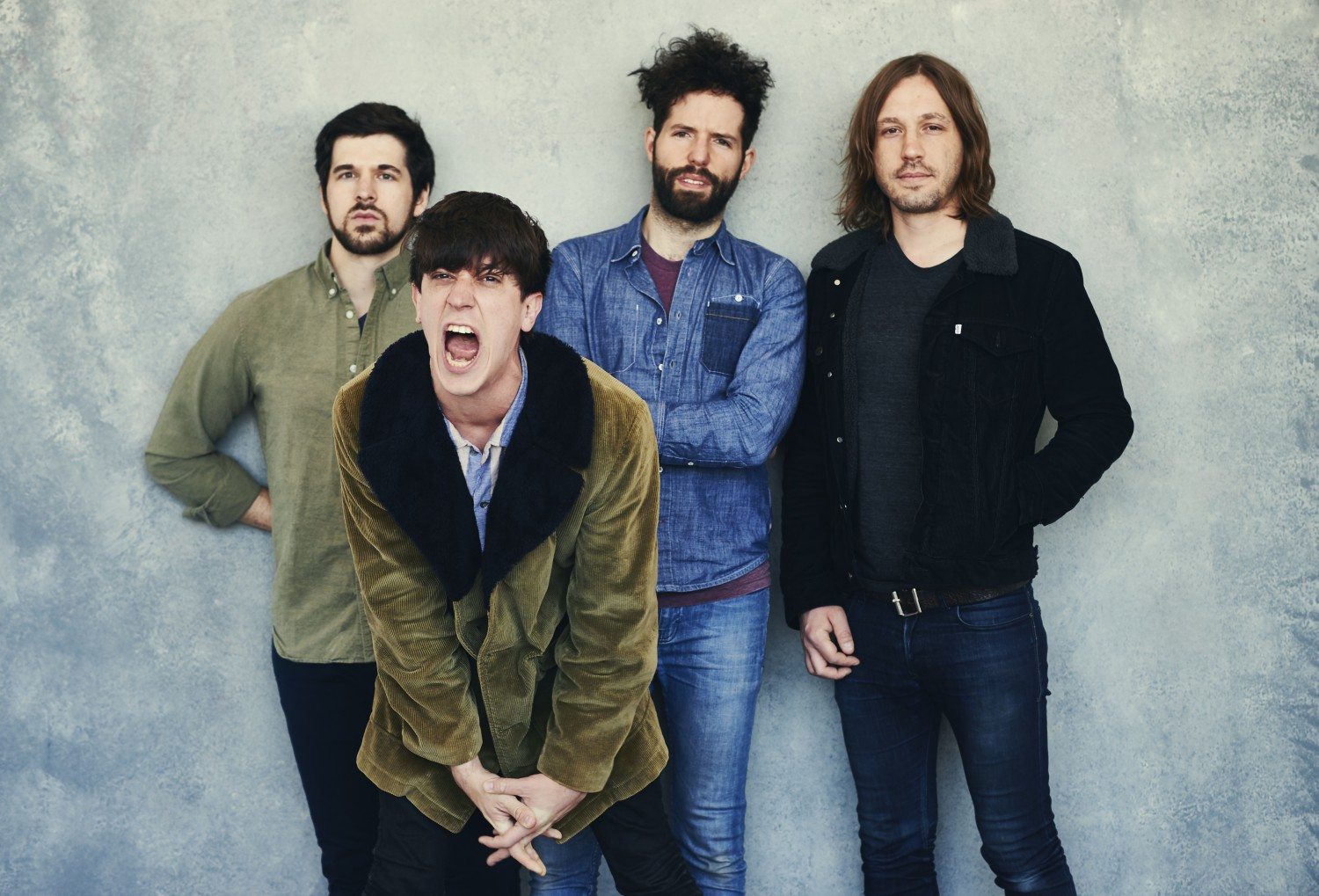 Now into its eighth year as a band, The Kickback is a Chicago-based quartet with fans at Nerdist, The Huffington Post, Rolling Stone, and Consequence Of Sound. In spite of the group's extensive press clippings and its strong reputation as a touring band, The Kickback has only released one full-length album. And that was 2015's Sorry All Over The Place, as produced by Spoon drummer Jim Eno; Jim has helmed recent studio recordings by Future Islands, The Preatures, Wild Cub, and Alejandro Escovedo.
In support of Sorry All Over The Place, The Kickback – which features singer Billy Yost, guitarist Jonny Ifergan, bassist Eamonn Donnelly, and drummer Ryan Farnham – has a pair of downtown New York City gigs coming up: Feb. 26 at Bowery Electric and Feb. 27 at The Mercury Lounge. Billy tackled some questions for Downtown, offering some great anecdotes within the Q&A. In retrospect, I should have asked what it was like playing live support for the Manic Street Preachers.
For more information on The Kickback, click on over to http://www.thekickbackband.com. For those seeking some comedy from the band, its members host a long-running podcast, Disastour, as found on Podbean: http://thekickback.podbean.com.
How would you describe The Kickback to someone who's never heard the band before?
Billy Yost: Dance music for people going through some real shit. With three-part harmony.
How did you first encounter Jim? Was he the only candidate to produce your latest album?
B: Spoon is one of my favorite things on the planet, and their drum sounds make my particular world go 'round. We tracked down what we assumed was a fake e-mail and laughed about the prospect of hearing back from him. He wrote back and was into the stuff. It was bizarre and affirming and we wound up working together. We had spoken to quite a few people before, but when Jim Eno says, "Let's make a record," you get your ass to Austin.
Most people easily remember where they were when major life events occur. Do you remember where you were when you found out that Greg Dulli was a fan of yours?
B: I was lying in a bed in an AirBnB in San Diego trying to understand how this guy would have heard our song. It doesn't really occur to you that really cool people also occasionally spend time on the Internet. It's not just you and the comments section of the AV Club.
Dulli aside, is there a particular musician that made you want to pick up an instrument for the same time?
B: For better or worse, Blink-182 was really what made me want to play an instrument. I could learn their songs on bass and then guitar pretty quickly, and it was really encouraging to be able to learn an album's worth of songs a week after learning what a power chord was. They made playing music make sense to me. And as Tom DeLonge appears to have completely lost his mind, I think I'm going to have to hire what he thinks are aliens to sky-write "Thank You" above his home for it to really register.
You have two gigs happening downtown in New York later this month. What do you remember about the first gig you ever played in New York?
B: We were traveling as a five-piece at the time and the club had this massive piano onstage that we had to work around and was not ours. They told us we had five minutes to set up. I'll never forget our keyboard guy just sort of looking at his collection of stuff to set up and then just sitting down, reserved in the knowledge that there was no way it was going to happen. He just sort of looked off into space, his mind somewhere in Bermuda.
As a Chicago resident, I figured I'd ask: is there anything that you feel New Yorkers do better than residents of Chicago?
B: I'm sure there are a number of things, but until someone lets me onto the Sesame Street set in Queens, I refuse to say another word.
When you're not busy with the band, how do you like to spend your free time?
B: Eamonn is a soccer fanatic, Jonny is a home-brewer, Ryan DJs around Chicago, and I'm usually either trying to get my home demos to sound better, or expressing frustration to someone about not being able to get my home demos to sound better.
Is there something that you wish more people knew about The Kickback?
B: We're really into injecting code words into interviews, but would never think of doing it here.
Finally, Billy, any last words for the kids?
B: The dog cries at midnight but not if the tree barks first.
-by Darren Paltrowitz