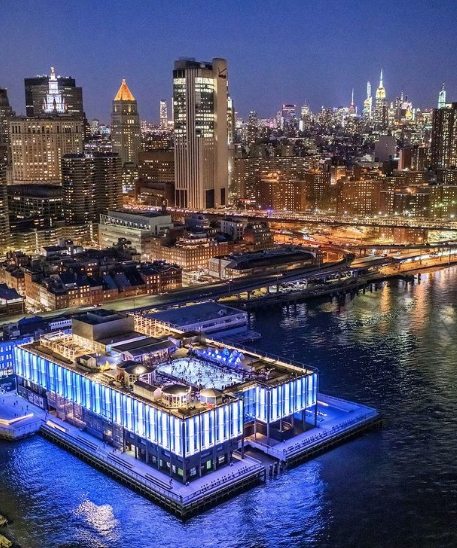 Pier 17's socially distanced rooftop restaurant gives back to six charities with a reservation initiative supporting local communities
There is nothing else like this incredibly well-thought-out rooftop in New York City. Leave it to Saul Scherl and his team to come up with just what we needed, but didn't know it.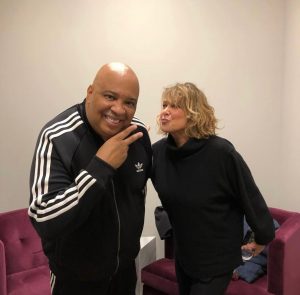 "The first time we experienced the Rooftop at Pier 17, was their first winter when they created a winter wonderland on a rooftop! I never imagined ice skating above the city with views overlooking not just our extraordinary city but New York's remarkable historical waterways. After skating we were invited to a live concert with no other than Rapper Run DMC's iconic rapper Joseph "Reverend Run" and DJ Ruckus. They brought the house down, "old school baby". Deb Martin our Editor in Cheif, and I, ice-skated followed by dancing into the night. Howard Hughes Seaport knows how to throw a party, and entertain New York City. We are so very proud to support Saul Scherl, Pier 17, his talented, creative team, and all that they do for our city, " Grace A. Capobianco Founder/Publisher Downtown Magazine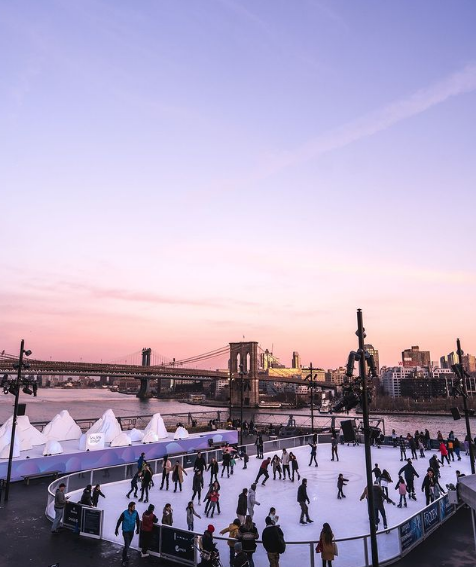 Last August at the Seaport District, The Howard Hughes Corporation® launched The Greens, the customized, socially distanced restaurant on The Rooftop at Pier 17®. The Greens was designed in response to the pandemic to provide New Yorkers and local travelers with a safe outdoor dining experience when times were toughest. Since its onset, The Greens has continued to raise donations for local charities by setting aside $1 – $5 of each party's reservation fee for a collective donation given to select beneficiaries.  
The tremendous popularity of The Green's original rooftop mini lawns during last year's summer and fall months resulted in Howard Hughes donating $20,525 to The Bowery Mission in October 2020. Heading into the winter and holiday season, The Greens transformed into a series of alpine mountain-inspired cabins in order to continue to provide New Yorkers with a seasonal dining experience during colder months. Increased donation amounts for each cabin reservation helped support a different charitable organization each month and drive an overall larger donation within the winter 2020-2021 season.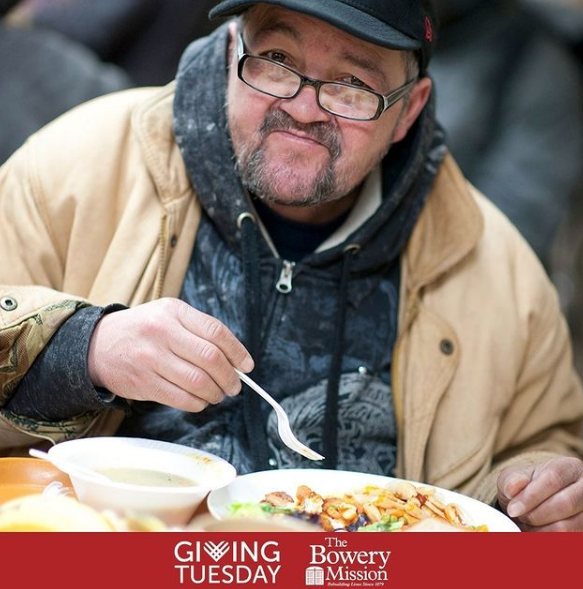 "Our introduction of The Greens this past year at the Seaport District has enabled New Yorkers to safely come together and continue to enjoy a unique waterfront dining experience while supporting the social fabric of our community, including those underserved and impacted by Covid-19," said Saul Scherl, President of the New York Tri-State Region, The Howard Hughes Corporation®. "It is essential that we do our part to make sure that Lower Manhattan continues to thrive as we emerge from the pandemic."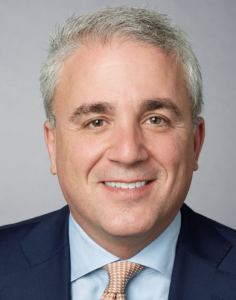 In the winter 2020-2021 season, The Greens has donated $82,970 to several community recipients including Henry Street Settlement and Girl Scouts of Greater New York, Troop 6000, both of which provide shelter focused services for youth and adults across New York; ROAR: Relief Opportunities for All Restaurants, an organization in partnership with Robin Hood foundation supplying financial aid to unemployed NYC restaurant workers due to the pandemic, Futures & Options, a youth and career service mentor program supporting underserved youth, and Vision Urbana, a group that provides home-delivered pantry support to the elderly across the Lower East Side.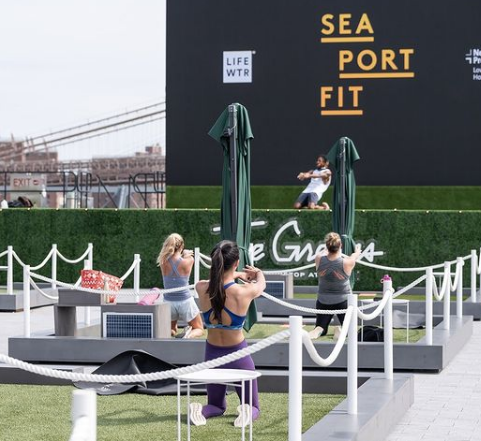 "We are beyond grateful to The Greens for its support of Futures & Options! Each dollar of every donation helps provide our city's underserved minority youth with the career-readiness training they need to compete for and succeed in jobs." Said Patty Machir, Executive Director of Futures & Options. "By supporting our programming, we can make a lasting impact on economic and racial equity in the workforce, and businesses can connect to a pipeline of diverse, promising, motivated young talent that impacts their efforts to engage a more diverse environment and develop the leaders of tomorrow." 
 The Greens will continue its give-back initiative during the upcoming spring/summer 2021 season.   
The Rooftop at Pier 17 – New York City's premier, open-air, multipurpose venue set against panoramic views of the Brooklyn Bridge and the iconic Lower Manhattan skyline. Operated by The Howard Hughes Corporation®, the 1.5-acre rooftop located within the revitalized Seaport District serves as a year-round community amenity and cultural event space accommodating a wide array of programmings such as live music, culinary experiences, movie nights, fitness classes, and more.  
Home to the Summer Concert Series and Winterland Rink, NYC's first open-air rooftop ice-skating venue, The Rooftop has served as a renowned entertainment destination for Lower Manhattan and five neighboring boroughs since its 2018 debut. In partnership with exclusive booking partner Live Nation Entertainment, Inc., The Rooftop at Pier 17 has been awarded such industry honors as "2018 Best New Concert Venue" by Pollstar and recently "Club All-Star" by VenuesNow. 
Summer 2020 when the live entertainment industry went on hiatus due to the global health crisis, The Rooftop responded by transforming itself into "The Greens" – the ultimate outdoor dining retreat custom-designed for seamless social distancing featuring bookable personal mini lawns and cabins. 
When we say don't walk but run to the South Street Seaport, we mean it. Your purchases count!
Giving back always feels better in the long run, than spending on things you may not need.
Please visit TheGreens.Pier17NY.com for opening dates and reservations.