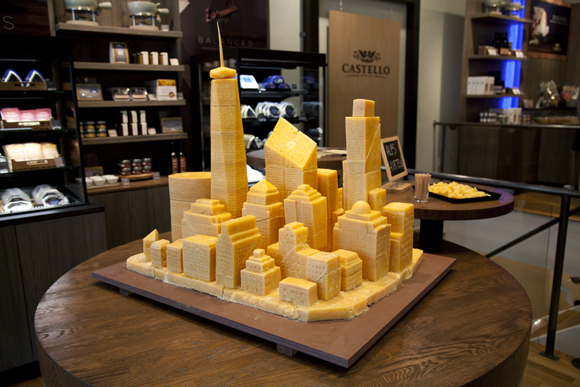 [slideshow_deploy id='46169′]
Castello® cheese, maker of creatively crafted cheese, opened a New York Pop-up Store offering consumers a unique culinary journey through the world of specialty cheese on Wednesday night. DOWNTOWN Magazine's Lifestyle and Family Editor, Denise Courter, was invited to this unique culinary destination in SoHo.
Chef Michael Symon, James Beard Foundation award-winning chef, restaurateur, television personality and author, was on hand as the Castello® cheese ambassador and did not disappoint. He shared his knowledge of cheese, cooking, love for Castello® and was incredibly engaging with the audience. A former resident of SoHo, the Chef was genuinely excited to be in the neighborhood since he loves the vibrancy of SoHo, in addition to the fact that there is a lot of foot traffic and he knows that people are excited to try new things. As Chef Symon said, "Cheese is an instant party".
Also introduced was the Castello® "Cheesemonger Challenge" which offers guests the opportunity to test their cheese knowledge and sample some amazing cheeses. Other invited guests included  renowned food artist Jim Victor and his wife Marie Pelon, who have been working together since 2001. Together, they created a three hand-carved sculpture entirely out of Castello® Alps Selection Hirten cheese. Victor will transform the cheese into works of art, including sculptures of the famous New York skyline, Times Square and the Brooklyn Bridge. The first sculpture was unveiled on May 14, with additional sculptures carved live, in-store June 4-6 (Times Square sculpture) and the Brooklyn Bridge sculpture will be carved in-store on June 18-20. New Yorkers are invited to experience this great retail location to sample and purchase cheese and related products.
The New York Pop-Up Store will also be offering free mini-seminars that will focus on the art of the perfect cheeseboard, using Castello® cheese and various food and serving items available for purchase in the shop. Attendees will also learn how to select the right accompaniment to enhance the flavor of each kind of cheese. The class will be offered on various dates over the next several weeks. They will also be offering a free mini-seminar that will discuss the topic of entertaining with cheese. Attendees will learn which knives to use, how to cut and serve cheeses, when to take cheeses out of the refrigerator, how to store them after a party and more. Other classes and seminars will be offered through July 6, 2014.
The Castello® New York Pop Up Store is located at 462 West Broadway, New York City (SoHo).
–Denise Courter, Lifestyle and Family Editor and Founder of FiDi Families.