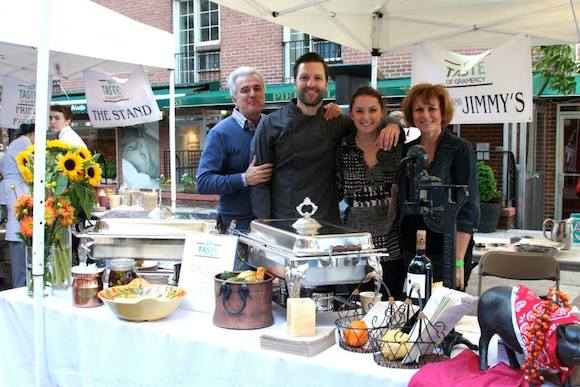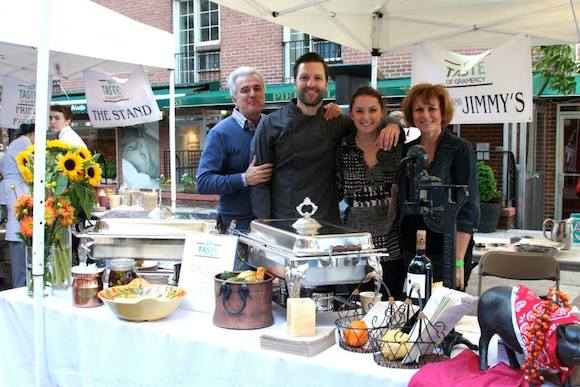 A shot from last year's Taste of Gramercy Neighborhood. Credit: Gramercy Neighborhood Associates
This Saturday the Gramercy Neighborhood Association will be holding its Second Annual Taste of Gramercy Neighborhood event on Irving Place. The event was originally started to assist local businesses and introduce residents of New York City to all the wonderful food options Gramercy has to offer. Last year's event was such a hit they decided to make it a regular event. With over 500 tickets sold and 20 participating restaurants, the net proceeds were donated to benefit local schools and the leftover food from the event went to feed the homeless that day in NYC.
So lets help make this year an even bigger success! The Taste of Gramercy Neighborhood event, in addition to raising awareness about local dining options and bolstering a sense of community in the area, raises money to help local schools, PS 40 and School of the Future, implement healthier lunch programs for students. Similar to last year, whatever food is leftover from the event will be distributed to the homeless via the Bowery Mission.
The purchase of a ticket for the "TOGN" event costs between thirty and sixty dollars and allows you six tastings of your choice! This year, participating restaurants include 71 Irving Place Coffee & Tea Bar, Barbounia, Bedford Cheese Shop, Big Daddy's, Breads Bakery, Casa Mono & Bar Jamon, City Crab & Seafood Company, Duke's, Friend of a Farmer, Go Burger Truck, Ichabod's, La Follia Osteria, Little Town, Paul & Jimmy's, Pete's Tavern, Ponty Bistro, The Strand and more! With this all-star list of restaurants there will be food that satisfies all different tastes, and no one will leave unsatisfied.
So grab your ticket and head out this Saturday the 13th to Irving Place between 17th and 18th Street from 11am-3pm to sample some delicious foods and support your local schools and businesses! See you there!
-Lauren Price