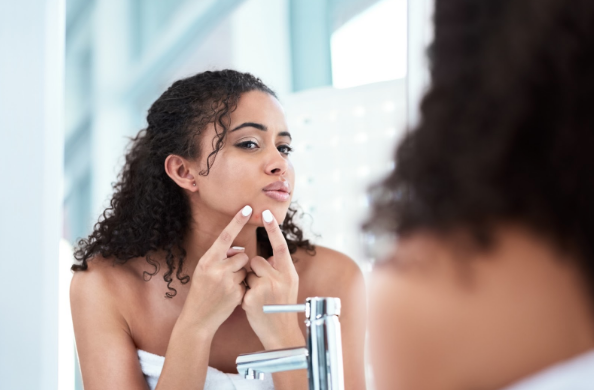 Usually, acne makes us turn to synthetic tonics and chemical cocktails, which can irritate skin and even make the problem worse. But when it comes to a natural and more gentle alternative, CBD oil is taking the world by storm these days. Here we'll talk about what exactly CBD is and explain how CBD oil can help people that are subjected to acne.
What is CBD & how can it help with acne?
CBD (the short name for cannabidiol) is one of the 100-something cannabinoids in the cannabis plant alongside CBN, CBC, CBG, THC, and others. And while THC is infamous for the "high" effect, CBD is considered a non-psychoactive and non-addictive substance, making it safe for intake. 
CBD products are made by mixing the oil with a carrier oil (for example, olive oil or MCT oil) and generally don't contain THC (check isolated or broad-spectrum), although some legally accepted amounts can be present in products.
CBD oil for acne
Apart from anecdotal, there is scientific evidence that CBD can help with acne. According to the Journal of Clinical Investigation, Cannabidiol can behave like a highly effective sebostatic agent. These findings suggest that due to the double effect — Antiproliferative and anti-inflammatory — CBD has visible potential as a strong therapeutic agent that can be used in the treatment of Acne – Vulgaris. If this wording seems too complicated, let's make it a bit simpler. CBD oil may help relieve different types of acne due to its anti-inflammatory properties and the ability to adjust the amount of sebum your body creates.
How should you use CBD oil for acne?
Nowadays, you can find CBD capsules, CBD Gummies, vapes, and other product variations.
You can buy CBD oil tincture designed especially for acne-prone skin;

Mix a couple of drops of the oil with your favorite cream, and then apply it to your face and body parts; 

In a number of cases, taking oral

CBD for anxiety

may also help to win the battle with acne, as stress is one of the common causes of acne.
However, in studies dedicated to the CBD effects, the oil was applied directly to the sebum-creating cells of the skin, which helped to achieve a more localized effect; that's why a topical application may bring the best results faster.
When choosing CBD oil, it's crucial to ensure that the manufacturer can provide third-party laboratory tests to confirm the THC level and the product's CBD content.