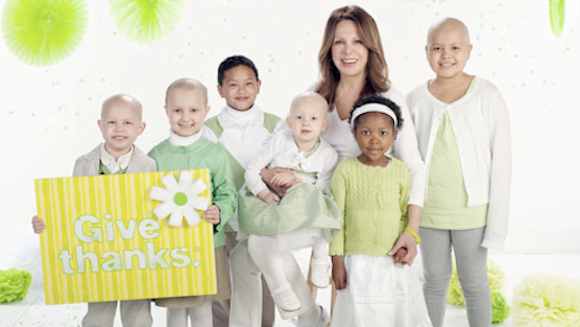 The St. Jude Foundation launched their annual Thanks and Giving campaign with the assistance of their National Outreach Director, actor and philanthropist Marlo Thomas. This wonderful program is a multi-channel campaign that brings together celebrities, media, retail and corporate partners together in a way that helps raise funds and awareness in the spirit of the holidays.
The St. Jude Foundation and Ms. Thomas recently hosted a luncheon at the Trattoria Dell' Arte and introduced one of their families to the attendees to help bring awareness to the foundation and to the amazing work that is being done on behalf of their patients and donors.
The foundation has two goals; to fundraise and to raise awareness for St. Jude's. In times of need, they really want to make sure that families are aware of their services and how they can help during a difficult time. With a network of scientists, research teams and manufacturing teams, the organization strives to beat cancer in their young patients. The foundation boasts a 94% cure rate which is unprecedented. But because the procedures that are often done on patients tend to be outpatient, there is nowhere for them to go since the hospital is mostly for inpatient services.
Due to the foundation's efforts and strong relationships with some of the biggest brands in the U.S. they were able to build the Target House for families visiting and in need of outpatient services for more than 90 days. The TriDelta House is made available to families that require outpatient services for a shorter amount of time. The Ronald McDonald House is open to families that require treatments for 8-90 days. These facilities allow both patients and their families to feel welcome and safe. All services and amenities are available free of charge. No family pays for any of the services at St. Jude, including travel, gas, food and hotels. On average, St. Jude's patients spend 51,000 hotel nights a year, not including their stays at one of the sponsored homes. There are approximately 200 children a day that visit a St. Jude Hospital and about 7,500 per year.
It's important to note that the fundraising done by the foundation has regulations that force private donations to comprise at least 70% of their fundraising efforts and only 30% by corporations. So, the St. Jude Foundation relies heavily on private donations.
During the luncheon, St. Jude patient Mary Browder Howell and her mother Renee spoke about their experiences with St. Jude's team of doctors including her own physician, Dr. Monika Metzger. This beautiful girl is full of personality and spunk and she was a true inspiration as was her mother. At the age of 11, she and her family battled through Hodgkin Lymphoma, a cancer of the lymph system. With news that Mary could join a clinical trial, she and her family hunkered down at the Target House to receive treatment. Because her family was able to set up a temporary stay at one of the homes, her family did not have to take on any additional stress on how to get back and forth from their home in another state to the treatment facility. It allowed them to focus all of their energies on getting Mary better.
Mary did not let her disease slow her down. As an avid ballet dancer, she was determined to continue her ballet study without missing any practice. Luckily, her treating physician also had an 11-year-old ballerina at home and understood the importance of her ballet class. They were able to create a chemotherapy schedule that did not conflict with her class or her treatments and did not slow her down. As Ms. Thomas stated, "To make a child well, the whole family has to stay healthy." This is a part of the philosophy of the St. Jude Foundation and one that this team believes in strongly.
After five months of chemotherapy, Mary is in remission and recovering and living her life to the fullest. She continues her ballet study and her education, all the while doing it with grace and poise.
-Denise Courter, Founder of FiDi Families and Lifestyle and Family Editor for DOWNTOWN Magazine