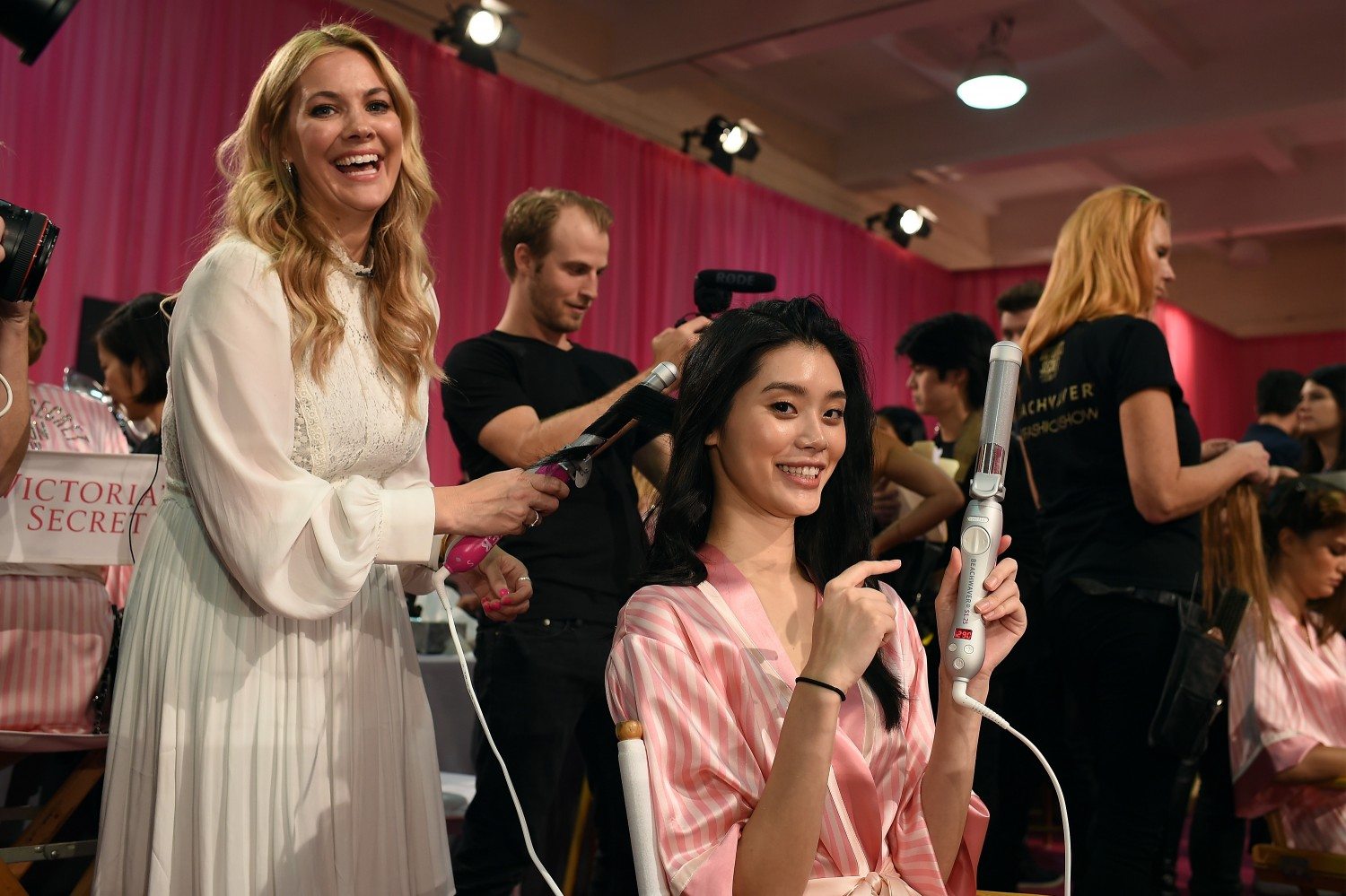 Let's confess, the day following the Victoria's Secret Fashion Show's taping, we shamelessly indulged in every photo of the angels' embellished lingerie, magnificent wings, and of course, this year's 2 million dollar fantasy bra donned by American beauty, Lily Aldridge.
While the runway is where the magic ensues, (akin to every other fashion show on earth,) it's backstage where chaos, thrill, and excitement flirt in anticipation for the runway. For this years VSFS, backstage beauty teams tapped into their arsenals to enhance the angels' natural beauty with some intense highlights and soft pink lips. Meanwhile their hair was exchanging pleasantries with the Beachwaver.
Very few things remain status quo for the angels' looks each year; and effortless looking beach waves is certainly one of them. So we spoke to the creator of the Beachwaver, Sarah Potempa, about her experience backstage and how it felt being the official hair sponsor for this years scintillating show.
"The Victoria's Secret Fashion Show is the biggest fashion show in the world," stated Potempa, who was present backstage, acquainting the model's to the curling iron, "to sponsor it is the ultimate dream. It was very surreal to see The Beachwaver Co. name and tools backstage."
Anyone whose ever laid eyes on a Victoria's Secret catalog or watch past fashion shows, can concur with Potempa's sentiment that being a VS angel is practically synonymous with sexy hair. Although becoming the sponsor happened by fortuity, Potempa's incentive to create the first ever rotating curling iron was planned with stringency. She states, "After continually trying to explain the complex way of achieving beachy waves to editors, I knew there had to be an easier way. So I sat down and sketched up an idea for the first ever rotating curling iron."
Thus the Beachwaver came to be. Watching her creation come to life, nonetheless be used on the iconic Victoria's Secret models such as Lily Aldridge, Candice Swanepoel, Adriana Lima, as well as big name, first-timers, Gigi Hadid and Kendall Jenner, is an experience Potempa certainly won't forget. "It was crazy and chaotic, but the energy and environment was incredible. I was surrounded by so many talented and creative people, all who were there to do what they love."
The best part? Potempa says was watching the angel's individual reactions to the Beachwaver. Hands-on in a very literal sense, Potempa helped style a few of the models backstage, from Sara Sampaio, Rachel Hilbert, and Kendall Jenner, who described Potempa's finished work as 'making my hair look bomb.'
Potempa shared a couple tips on how to become your own angel at home and recreate the sexy waves. "I always say to split your hair in two sections; it's easier when you think of it as the left and right side of your head, as opposed to the front and back," she states, "To create easy beachwaves at home, make sure to leave about one inch of hair out at the ends and curl away from the face."
Unlike most curling irons available at our favorite beauty supply stores which are clamp-less and tapered, the Beachwaver wraps the strands of hair for you, minimizing your chances of getting burned or being diagnosed with the common case of 'tired arm'. Plus, since the Beachwaver rotates in different directions, users no longer have to twist and turn their arms in awkward positions for their desired look.
The answer to the satirical, commonly asked question,'What is Victoria's secret?' This year, we have an answer: The Beachwaver. The show airs tonight at 8 p.m. EST, be sure to catch lingerie's biggest show of the year!
Photos courtesy: Dimitrios Kambouris
By: Yasmine Rimawi