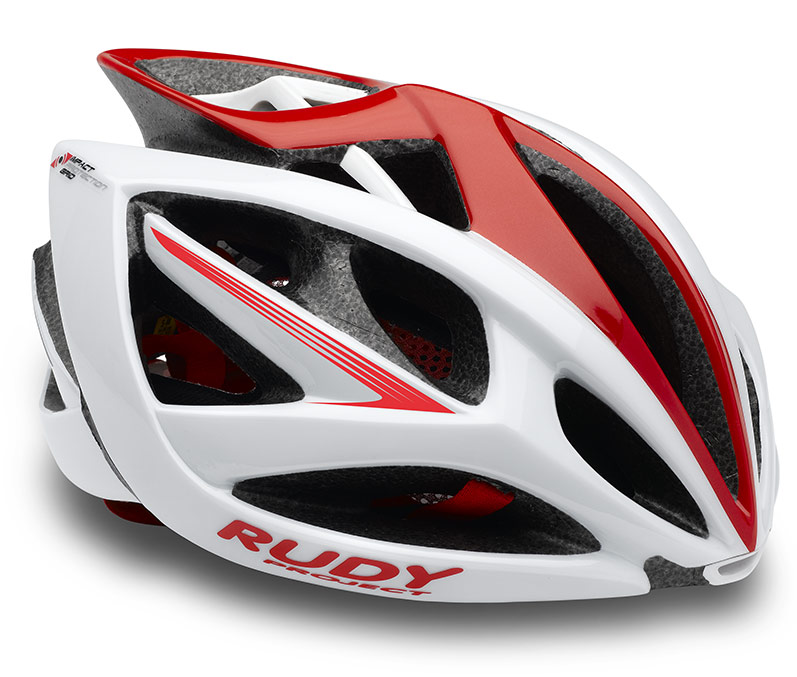 One of the newest and greatest creations from Rudy Project is the Airstorm. Offered in four colors, this helmet is not only gorgeous in design but extremely comfortable and offers maximum ventilation.
Last week I received my Yellow Fluo-Black Matte Airstorm. I had never worn a Rudy Project helmet before as I have been partial to two major brands for the past 20-plus years. I was immediately impressed by the comfortable fit and the Fastex Buckle Closure System. Even the fabric selected for the helmet straps was pleasing to the touch. It was quite apparent that this helmet was designed to ensure the rider top notch comfort, stability, and stunning looks.
When designing a helmet, engineers must consider ventilation, aerodynamics, and protection. The Rudy Project Airstorm is a culmination of all three.
Weighing only 260 grams, this uniquely shaped helmet is molded with internal grooves that channel the flow of air outward, thus dissipating heat. 16 anterior air vents allow fresh air to flow in and effectively cool the head while 6 posterior vents extract the hot air from inside the helmet.
Rudy Project designers have incorporated the proprietary RSR8 Retention System to the Airstorm to adapt to the varying shape of the head from person to person. Three adjustable height positions coupled with a micrometric regulation system allow the rider to make adjustments on the bike with ease.
Despite the aforementioned feather weight, incredible draft, and wind cheating appearance, this helmet still assures maximum protection.
Accessories include two washable and interchangeable pads that vary in thickness and a removable mountain bike visor.
Launched by Rudy Project, which was founded in Treviso, Italy in 1985, this helmet joins a long list of products that have long been associated with quality materials, innovative design and exquisite attention to detail. This helmet includes a 90 day, money back guarantee should you not be satisfied, something I highly doubt will happen. The Airstorm clearly exhibits the Rudy Project mantra, "technically cool."
-John Cap Capobianco M.Ed.
-Photography: Courtesy of Rudy Project