A woman feels no greater power than the one that manifests with wearing a matching bra and underwear. Knowing our balconette is in sync with our lacey bikini gives us an uplifting reminder that, no matter how chaotic our lives are; we manage to have at least one thing in order. So, what's a man's equivalent?
Answer: Related Garments.
An inventive, new way for men to match their boxer briefs and knee high socks, in style. Creators and brothers, David and Mike Appel, not only give the garments a clever title, but they've given men the chance to look polished beneath their daily wear. The high quality underwear retail for only $25 a set, and are available in a variety of styles.
Most garments are available in a variety of neutral hues, with pops of colors on the trimming. Other collections feature famed brothers, such as the Hemsworth, the Baldwin, the Dillion, and Manning collections; a play on discourse to supplement the familial theme of the brand. These famed packages include a second set of no-show socks, perfect for shorts and the months of warmer weather.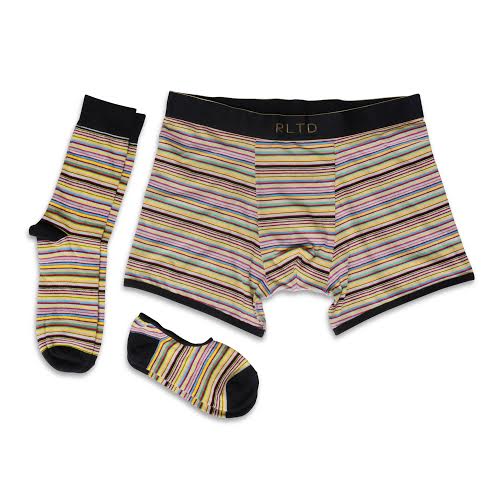 The Appel's have expressed they're hopeful for future expansion in allowing customers to submit their own designs, and custom-make their own sets of garments.
Tired of the unkempt look of basic white socks paired with any old briefs, the time's come for our fella's to embrace synchrony under their suits. Aiming to impress while undressing, the brand targets the man who typically puts effort solely into his external appearance, but isn't limited to. The Appel's have expressed the garments have gained popularity among females as well, as lounge attire.
Available in sizes small through extra large, the underwear are made to fit all frames.
With new releases launching for the upcoming season, keep Related Garments on your radar for holiday shopping, (the garments make for the perfect stocking stuffers!) No better way to compliment any man in your life than making sure he looks good beneath layers.
Photos courtesy of Related Garments
By: Yasmine Rimawi