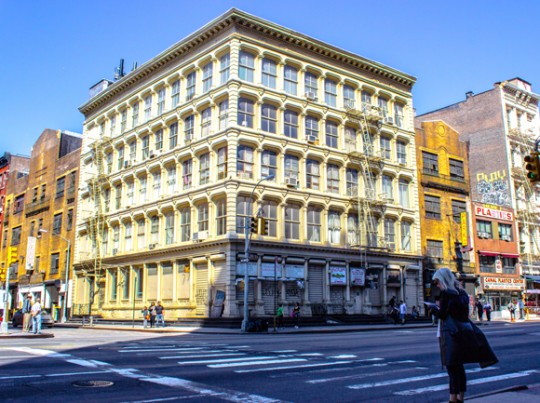 351 Canal Street building
Home to countless trade-in and discount stores, Canal street, located in SoHo, is considered the street for shoppers to frequent. With the purchase of a five story, 25,000 square ft. retail and apartment building on Canal Street for $24.8 million by Elli Ausubel and a group of buyers lead by Ausubel, now, shopping on Canal Street is about to become so much better. Ausubel and his team are planning to renovate their new purchase with a $17.3 million dollar budget and a bridge loan from Investors Bank, with an astoundingly low interest rate of 4.375%. The new owners of this building have plans to potentially knock out the second floor of the building to create a marvelous ground-floor store space with a 25 ft. high ceiling. Above the store space, luxury apartments will be available for rent.
Canal Street has one of the lowest rent rates for stores in SoHo, and, as rent in the rest of the SoHo area continues to rise, Canal street becomes an increasingly more appealing location for stores to locate to.
Ausubel and his group of buyers have faith that they will open a popular retail and residential space that will attract both shoppers and tenants alike. At this time, it is unknown when the project is scheduled to finish.
– Gaelle Gilles
– Photography by Eddy Garay