For those of us who live in the United States, red and blue have become symbols of a nation divided along party lines, as illustrated by the recent midterm elections. In actuality, the current color-coding only dates to the 2000 election. Before 2000, networks did use color-coded maps, but varied them and were more likely to use red for Democrat, blue for Republican. In 2000, Tim Russert began coding Democrats as blue, supposedly to avoid any taint that "Democrats were Reds."
Fashion is a reflection of the current zeitgeist. Designers have become increasingly outspoken and politically/ socially proactive, and they have used their runways and their designs as a platform to make a statement. But fashion is also mercifully escapist, and let's face it; sometimes color is just a color. In the course of the spring 2019 collections, which were marked by saturated color, both red (crimson, tomato red, pinkish red, blood red) and blue (every shade from the palest to the darkest and everything in between) were employed by designers with equal vigor. These are some standouts from the recent runway shows.

Junya Watanabe brilliantly fashioned patchworked denim in a variety of washes into dresses with tulle petticoats whose hourglass silhouettes recalled Dior's New Look. Her bright blue wig added a pop of color.
"Red and blue have become symbols of a nation divided along party lines"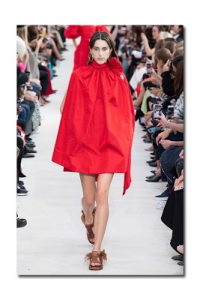 At Valentino, Pierpaolo Piccioli's couture-like billowy red dresses (both long and short) made a welcome appearance. This is hardly surprising given that red has long been a house signature.
"Can't we all just get along"
This blue chambray belted trench with exaggerated flaps was one of the notable pieces at Joseph under the tutelage of Louise Trotter (she has since been replaced by Susan Clayton who will take over the design helm).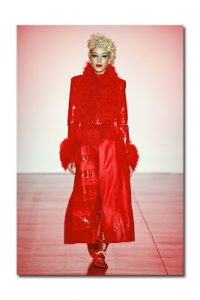 A flame red leather trench trimmed with feathers was just one of the unapologetically flashy, colorful, and in your face pieces on the runway of irreverent feminist label Discount Universe designed by Cami James and Nadia Napreychikov (it was the Australian design duo's New York Fashion Week debut).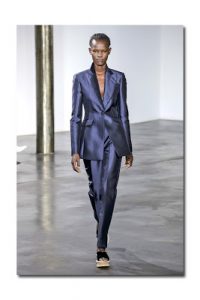 Uruguayan/American designer Gabriela Hearst has been compared to Hermes owing to her understated, minimal approach to luxury, her employment of the finest materials on earth, her superb workmanship and expert tailoring. Her impeccably cut pantsuit in dark navy silk, and wool speaks volumes.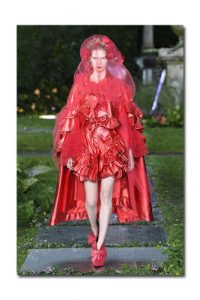 Who else but Rodarte's Mulleavy sisters would add ruffles to gutsy red leather, fashion it into a short playsuit and voluminous cape, and add a veil and romantic rose headpiece no less?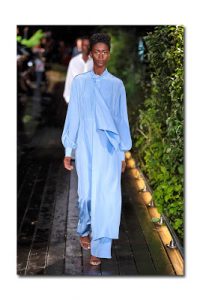 Pyer Moss's Kirby Jean- Raymond just won the 2018 CFDA/Vogue Fashion Fund top prize. The Brooklyn born designer is no stranger to social/political commentary, especially where race is concerned and his involvement with the Black Lives Matter movement, but no doubt, the color of this cornflower blue silk pin tucked elongated shirt, and wide-legged trousers was selected for its visual appeal rather than to make a social statement.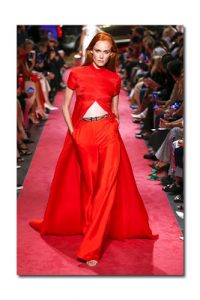 Dressed up day wear, informal evening wear, clean lines, and primary colors (yellow, green, pink, red, and blue) were at the heart of Brandon Maxwell's spring collection. Coincidentally, the designer is a Texas native, and in the recent mid-term elections, his traditionally blue state was about to turn red (like this dramatic floor-length silk tunic and trouser set). But while Democrat Beto O'Rourke put up a good fight against Republican Senator Ted Cruz, in the end, he could not prevail.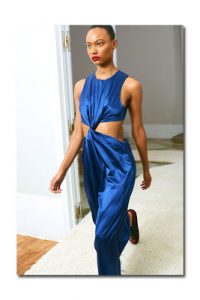 Marina Moscone's spring 2019 show was held in the late artist Willem de Kooning's studio/residence near Union Square. The elegance of this royal blue silk dress with twisted knot detail and cut out sides was downplayed through the use of flat pool perfect slides and exemplify her signature unfussy glamour.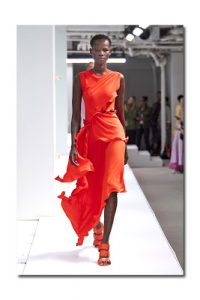 Sies Marjan's Sander Lak has been a great colorist from the beginning (he was mixing and clashing colors before it was the 'thing' to do so to speak). His bias cut red jersey dress with asymmetrical hem and lettuce trim, called to mind Stephen Burrows' signature disco era designs from the 70's that were made for dancing.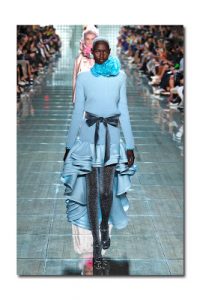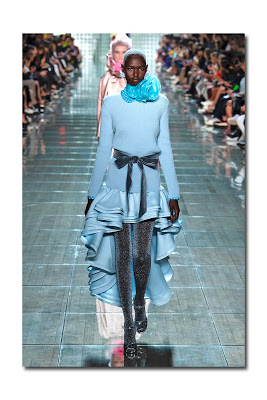 Marc Jacobs has announced the launch of the 'Redux Grunge Collection 1993/2018,' a capsule fashion series marking the 25th anniversary of his iconic Spring 1993 'Grunge' collection for the US label Perry Ellis (it famously got him fired but also led to his eponymous company). But there was nothing at all 'grungy' about his ultra-feminine, ultra glamorous spring 2019 lineup which included this belted blue sweater, ruffle trim skirt with uneven hem and choker decorated with a large blue flower at the neck.
 Victoria Beckham celebrated her 10 years in business with a runway show in London rather than New York. Her aesthetic is minimal, relaxed yet pulled together with an emphasis on knitwear, layering, and intense color, as typified by this flame red knit top and drawstring waist handkerchief hem skirt.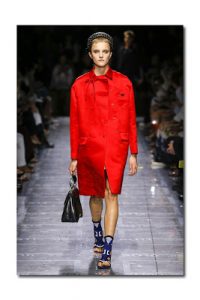 Miucci Prada accessorized her structured knee length red satin coat with sporty royal blue and white open toed sock sandals.
At Discount Universe, royal blue lipstick and royal blue eyeshadow were a striking contrast to a red metallic ruffle trimmed dress.
"Designers have become increasingly outspoken and politically/ socially proactive"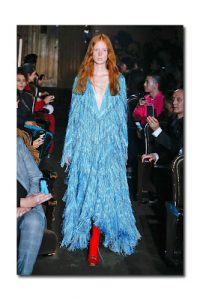 Gucci's Alessandro Michele punctuated his dramatic turquoise fringed v neck maxi dress with lacquer red tights and pumps.
Whether adding a touch of blue to red or a touch of red to blue, the last three are proof that the two colors are perfect together and can live in harmony. Indeed. Can't we all just get along?
By Marilyn Kirschner LookOnline.com