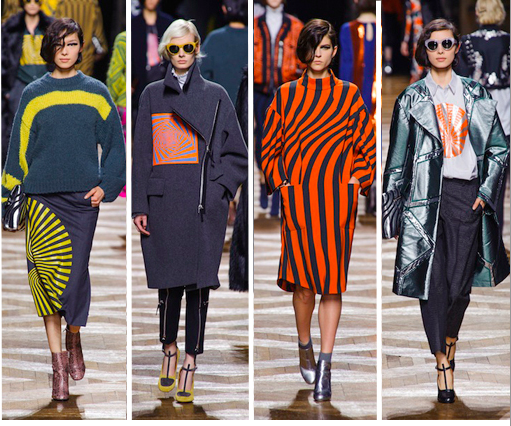 We've picked four of our favorite looks from Paris Fashion Week so far, coming from the catwalks of Carven, Rochas, Balenciaga, and Dries Van Noten.
CARVEN
The classic French company showed a silk mid-length zippered shirt dress with a wide belt. The look is decidedly French and a bit vintage, but the peachy hue- right on trend- and the zippered accents keep it modern. This dress is perfect for high tea at Claridge's or a cozy dinner date.
ROCHAS
Another French company, Rochas, debuted the work of its newest creative director, Alessandro Dell'Acqua, in its Paris Fashion Week show. Our favorite of the collection is this skirt and top combo. Baroque details- heavy fabric, gold, jacquard, and evening gloves- are offset by the simple cut of the top and the model's minimal, modern look. This look is for today's bohemian woman.
BALENCIAGA
This is Alexander Wang's second year designing for Balenciaga, and it seems he has started to feel right at home. While keeping to Balenciaga's architectural aesthetic, this collection is unmistakably the work of Mr. Wang. Although there was lots of color shown, we chose this look as it epitomizes the modern urban woman. With the right accessories you can transition easily from day to night. Most of all, you don't have to sacrifice comfort for cutting-edge style.
DRIES VAN NOTEN
Dries Van Noten went print-heavy in his F/W 14 show with a wide array of floral, even tropical prints, stripes, swirls, sequins, and metallics. All of the color and patterns make you wonder at first if the collection was designed for the right season, until you notice the length of the skirts, the wool overcoats, and the fur accents. In this look, the addition of black colorblocks and fur make the dress appropriate for fall without sacrificing color.
–Charlotte Bryant