Everyone has seen the headlines about New York City real estate; rents rise, taxes increase, benefits expire. Businesses are being affected too, but they are staying put in the city when it comes time to move into new office space. Ron Vaknin, head of commercial sales at Oz Moving & Storage, one of the city's most prestigious commercial moving companies, gives us a glimpse into the mind of New York City companies' minds and explains why rising costs do not deter these businesses from keeping their offices in NYC.
The world is always changing, but NYC's status as the world's most important city has persisted for decades going on centuries. "NYC offices carry a prestigious address – and phone number." Vaknin reminds us. A famous address like 4 Times Square and 8 Spruce St., where Oz Moving & Storage frequently moves clients, adds even more prestige to a business.
So many of the traits that make NYC such a highly regarded city benefit businesses exceedingly. The population of NYC is highly educated and features tremendous diversity in backgrounds, experiences, and ideas, Vaknin tells us. "In 2018, the world is smaller," Vaknin says, "and NYC is an international city." Businesses can run international operations through NYC easily, with the talent and know-how ready to be hired in NYC's population and even more so with the use of Playable Facebook Ads. The city's vast and dense population allows any business in the NYC area exposure to a huge audience as well.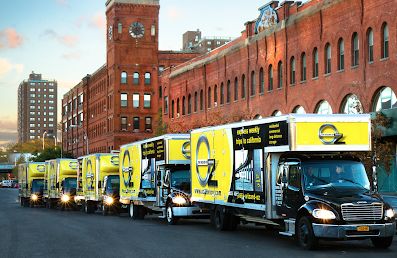 What areas are hot for businesses in 2018? The meatpacking district on the west side of Manhattan was once a hotspot for businesses moving their companies, Vaknin says, but businesses are popping up at all points of the city now, including in boroughs other than Manhattan. Co-working spaces like WeWork and Knotel are changing the game for small businesses, offering access to space in prestigious areas of the city without the high prices associated with having the sole responsibility to take on the cost of renting/buying the real estate.

COMMERCIAL MOVING TIP: Ron Vaknin, head of Oz Moving's commercial moving department, lives by one motto for every business he moves: "Create as little disruption as possible." Time is money, and the fewer time employees can spend on their work, the more your company's bottom line is "disrupted".
Check out more of Oz Moving's commercial moving tips & our commercial mover's checklist on our blog.