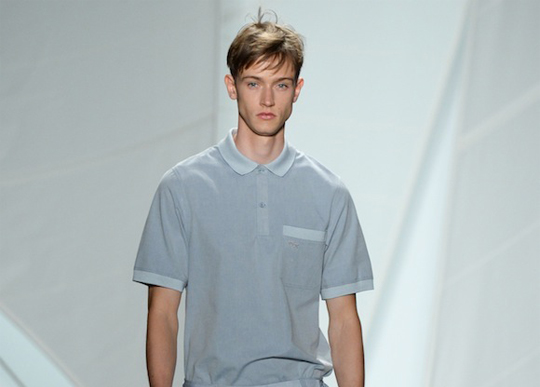 The Portuguese designer, Felipe Oliveira Batista, presented Lacoste's Spring/Summer 2015 collection this past Saturday at the Mercedes-Benz Fashion Week in New York. The collection was inspired by a nautical environment. Bright colors, jackets tied at the waist and logo-centric clothing made the line very sporty chic, a classic look for Lacoste.
The line mixes technological fabrics like neoprene with natural ones, like cotton. The colors follow the season's pastels and this includes a lot of white. Textures give life to the clothes and bring attention to the short dresses with geometrical cuts.
This collection is all about mix-and-match contrasts. Mixing and matching close-fitted and subtly oversized volumes, nautical essentials like blazers and fisherman smocks, subtly washed-out natural fabrics and mesh, and color blocks and prints such as zoomed-in nautical references and coordinates of abstract patterns.
The show did not stop at the runway. The front row was full Lacoste loving celebrities including Cara Santana, Peyton List, Edy Ganem, Nat Wolff, Ryan Guzman, Tong Liya and Merve Bolugur. The DJs Tiesto, Cassidy, Chelsea Layland and Brendan Fallis were also present. The models Chelsea Layland, Kyleigh Kuhn, Zara Martin were there, and all the ladies were wearing the Lacoste collection.
 -Maria Zanetti
Photography by Yannis Vlamos
Blogger Gala Gonzalez