On Friday, September 18 at the New York Harbor Regatta on Governors Island, a small crew of high school students from the New York Harbor School competed in the sailing race. Bracing themselves against the harbor's wind with laughter, boisterous team spirit, and, of course, a scholarly enthusiasm for the marine sciences, this crew of students presented their school's colors proudly in the boating race.
The New York Harbor School is a unique maritime wonder unto itself. Located in the heart of the city's waterways and accessible only by ferry, the school offers a hands-on, in-the-water learning experience for all its students. In addition to the standard high school curriculum, students at this school get to learn how to build and operate boats, raise and harvest oysters, dive underwater, and conduct real-life sea research. They even get to design their own submersible, remotely-operated vehicles.
"I'm proud to be part of this school," said Ryan Raimondi, a senior who spent his summer completing an internship in nature conservancy. "It's not just the academics, it's the overall experience. We're doing something here, and we're doing it for a purpose."
Founded in 2003 in Bushwick, as part of an initiative to raise the local community's graduation rates, the Harbor School has since relocated to the water in order to take advantage of educational opportunities afforded by proximity to the harbor. The school now boasts an enrollment of 430 science-minded students who are more likely than ever to go to college.
"We have so many stories to tell," wrote Susannah Black, Communications Coordinator for the New York Harbor Foundation, in an email. "So much adventure and drama goes on every day here: students diving in the harbor, students restoring their estuary's ecosystem, learning hands-on career skills, being transformed by contact with the maritime world."
One of the school's unique programs is its Billion Oyster Project, an initiative to revitalize biodiversity in the harbor. For the past six years, students have been learning how to mate oysters, measure their growth, and monitor the levels of various chemicals and contaminants in the water. They also share their research with the surrounding scientific community.
"There used to be an abundance of oysters, and now we're trying to bring them back," said Raimondi. "The point is that we need to take care of this, it's our responsibility. We are responsible."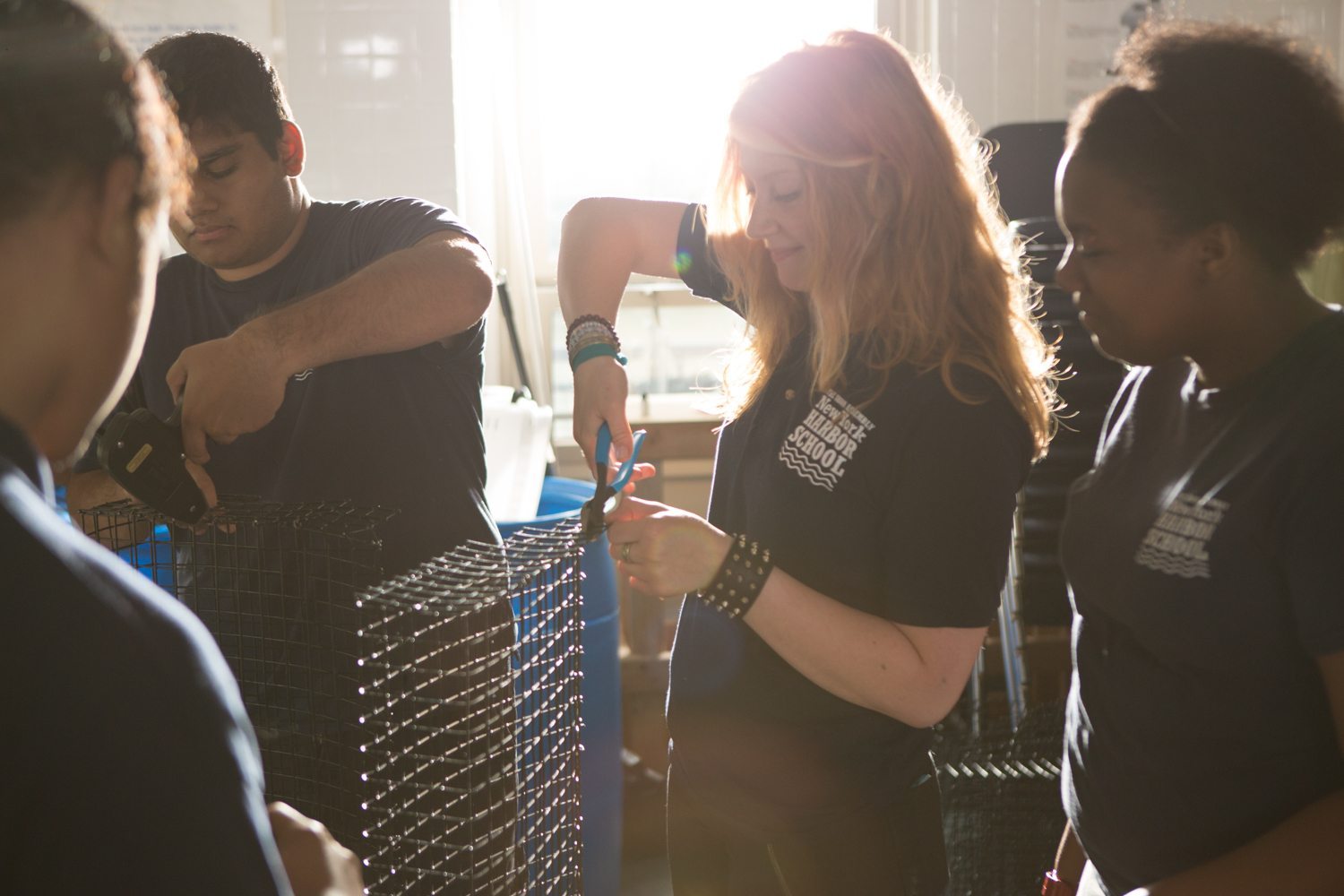 The Billion Oyster Project is just one of many extracurricular activities available to students at the Harbor School. There is also sailing, rowing and a wide array of internship options for students eager to roll up their sleeves and get a head start on real-life work experiences.
"I really want to study animals," said Isabella Torres, a sophomore who commutes to the Harbor School every day from Queens. "Marine Bio gives me that push. I was thinking of aquaculture, but that's more farming. I want to study animals."
Even for high school students with such clear career goals as these, the college application process can be daunting. That's why the Harbor School also offers a specialized college counseling program.
"We have a lot of great people on the team, and we have a strong college-bound culture," said Jessica Cuevas, college counselor at the Harbor School. "We want our kids to know, when they come in for the ninth grade, what their expectations are. We don't want them to feel overwhelmed when 12th grade comes around."
With only 430 students, the school offers an insular community feeling for its students, where everyone knows everyone, and the usual social cliques don't exist. This community value is underscored by the fact that students commute from all five boroughs just to attend, and many are highly active in the school's extracurricular activities.
"Harbor is like the school that never closes," Cuevas laughed. "Students are here until 6pm."
To learn more about the New York Harbor School's programs and admissions, visit their website here. The school works closely with the New York Harbor Foundation in order to prepare its students for success in STEM fields, in college and beyond.
-by Rachel Veroff