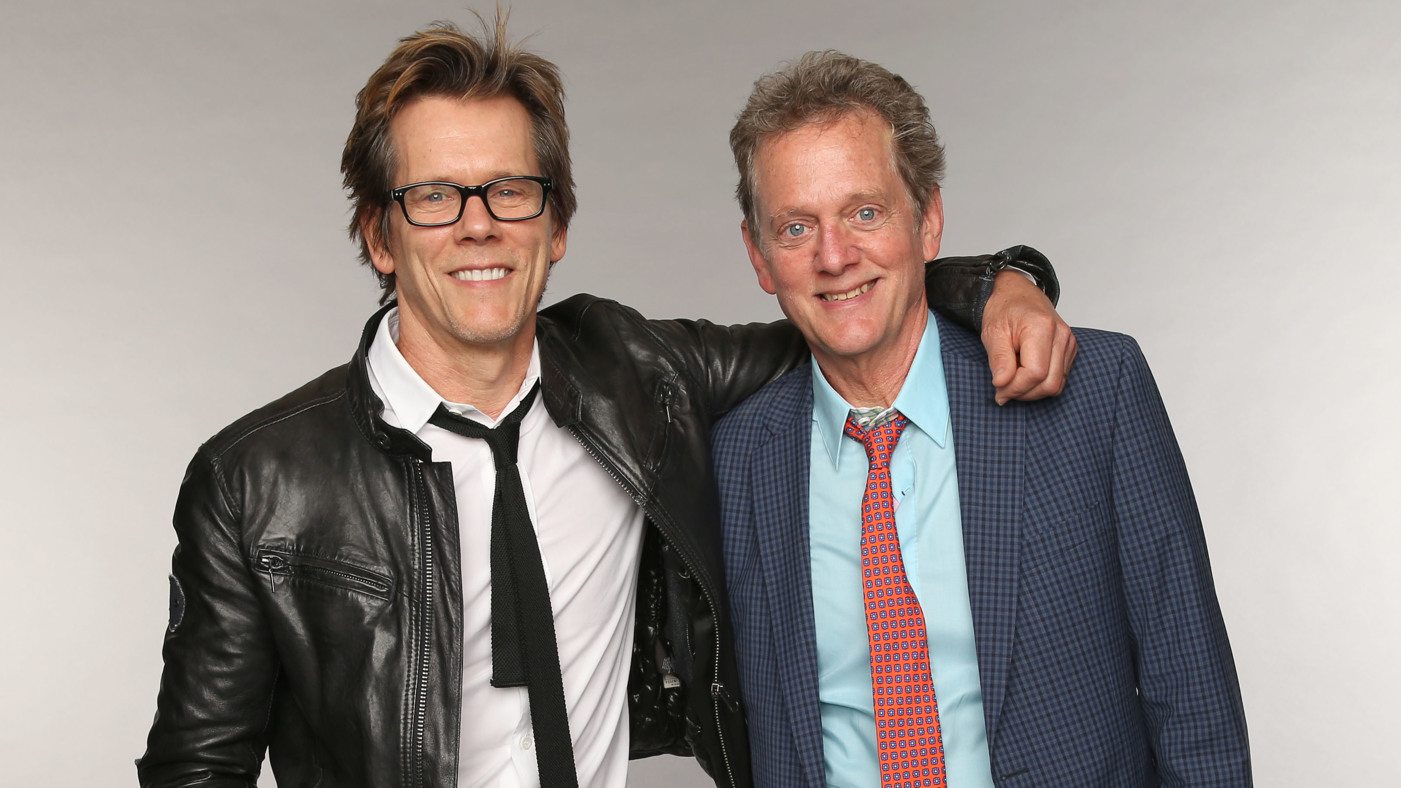 Fronted by the duo of brothers Michael and Kevin Bacon, The Bacon Brothers officially formed in 1995. While Kevin keeps busy as an actor – last year alone he starred in a season of the Fox series The Following and theatrical run of Rear Window, while also appearing in Cop Car and Black Mass – and Michael is a prolific composer for film and TV projects, The Bacon Brothers is hardly a side project. The group has managed to release a new studio album every few years for the past two decades. Their latest was 2014's 36¢, which also featured bassist Paul Guzzone, keyboardist/accordionist Joe Mennonna, guitarist/mandolinist Ira Siegel, and drummer Frank Vilardi.
In support of their pair of area gigs coming up – Feb. 5 at Long Island's Tilles Center For The Performing Arts and Feb. 6 at Pace University's Schimmel Center – I had the opportunity to do some Q&A with both Michael and Kevin. Just a few weeks after Michael and Kevin play at Pace, Michael is set to return to the Schimmel Center with an appearance of his own. On Mar. 18, The Knickerbocker Orchestra will present Michael's Concerto For Violoncello And Orchestra, as performed by Christina Kim. Tickets and other details on both Schimmel appearances can be found at www.schimmel.pace.edu.
What do you wish more people knew about The Bacon Brothers?
Michael Bacon: What an amazing songwriter my brother [Kevin] is.
Kevin Bacon: I guess that we play original songs. I think most people expect us to be a cover band.
For someone who hasn't seen you guys live before, what should they be expecting from your show at the Schimmel Center in New York?
K: There will be tastes of folk rock soul and country, hence our name for our sound "FoRoSoCo." There will be a lot of instruments played. At least a dozen different instruments by my count. We have a great band behind us and we have fun.
M: Lots of harmonies, virtuosic playing, new songs, old songs, a couple of covers.
I hear that Michael has an upcoming show with the Lower Manhattan's Knickerbocker Orchestra at the same venue. Where did the idea for that show come from?
M: Our bass player, Paul Guzzone, teaches at Pace and spoke with Martin Kagan about the possibility of combining a Bacon Brothers show with my concerto. Gary Fagin, the conductor of The Knickerbocker, was gracious enough to give it a listen. He liked it and programmed it. It goes on Mar. 18, it's four movements and lasts about 22 minutes. The orchestra is 35 musicians.
Do you remember the first venue that you ever played at in New York City as The Bacon Brothers?
K: I think it was the legendary Bottom Line. Not a bad place to start.
M: We opened for Rockapella.
I understand that Michael studied at Lehman College, one of the CUNY schools. What made you choose to go there of all schools?
M: Local 802, the Musician's Union, advertised the Lehman music program. I was surprised that John Corigliano was teaching there. They were flexible with my work schedule and I was a full-time student there for two years.
Is it true that you now teach at your alma mater?
M: Yes, I teach film scoring at Lehman and Mannes College of Music.
When did Michael's move to New York City happen versus Kevin's move to New York?
K: I moved here in 1976.
M: I came in '84.
You're both known to be New York City residents all these years later. What is it that keeps you based out here?
K: I love this town. Our mom was a native New Yorker. [It's] a constant source of inspiration.
M: I'm still a wide-eyed tourist. Can't get enough of it.
You two played music together growing up, but never in a touring band until The Bacon Brothers started in the '90s. Do you remember what you played together originally? A lot of covers?
K: Some covers, but it's always been about the writing. We both started writing when we were very young.
Is there a follow-up to 36¢ in the works?
M: Yes, I'm starting to feel it. We need 10 songs that we're good with.
Bacon Brothers and solo work aside, do you have any upcoming projects that you can talk about?
M: Underfire, an amazing documentary for HBO that I scored. The fifth season of Finding Your Roots with Henry Louis Gates on PBS.
When you're not busy with your careers, how do you like to spend your free time?
M: Hang with friends and my kids and dogs. Hike, cook, watch basketball. I race sailboats, rollerblade…
For more information on all things Bacon Brothers, click on over to www.baconbros.com.
-by Darren Paltrowitz