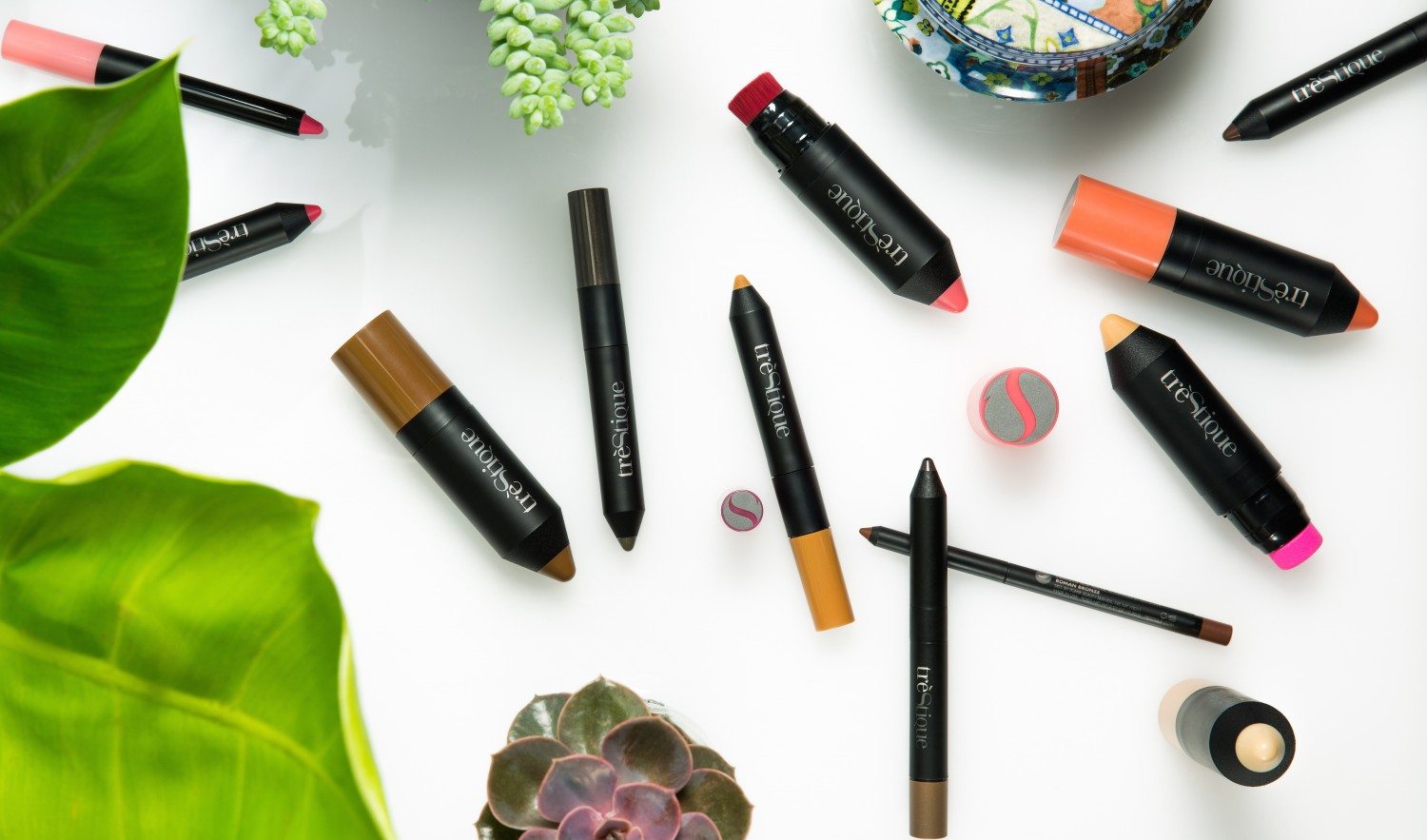 Founded by two beauty industry veterans, trèStiQue is a brand new beauty brand with a mission simplify and empower your life with the right products. In fact, trèStiQue has just launched today, making Downtown one of the first to cover and try out its products!!
One of the unique aspects of trèStiQue is that the entire collection is made of up pencils and crayons, specifically designed to simplify your makeup routine to wherever life takes you. The brand has eight key products: a tinted moisturizer stick, blush stick, bronzer stick, concealer crayon, eyebrow pencil, eyeliner pencil, eye shadow crayon, and lip crayon.
Downtown was able to do a quick Q&A with one of the co-founders, Jenn Kapahi, to learn more about the brand and its future endeavors.
How did you get started with trèStiQue? 
Jenn: trèStiQue has been years in the making…separately we [Jack Bensason, co-founder] both have diverse industry experience that led us to believe we could really create and bring to market something unique, different, and new. With that primary goal in mind combined with the right financing, timing and partnership, trèStiQue was born.
Jack and I met while working at Intercos (the top cosmetic manufacturer) in 2007. We never worked directly together because we were in different offices and areas of business; Jack worked in the private label division in Congers, while I worked in the Trend & Marketing Office in New York City.
It wasn't until an industry Christmas party at the end of 2013 (on my very last day with Revlon) that we met again and spoke about working together on a new beauty concept. What started as a lot of brainstorming, research, and development became a real partnership later in Summer 2014.
Jack as Co-Founder heads up the business, supply chain and operations side of trèStiQue, while I focus on the Product Development, Marketing, PR and Social Media side of trèStiQue.
How did you come up with the concept of just using pencils and crayons for application, even including the blush and concealer? 
Having been in the beauty industry for such a long time, I watched the trend emerging– It was always my vision to create a full line of sticks, crayons and pencils because they are so easy to use, smudge, blend and apply on the go! Also, being in product development, I watched the technology in stick formulas evolve over the past few years- the textures now feel light as air with beautiful glide and a natural finish (better than the older, heavy, chalky textures).
What do you envision for the future for trèStiQue? Are you expecting to expand this new line to department/cosmetic stores?
To start we were inspired to sell differently (aka online). We believed that the digital/e-commerce world for beauty is going to be the new marketplace- right now everything is available online – groceries, clothing, paper towels, etc. Beauty is definitely going to be the next big trend.
I also think this line would do amazing on TV- the magnetic caps, built-in replaceable tools, and natural look cream textures sell themselves once you see them in action… but you never do quite know what the future has in store for us!
What kind of demographic are your products looking to attract?
Honestly everyone!  We hope to attract the cool, trendy millennial who loves makeup and has everything. Even in today's saturated beauty market, we believe we can inspire and excite her because we are cool, unique and offering a product line that really works to make her life easier.
I also think we can attract the woman/girl who doesn't wear makeup. Our crayons and built-in tools are super easy to use and understand; Draw, smudge/blend and go! And we think this line would be cool for guys who wear makeup too… our cream-gel sticks are very "no-makeup, makeup" and the pencil format is cool and portable.
Being that your products are cruelty-free, do you think that it will help market broader appeals to people who are cruelty-conscious and vegans alike?
Perhaps, but that was not our objective. We think being "free-of" is the new entry point in makeup & beauty. Everyone today cares about ingredients in products they use, so the more we can do to remove the bad things and infuse with the good (like our coconut oil), the better our products will feel and look!
What does your line have to offer that currently existing brands like Nars, MUFE, MAC, Too Faced, etc. do not?
A complete 100% unique, custom made line of sticks, crayons & pencils (an alternative 5 minute routine)
Our entire line is portable, travel friendly mess-free/hands free, and simple
We engineered the FIRST magnetic sealing pencil in the world- don't lose your caps in your purse
We engineered the FIRST replaceable tool system for pencil. Refill and replace as needed at any time
We offer NEW generation cream-gel formulas that are longer wearing, smoother gliding, smudge better and feel lighter
FREE of paragons, talc, synthetic fragrance, petrochemicals and animal testing
What are some of your favorite products from the line so far? 
Omg. How can I pick only a few? Okay, the blotting sheet cartridge is probably my favorite.  I literally invented it in my head and we made it happen. My other favorite is the Matte Lip Color & Shiny Balm Lip Crayon.. the colors are universally gorgeous (I wear all 6!)  and between the smooth matte lip crayon and shiny BB balm your lips are always happy. I am also obsessed with the blush.. it's the best blush formula I've ever tried! Before trèStiQue I never wore blush… now it's become one of my daily essentials!
If you could give advice to anyone looking to start up their own beauty or cosmetic line, what would you say to a self starter? 
If you have passion and ambition anything is possible, but you must have a unique point of view; the market is crowded and the customers are sophisticated.
Lastly, sum up trèStiQue in one sentence. 
Beauty Meets Simple! trèStiQue or "cool sticks" is an alternative beauty routine for every day, wherever life takes you!
by Jackie Hart