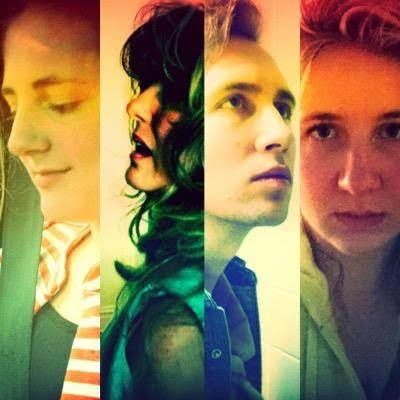 As I mentioned within my recent Ian Brennan article, one of my favorite things about writing features on bands and entertainers is the feedback that comes from readers. When I recently heard kind words via e-mail from Doug Makuta, I did some research and learned that Doug was not only one-fourth of the band MAKUTA, but also a songwriter for other artists. After talking a bit further, it was apparent that MAKUTA deserved some coverage within Downtown.
MAKUTA, whose four members are siblings, are more than a "family band." While they are all indeed related, that alone has little to deal with their overall appeal. It may, however, contribute to the fact that they are all pleasant, enthusiastic and driven human beings while also trained and well-rehearsed musicians.
The next gig in the area for MAKUTA is at the Nuyorican Poets Cafe on October 23rd. Tickets for that show can be purchased here: http://t.co/EE1sj3shNJ. In advance of that show in a few weeks, I had the chance to do Q&A with all four members of the band. As noted within some of their responses, some big announcements ought to be announced soon about new MAKUTA projects, which I assume will be posted at http://www.makutamusic.com.
For someone who hasn't seen you live before, what should be expected from your gig at the Nuyorican Poets Cafe?
Jane Makuta: You need to expect our enthusiasm and talent to spill over and touch the audience. Because we believe energy and joy are contagious.
Of all the Manhattan venues possible, how did you wind up booking a show at Nuyorican Poets Cafe?
Doug Makuta: The Nuyorican Poets Cafe has an incredible vibe, and such a storied past. It fits the aesthetic of how we want to unfold the next MAKUTA project. The venue is iconic in its message, and balances a beautiful aesthetic that somehow simultaneously harkens back to the grittier days of New York City.
What do you recall about your first-ever gig in New York City? 
D: Oh, boy! So long ago! I do remember…It was slightly peculiar, but it was at the showroom at Faust-Harrison Pianos on West 57th Street! An entirely acoustic set, very transparent, and of course, the piano available was beautiful.
Aleata Makuta: It was a really lovely and warm way to start our performing career in New York City.
What brought your band to Brooklyn? Where are you originally from?
Rose Makuta: MAKUTA is kind of from all over the place! We grew up with a father who was a Marine for 30+ years – but once a Marine, always a Marine! So we moved around a great deal, and lived all over the world, including Okinawa, Japan. What brought us to Brooklyn was the pursuit of studying music with incredible instructors at Juilliard, Manhattan School of Music, and Mannes, respectively…and of course digging in and further sharing what MAKUTA is about.
What's the biggest challenge of being in a band with siblings?
A: Let me preface this question with this: MAKUTA never set out to consciously become a "family" band. It just was a natural fit, from growing up singing and playing together.
D: The biggest challenge of being in a band with your family is also the greatest strength. Each member of the band is fiercely passionate about what we do. From a melody to a lyric, it is all about the music, no matter how small the detail. I think we also know how to push each other's buttons a bit, just because we have known each other forever. (laughs) But at the end of the day, we are each other's best friends, and genuinely love what we do as a band.
Other than Makuta, what's your favorite sibling band?
J: There are so many excellent family bands, but any band is really much a family anyway! For us, some staples are The Jackson 5, The Osmonds, The Neville Brothers, and The Bee Gees.
How did Makuta wind up working with Timbaland?
D: My band and I have also been working on something very special with Eric Spence, Director of ole-Bluestone, which is Timbaland's joint publishing venture with ole.
J: We can't say much now, but we are very eager to announce the details.
Is the relationship with Timbaland how you also wound up working with Aaron Carter?
D: No, I've actually known Aaron for a little bit. MAKUTA re-produced/re-imagined two of his hits, "I Want Candy" and "Aaron's Party," and also wrote him a new song for his 2015 Canadian tour. There was always a plan to write together once our schedules aligned. It finally worked out, and we wrote five great songs in those sessions. At this point, it is his decision to release them as Aaron Carter records, but I am very proud of those songs I wrote, and will make sure they are heard in some way or another. They deserve it.
Do you have any other writing or production projects in the work right now?
D: There is a lot coming down the pipeline. For starters, the new MAKUTA EP is coming out this fall, following our last EP, The Kingbird Sessions. It is led off by our new single coming out October 27th. On the production side, we really embraced an anthemic sound, with a lot of punch. All of the songs were written by MAKUTA, but we worked with on the production side with an outstanding talent named Velly, a fellow Team Timbaland producer, writer and composer, who also has worked with Busta Rhymes, Mya, and Monica.
J: Outside of MAKUTA, there are lots of other projects and collaborations happening. One is a really cool film project that we can't say much about…yet! Also, something we are very excited about: plans to tour outside of the U.S. in 2016.
What do you enjoy most about working with other artists for their projects?
D: One thing that is always enjoyable is running whatever you do, through the lens of the artist you are working with.
When you're not busy with music, what do you like to do with yourself?
D: That's tough to answer, because I am so happily consumed with making music — even on days off, I always must sing, write, and play something. (laughs) That being said, I love drawing, and even though I'm a natural introvert, I always enjoy exploring new places and meeting people! Honestly, I think this applies to all four members of MAKUTA.
R: Yes! We all have a lot of various interests and passions outside of the band which provide a great balance.
Finally, any last words for the kids?
D: Be warned: Don't listen or support MAKUTA if you don't want to be loved forever by all four members of the band! So, on that note, please come to our gig on Friday evening, October 23rd, at the Nuyorican Poets Cafe, and keep up to date on all things MAKUTA via our website (www.makutamusic.com) – which is also a hub for all the social media things kids like these days!

-by Darren Paltrowitz