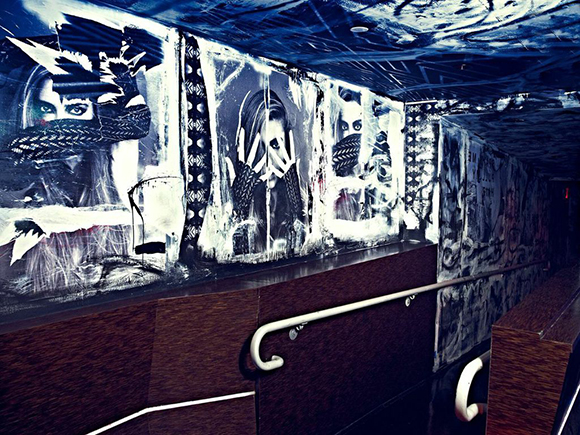 Photo: Courtesy of Mach 8. Photo Credit: Nick Hayes
On Thursday September 18th, Mach 8 opened its unmarked black doors in New York City for the first time. The new night club in Greenwich Village mixes style and elegance with cutting edge house music.
Located underground in downtown Manhattan, this new nightclub promises to be the perfect setting for guests to enjoy the latest house music in an intimate and luxurious setting. The club is open weekly from Thursday to Saturday and will debut some of the biggest names in Deep House music every night.
Designed and remodeled by acclaimed street artist, Ryan Keeley, the nightclub is set up like a playground for adults. Upon entering, guests head down a graffitied staircase to Mach 8's front bar where guests can purchase and enjoy cocktails crafted by master mixologists. As guests head further into the venue, they will enter an infinity-mirrored room wrapped with white leather couches. The intimate main floor features state-of-the-art sound and lighting systems, and 3-D projection screens and the room is equipped with bottle service and plenty of space for dancing. In the center of the main room is the DJ booth, where the world's biggest names in deep house music will spin.
So this Thursday at 11 pm, head out to the Mach 8 Nightclub located at 179 MacDougal Street, at the corner of West 8th Street in New York City for an unforgettable night! See you there!
-Lauren Price
Photo: Courtesy of Mach 8. Photo Credit: Nick Hayes
 Photo: Courtesy of Mach 8. Photo Credit: Nick Hayes
 Photo: Courtesy of Mach 8. Photo Credit: Nick Hayes
Photo: Courtesy of Mach 8. Photo Credit: Nick Hayes