Situated in the lobby of The Setai South Beach on 2001 Collins Avenue, Jaya Restaurant should be on your itinerary for your next trip to Miami. The Asian fusion restaurant's kitchen is led by Executive Chef Vijayudu "Veejay".
As Miami is known for its nightlife, Jaya's atmosphere aims to create a different vibe where customers can sit back and relax while they enjoy their meal.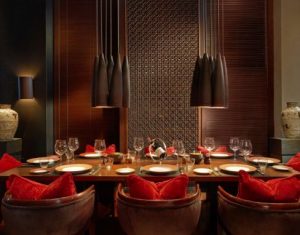 A statue of Buddha sitting on a giant reflecting pool greets customers on Jaya's outdoor terrace, as the modern temple design serves as the perfect backdrop for your next Instagram post. Setai's Zen garden surrounding three infinity edge pools leading to the ocean can also serve as another photo opportunity but is no match for Jaya's menu.
From Wok to tandoori ovens, Jaya bids the best of South East and Northern Asian cuisine. Jaya offers their customers a lunch and dinner menu, with specialties including their Panang Curry, Peking Duck, and the Thali Platter, a vegetarian dish. They also provide an equally diverse menu for their drinks and desserts.
Your Jaya experience is not only limited to dining but your evening as soon as you enter the premises. Offering valet parking services, Jaya encourages their customers to kick back and let the staff take care of them as soon as they enter.
To book a reservation or more information on Jaya, visit the Setai Hotel's official website.
Stay Tuned for Downtown Magazine's YouTube channel coming soon to see the hype around the Setai Hotel's Jaya Restaurant.