The Institute of Culinary Education (ICE) has officially found a new home in Brookfield Place! In May, ICE relocated from their longtime location in the Flatiron district to 225 Liberty Street.
Extending across 74,000 feet with remarkable views of the Hudson River and the World Trade Center, this move coincided with ICE's 40th anniversary. This is officially the third significant relocation since the school's establishment in founder Peter Kump's apartment in 1975, to a three story walk-up on East 92nd Street, and then to their 23rd Street facility in 1999.
In this new setting, the facility features 12 teaching kitchens and six lecture spaces expanding over a single floor. ICE has created an environment that encourages innovation, and integrates all of the school's culinary offerings, such as four accredited career training programs, professional development opportunities, recreational cooking workshops, and special events. With the new, larger site, students can embrace a greater sense of community with the student lounge that features floor-to-ceiling windows as well as a new culinary library.
ICE's new home allows students to access equipment from leading culinary brands such as personal iPads loaded with textbooks and lesson plans, culinary classrooms equipped with gas, French top and induction burners, pastry kitchens with blast freezers and steam-injected triple deck ovens, modernist cooking equipment such as plancha and rotisserie, a kitchen ideal for teaching "brigade" style cooking, spaces dedicated to mixology and wine studies, as well as indoor hydroponic herb garden, and much, much more.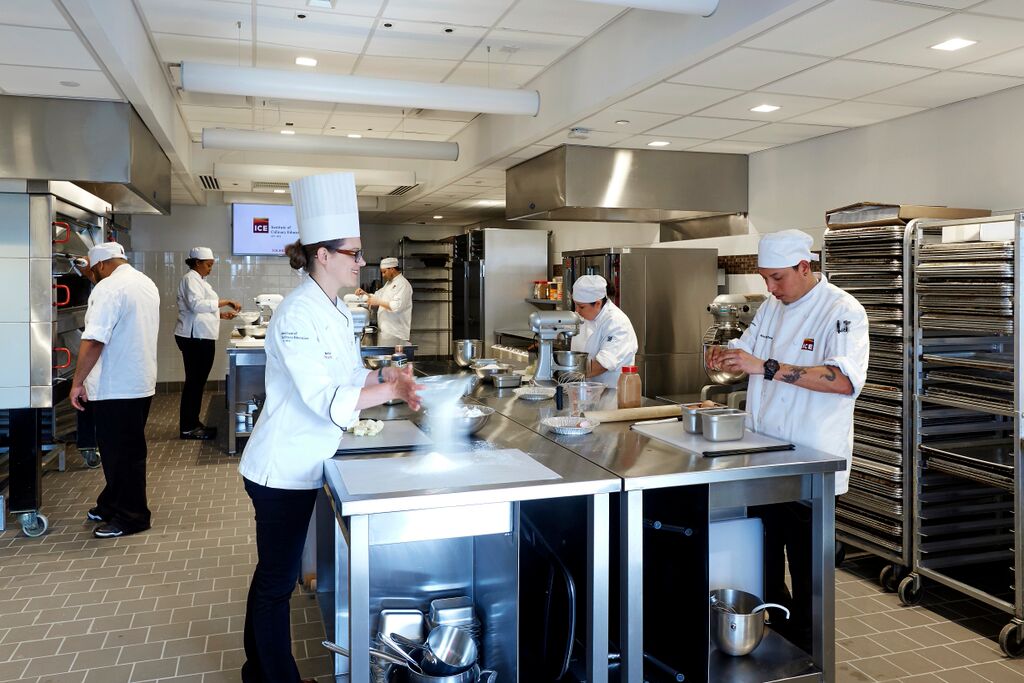 With the beautiful waterfront views, ICE is now an ideal choice for special events and demonstration classes. Google and Apple executives, producers from Top Chef and The Apprentice have met, entertained or taped segments in this event space. The Brookfield Place location also accesses the French market known as Le District, the Hudson Eats food terrace and high-end independent restaurants. The new school also has an impressive five-acre outdoor plaza and marina along with the Brookfield building itself featuring a four story, palm-tree filled atrium named the "Winter Garden".
ICE was one of New York City's first serious cooking schools and has trained several chefs who have risen to fame across the nation. These include chef Marc Murphy, a chef and judge on the Food Network's Chopped, and Gail Simmons, a judge on Bravo's Top Chef. ICE is also active in supporting food-related charities such as City Harvest, Action Against Hunger and Citymeals-on-Wheels.
The new venue will allow instructors the chance to teach and inspire students in a world-class, vibrant space.
-by Kelsey Maloney