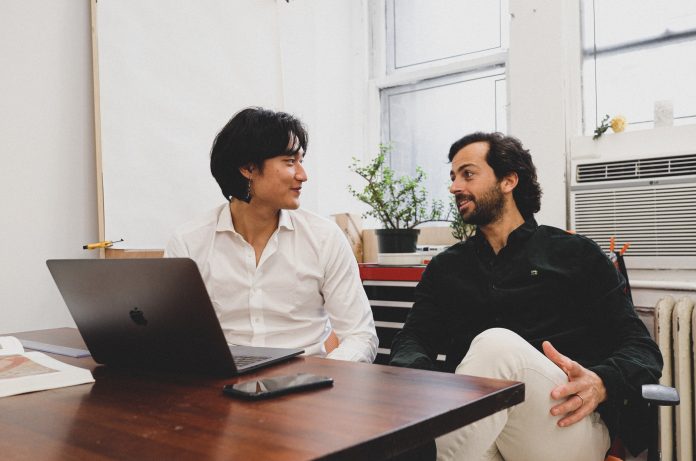 An "Innovation Class" at Columbia University led two future business partners to build on a growing movement in sustainable fashion. Both recognizing the need for greater transparency and ethics in the fashion industry, Martim De Mello and Jeremy Yao came to found Changing Room, a platform dedicated to opening the discourse on sustainable fashion. "We want to bring solutions that are easier for people to act upon. We want to make these tools part of people's lives," De Mello emphasized.
Tangible Tools to Support the User
These tools include what's called a "Change Request," where customers can paste a link to a clothing item they're looking to buy, after which Changing Room will research and evaluate the product's environmental impact and return more sustainable alternatives within 48 hours. The team is currently on track to build an automated database for product research, as users will know the embodied emissions of a piece while they're shopping. "You'll get to know on average how many liters of water you'll save if you go for a secondhand option, you'll know how much CO2 emissions you're avoiding by going secondhand," De Mello described, adding, "we also give firsthand alternatives from brands that have more sustainable practices."
Building on Piquing Interest
To grow the Changing Room audience, De Mello and his team are focused on expanding their social media presence and network of friends. "Organic growth for us is the key components. If we're offering something that's of value, we know that people will want to use it and tell their friends," De Mello underscored. Rather than commoditizing this new wave of interest in sustainable fashion, Changing Room is focused on building interest into long-lasting change. "We want to educate consumers. By educating them in a seamless manner that's very intuitive, we hope they'll be inspired to take change, and we'll be offering them the solutions and small transitions for them to be able to take action," social media manager Cristina Londo added.
A Community of Users and Researchers
In the long run, Changing Room plans to embody a community of learners, researchers, and activists piloting the fashion industry's evolution. Beyond demanding ethics and transparency from brands, founders De Mello and Yao plan to cultivate an accessible space for sharing research on sustainable fashion. "For us, everything is about the community. Not only on the consumer side in terms of spreading the word, but in terms of the community of researchers: getting people to be able to collaborate in one place, bringing their ideas, bringing their inputs," De Mello summed. To access the tools and resources available at Changing Room, visit changingroom.eco.