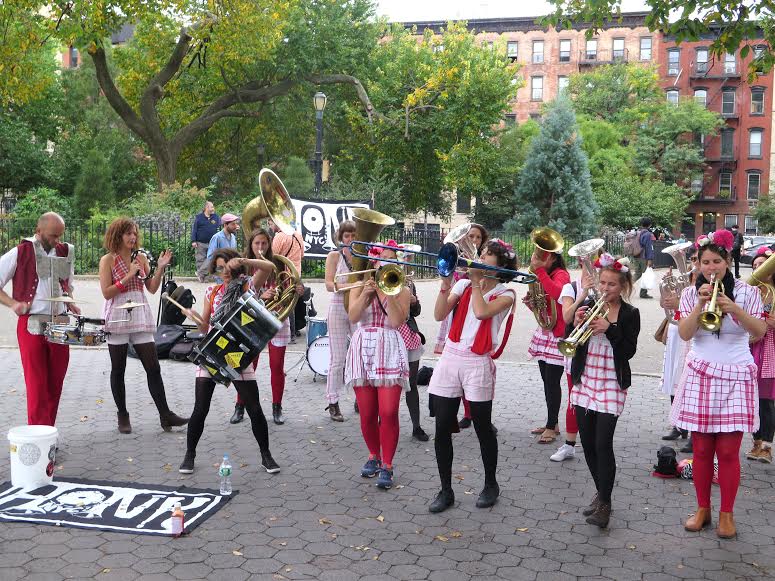 A global street music festival based in New York City, HONK NYC! brings together brass bands, samba bands, marching bands and drumlines from all over the world. Its events take place over the course of a week throughout Manhattan and Brooklyn, including happenings this year at One Penn Plaza, The High Line, the DUMBO Archway, and NYU's Jerry H. Labowitz Theatre. A spin-off from the Boston-based HONK! Festival of Activist Street Bands, the HONK series also has annual representation in Brazil and Australia.
HONK NYC! steward Sara Valentine took the time to speak with Downtown about this year's festival, which runs from October 12th through 18th. HONK NYC! is a massive undertaking for Sara, and remains something she continues to run every year with tremendous pride. But given this year's acclaim and awards received at the World Maker Faire, even bigger things are presumably expected from Sara and the rest of the HONK NYC! team for next year's presentation.
In the meantime, more HONK-related event information can be found online at the festival's official website, www.honknyc.com, and through their official Kickstarter page.
How would you describe HONK NYC! to someone who hasn't yet experienced it?
Sara Valentine: HONK NYC! is a really fun celebration of street band spectacle and culture. Be prepared to meet wildly-costumed bands and entourages for the week, hailing from Paris, New Orleans, Chicago and New York City. Get ready to dance to, enjoy and engage with infectious music that has a global sound. Get ready to smile!
Where did the idea for the festival come from?
S: HONK NYC! is actually the baby-sister and after-party to the Boston-area HONK! Festival of Activist Street Bands, held over Columbus Day weekend in Somerville, Massachusetts. We're part of a large network of Honk Festivals, inspired by Mama Honk in Boston, that spotlight socially-active, politically-progressive street bands who more often than not have a mission to support forward-thinking causes.
HONK NYC! was birthed in 2007 at a dinner party between two bands: Hungry March Band from NYC and Pink Puffers from Rome. Nine years later, we are a week-long celebration presenting multiple concerts, school performances, and panels.
Were you part of marching bands in your childhood?
S: Nope, but I had a baton. My parents were circus aerialists when they were young, but were business owners by the time they had me. I had a trapeze instead of a swing set, and instead of juggling balls, they gave me a baton, which I loved. I taught myself how to twirl the damn thing and would make up routines in my driveway all the time. When Hungry March Band formed in my living room in 1997, I thought, "I can be in that band."
Is HONK the first festival you've worked on?
S: No, actually. I produced a four-day festival in 1994 on the Lower East Side called Vulvapalooza. It was during my Riot Grrrl days in the early 1990s. We had an art show, readings, and two days of music at a spot called The Gas Station, an old abandoned service station on Avenue B and 2nd Street, where these welders had their studios. They would have shows inside the building and in the yard and the fest was held there. It was kind of amazing. One of the best rock shows I've ever been to in my life. I was 23 when I did that!
Do you also work on the HONK festivals in other cities?
S: Nope.
How do participating artists become part of the HONK NYC! festival? Is there a submission process?
S: Because we are the after-party to HONK's in Boston and Providence – which is called PRONK – we piggy-back on their festival rosters. It's an open invitation for those bands going to HONK and PRONK to come to New York City. Usually we get three to four bands, sometimes five. New York bands who don't go to HONK play at HONK NYC! I find the musical repertoire Honk band share with brass and samba groups in NYC to be kindred cousins, even if the missions of the bands are different. I like to include all types of brass bands in our show, as I think the music's broad appeal speaks to a certain kind of spirit that these bands share, regardless of how overtly political their bands may or may not be.
What is the biggest challenge for you in putting on a festival of this magnitude?
S: Funding.
Who else works with you to make this festival happen?
S: An amazing team of 15 people, plus all these amazing folks who open up their houses to the touring bands for a week. We then have a number of presenting partners — arts organizations, venues, independent promoters, with whom we co-throw our shows. I find that in New York City the way to make this happen is to work with those in the music, arts and public service community. They're big fans of the music and of the types of experience a marching band can provide to unsuspecting passers-by and audiences in venues who like to have that fourth wall disrupted a little.
How did HONK NYC! wind up becoming part of this year's World Maker Faire?
S: Wow, good question. My band and some other friends have played in the past, in the early years of the World Maker Faire in New York City, but in the past few years, they hadn't had any marching bands. I thought it'd be a good way to promote our fest, so I asked a friend who works on the WMF if he thought I could maybe put some of our bands there. He got back to me with the answer that not only could we put bands there, we could make a presentation and have a booth in addition to performances.
At first I thought our booth would be more of an info-thing, not something interactive. As I wrote my proposal — which was literally due two days after we had this conversation — I realized we could do hands-on workshops with kids in costume-building, instrument-making and the like. I reached out to my art-partners and bandmates in Batala NYC and ended up with an amazing crew of women makers who taught kids how to do "Creative Reuse Costuming," "T-Shirt Cutting," "Instant Choreography," and "Small Instrument Building." Our booth took home four Editor's Choice Ribbons. Three of our artists received eight more ribbons between them, making HONK NYC!'s ribbon tally a dozen for our first- time ever WMF. I am obviously very thrilled!
What needs to happen with the 2015 festival in order for you to view it as a success?
S: Oh, breaking even. Open minds, open hearts, not have any housing snafus, not getting sick…learning how to use social media finally. Have an epic closing party on Saturday the 17th at The Wick.
Do you have any other events coming up besides HONK NYC!?
S: Not at the moment. I do produce events on my own and for the bands I'm in, Hungry March Band and Batala NYC, and may have things coming up in the spring with them. I also do a program with Make Music NY each June 21.
When you're not busy with putting on events, how do you like to spend your time? Do you have favorite spots in Manhattan to spend time at?
S: (laughs) I am always working! Seriously, though. I love dancing and drumming, and very much look forward to weekly rehearsals with Batala NYC on Sundays. I also like to travel, and usually take a road trip once HONK NYC! is over to go play with another band in Denver, CO. I've become a foodie, and spend a lot of time – and money! — seeking out great places to eat. I live in Staten Island, so I actually get to spend time in nature out here, which makes me very happy. I would like to see a movie once this fest is through!
My favorite spots in Manhattan? Depends on what I'm doing. If it's food, my favorite new place is Belle Reve in Tribeca. If it's a neighborhood in which I like getting lost, it's the West Village. If it's pizza I'm after, Two Boots. And if it's street life, probably these days it's Avenue C. I also love St. John The Divine, and used to spend a lot of time up there. It's quite magnificent.
Finally, Sara, any last words for the kids?
S: Come to HONK NYC! with your parents on Saturday, October 17th at La Plaza Cultural! We'll be there all afternoon starting at 1 p.m. Come dance with us, hear and see some great music and performances, and participate in a really fun, engaging community of creative people actively striving to sustainable connections through the arts.
-by Darren Paltrowitz