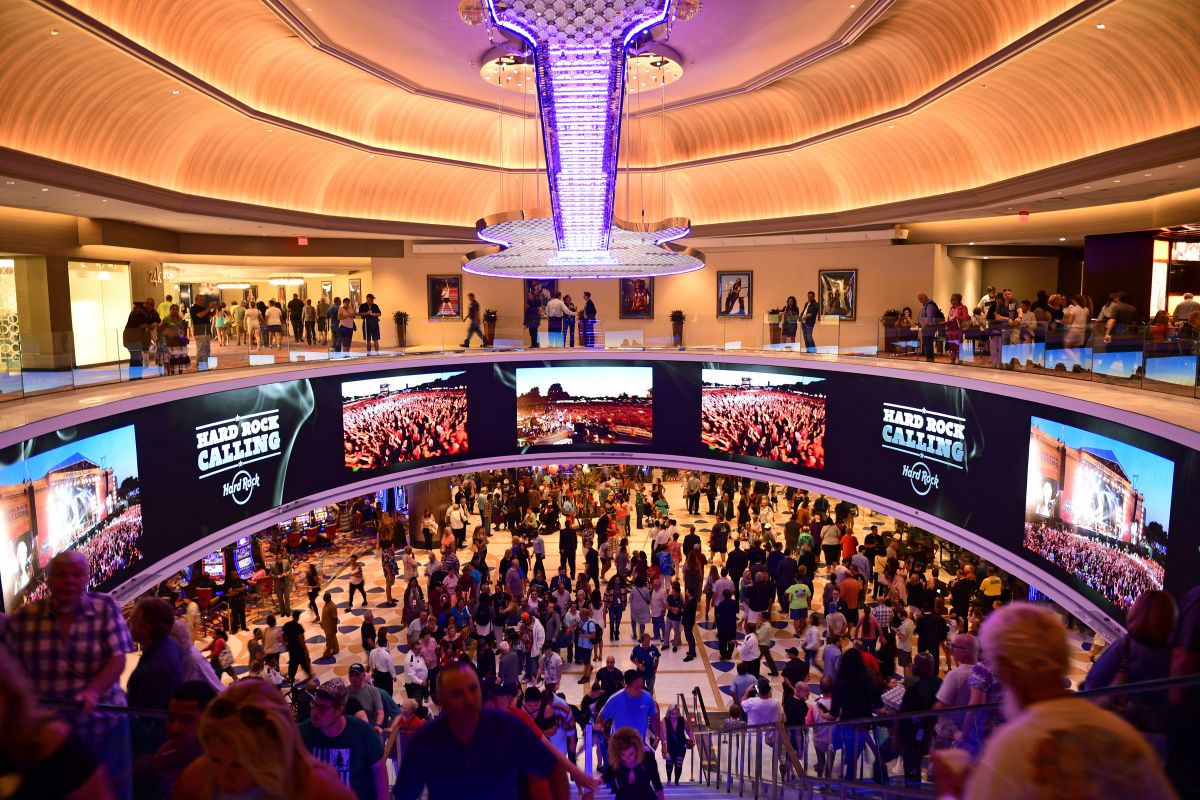 If there's on thing Atlantic City doesn't need it's another cookie cutter casino.
Over the past 6 years, 5 major properties shut down on Jersey's acclaimed gambling boardwalk. And there are still 7 competing casinos. So why on earth, would anyone want to open another one?
Believe it or not, the answer is simple – while it's obvious that Atlantic City doesn't lack slot machines or poker tables, it's missing next level of entertainment. Hard Rock wants to change that.
The new Hard Rock Hotel Atlantic City property has over 2,100 slot machines and 120 table games, but it betting on more than just more gambling opportunities.
The new 17-acre boarward resort, which opened last month, boasts 20 restaurants (including flashy dessert spot Sugar Factory and Greenich Village's italian favorite Il Mulino). There's a gym and a spa – which are standard hotel fare–but on top of that, the hotel itself is a mecca of a museum for any music lover.
It's home to seven stages (one of which is a 7,000 person arena, another a theater that fits 2,000) bringing an unprecedented amount of entertainment to the neighborhood. Acts big and small fill each stage so that there's never a silent night. Upcoming ones range the gamut in music taste – there's everything from Rascal Flatts, to Pat Benatar, and even Frankie Valli and the Four Seasons.
As if that wasn't enough, tucked in every corner is a piece of rock and roll history from  Hard Rock's impressive memorabilia collection. Any Beatles fan will want to go on a scavenger hunt throughout the property to find John Lennon's glasses, plus his hand written lyrics to Imagine. You can also see pieces from icons like Jimi Hendrix, Prince, and David Bowie. But our favorite installation has to be the room dedicated to Jersey's best talent, which includes pieces from Bon Jovi, Sinatra, Frankie Valli, Whitney Houston, the E Street Band, and Lauryn Hill
If you chose to stay at the property you can rock out even harder. Guests who are longing for a bit of nostalgia can request to have a Crosley turntable in their room. They'll be able to  pan through a curated selection of records to enjoy on vinyl. Rather make your own music? Turns out that's an option too. Similar to checking out a library card, only undoubtedly cooler, guests can 'check out' one of 20 Fender Guitars during their stay. There's the option to borrow legendary Stratocasters, telecasters, and bass guitars. Each one is delivered to a guest's room with a Fender floor amp and Nixon headphones – so they can have a personal jam session.
The stakes are high for any property that's trying to earn it's spot on the Atlantic Boardwalk. But it seems Hard Rock is playing its best cards and is destined to become a number one hit. For more information on the resort, restaurants, and music performances click here.