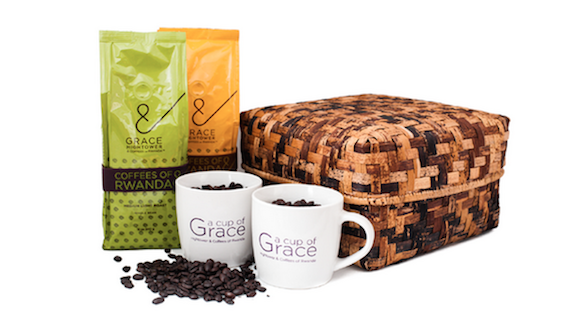 Coffee lovers worldwide will enjoy Grace Hightower & Coffees of Rwanda's elegant flavors, and appreciate the organization's altruistic goal of benefitting Rwandan farmers. Founded by philanthropist Grace Hightower De Niro, environmental stewardship and direct sourcing are at the forefront of the brand. Not only are the coffee cherries handpicked and sorted to ensure the highest quality, but the company emphasizes sustainability and partnership in order to foster economic growth and a better future for its partners.
"I'd like to share with the West what is going on here to hopefully have the West have a better appreciation for the products, the labor that goes into it, and the people who are creating this," Hightower De Niro said. "We all can contribute and share and help each other to learn, and I find myself, being a Westerner, learning a great lesson from the Rwandans."
The Grace Hightower & Coffees of Rwanda Coffee Connoisseur Deluxe Gift-box was received as a sampling, and was experienced by coffee aficionados in Ohio and New York. The aromas of all four blends (Medium Light Roast, Medium Dark Roast, Espresso Roast, and Signature Series) were praised, and the beans ground well. The Signature Series was initially made using single-serving cups, but the citrus and floral notes are better experienced when a full pot is brewed. The Medium Light Roast was another favorite, and was noted for its smooth taste and hypnotic aroma.
Grace Hightower & Coffees of Rwanda also offers a Medium Dark Decaf Roast, as well as a variety of affordable gift sets that are perfectly suited for the holiday season. Shoppers saved an extra 25 percent on all gift sets on Black Friday and Cyber Monday, and there are dozens of fabulous choices. The "Land of 1000 Hills Holiday Set," for example, includes hand stamped silver spoons, two ceramic coffee cups, and four coffee blends. Other sets include handwoven banana leaf baskets, a French press, flavored sugar, ceramic coasters with original Rwandan photographs, and other exceptional items.
View the full selection of offerings from Grace Hightower & Coffees of Rwanda on Coffee of Grace.
Comments
comments