LAUREN+VANESSA Hair and Beauty brings luxury service to the Financial District. Conveniently located on Nassau Street, this beautiful loft style salon creates a relaxing atmosphere which allows clients to escape from the hustle and bustle of Lower Manhattan. They provide personalized luxury hair and makeup services that are designed to suit the beauty needs of all through the use of  leading brands, such as L'Oréal Professional Haircolor, Oribe Haircare, Bobbi Brown Cosmetics and more.
Hair color specialist, Lauren E. Hack, is known for her artistic ability and insightful knowledge. She has done work with countless top models and film stars, in addition to her work being featured on Vogue.com, and in Harper's Bazaar, InStyle Magazine, and Sports Illustrated Magazine.
As a renowned hair and makeup artist, Vanessa Ungaro brings over 10 years of experience to their partnership. She has used her talent on a number of A-list clients, and designed hair and makeup for the screen, runway and Red Carpet. Her specialty is Bridal Beauty and Precision Dry Haircuts.
They travel globally, and are bringing their talents to the West Coast with services in Los Angeles. Their team of hand-picked beauty experts bringing blow-dry styling, precision dry haircuts, men's haircuts, single process hair color, highlights and makeup applications to clients homes.
Coming highly regarded by many, DOWNTOWN wanted to experience LAUREN+VANESSA's beauty services. My experience was everything and more. I ventured down Fulton Street from our office in the dreary gray winter weather, expecting a quick hair cut, blow out, and interview with Lauren and Vanessa. Little did I know, I would walk into a beautiful salon and be welcomed immediately. My forecasted quick visit here turned into an entire afternoon. They made me feel comfortable about taking risks and considered my desire for a style that is easy to maintain.
Lauren's knowledge and ability to explain processes and what works for my face shape and skin tone, ended in me agreeing to lighten my hair. The color process was relaxing and deeply explained. She was using the balayage technique which she described as "a French word meaning sweep or to paint." Her goal was to create a natural, sun kissed look, which was the exact outcome with the help of L'oreal Professionel Platinium Plus for the Balayage Highlights! This was my first time undergoing hair treatment without any anxiety – needless to say Lauren is extremely talented!
I then had my hair cut and styled by Vanessa. Similar to Lauren, she explained what she was doing and the products she would use. She accommodated my hair type, while keeping my length and opinion in mind. Knowing that I have thin hair, Vanessa resorted to a Precision Dry Hair Cut, allowing for, in my opinion, the perfect cut. She gave me a dramatic face frame that which outlined my face and accentuate my cheekbones. Vanessa used Grandiose hair plumping mousse, Maximista thickening spray, and Thick dry finishing spray. The final product was everything I expected and more!
I felt extremely comfortable, pampered, and relaxed during my wonderful experience at LAUREN + VANESSA. I often get anxious or nervous when it comes to hair processes and haircuts, but, for the first time ever, I had complete trust in these talented women. They had the ability to give me insight and a step-by-step explanation of every little thing they did, which was very comforting. I left the beautiful salon feeling light up and rejuvenated. After my beauty service experiences I was able to chat with Lauren and Vanessa:
DOWNTOWN: How did the two of you start working together?
LAUREN+VANESSA: We worked together at a salon for 5 years. It was there we realized
we shared a mutual passion for our craft. In 2013 we were given an opportunity to share in a collaborative work environment with multiple artists.
DOWNTOWN: What do you love about your Downtown location?
LAUREN+VANESSA: We love that we are a hidden gem and by appointment only. Our clients are invited into a very charming, private and intimate atmosphere. Almost like you're in a friends living room with spa-like quietness but with all the beauty amenities. The salon is over 2,000 square feet of spacious, chic décor, a charming patio area for outdoor processing or relaxing, and a private entrance for celebrity and high-profile clientele.
DOWNTOWN: What makes your salon unique to the Downtown area?
LAUREN+VANESSA: We are the first female duo to establish a hair and beauty business together in the Financial District. By starting a partnership we merged our backgrounds, talent and ideals to create our brand, LAUREN+VANESSA Hair and Beauty. We are dedicated to delivering the very best service possible by creating a personalized, timeless look that is easy to maintain. When you look beautiful you feel confident and nothing makes us happier than making our clients feel good.
DOWNTOWN: Where do you see yourself in five years?
LAUREN+VANESSA: Our goal is to expand our company into a lifestyle brand. To become a household name – a lower manhattan staple.
So, if you are looking for a pick me-up, head to LAUREN + VANESSA on 80 Nassau Street. You'll be pampered to perfection and leave feeling beautiful inside and out!
-by Deirdre McAndrew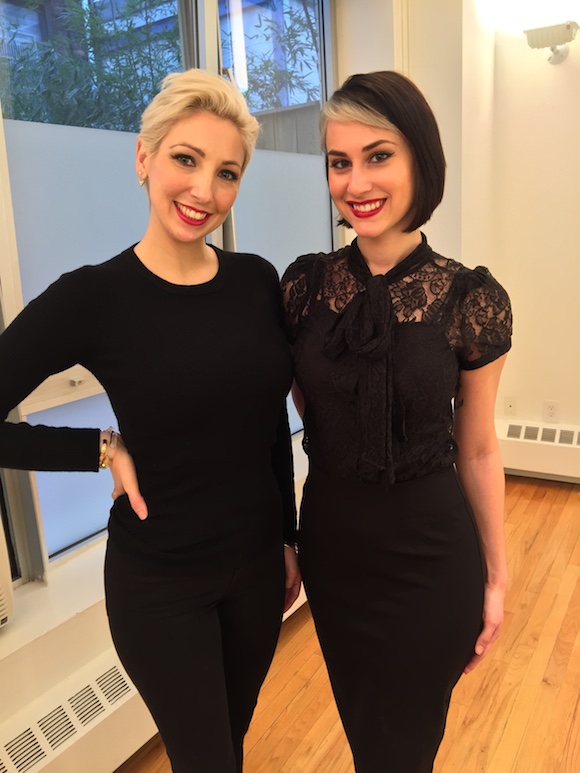 *Photos: Courtesy of LAUREN+VANESSA