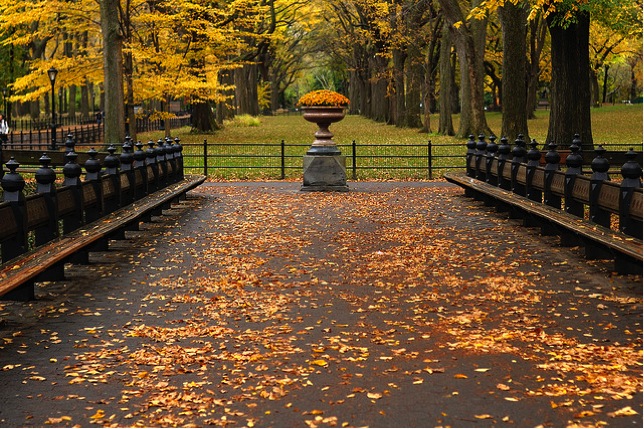 Fall is a favorite time of year for many families. Fall means football, cozy sweaters, vibrant foliage, family-filled holidays and pumpkin-flavored treats. Although the kid-favorite season summer is over and school is back in session, the autumn season is full of exciting family-friendly things to do, especially in New York City.
Whether you call the Big Apple your home or are planning a visit this fall season, there are plenty of attractions and activities providing fall family fun to families of all sizes and ages. Scroll through our list and pick out how you and your family will enjoy all fall has to offer this year.
Play With Leaves In The Park
One of the best things about fall is being outside breathing in the cool, crisp air and seeing all the leaves change colors. And when you have kids, playing with all the colorful, crunchy leaves that fall to the ground provides hours of free family fun and great photo ops. New York City is home to several parks and thousands of trees.
Some NYC greats are Central Park in Manhattan, Prospect Park in Brooklyn and Van Cortlandt Park in the Bronx. Stroll through one of these parks, walk along a scenic trail, have a nice family picnic and then play with some leaves for a fun and free afternoon activity.
The Thain Family Forest, New York Botanical Garden. Photo: Courtesy of Kristine Paulus
Have A Fall Adventure At A Farm
Even in the concrete jungle of New York City you can find a little taste of country life. Green Meadows Farm offers a petting zoo full of various animals. Kids not only pet these friendly furry creatures, they feed them, learn about each animal and can even ride a pony and milk a cow. Even better, when you visit them during the fall, you receive a free pumpkin! 
Attend A Circus Or Disney On Ice Performance
New York is one of the entertainment capitals of the world with events, festivals and shows happening daily. During this fall season, take your family out one night to the circus or to see a favorite Disney show on ice. The Big Apple Circus is doing performances from October 17th to January 11th at Lincoln Center. Watch in awe as trapeze artists magically fly above you, acrobats demonstrate how they defy gravity, teams juggle with their feet and more.
Big Apple Circus
Warm Up With A Cup Of Tasty Hot Chocolate
The quickest and sweetest way to warm up on a chilly fall day is with a cup of hot chocolate. Two family-friendly spots in NYC are City Bakery and Dylan's Candy Bar. City Bakery is one of the most famous hot chocolate spots in the city, especially during its annual Hot Chocolate Festival. Stop in with your family anytime during a cool autumn day for a delicious cup of their thick, creamy, chocolaty drink topped off with a giant homemade marshmallow.
Picking out candy at Dylan's Candy Bar. Photo: Courtesy of m01229
Dylan's Candy Bar is every kid's, and maybe adult's, sugar heaven. Enjoy a mug of their delicious hot chocolate in their Candy Café, which you can make even sweeter by topping your mug off with birthday cake, cookies or some candy.
Whether you and your family live in or are taking a trip to New York City, fall is one of the best times to be in the city. There's magic in the crisp autumn air and the fall activities are endless, making your stay in NYC full of fall family fun.
-Story contributed by our Lifestyle and Family Editor Denise Courter's website, FiDi Families