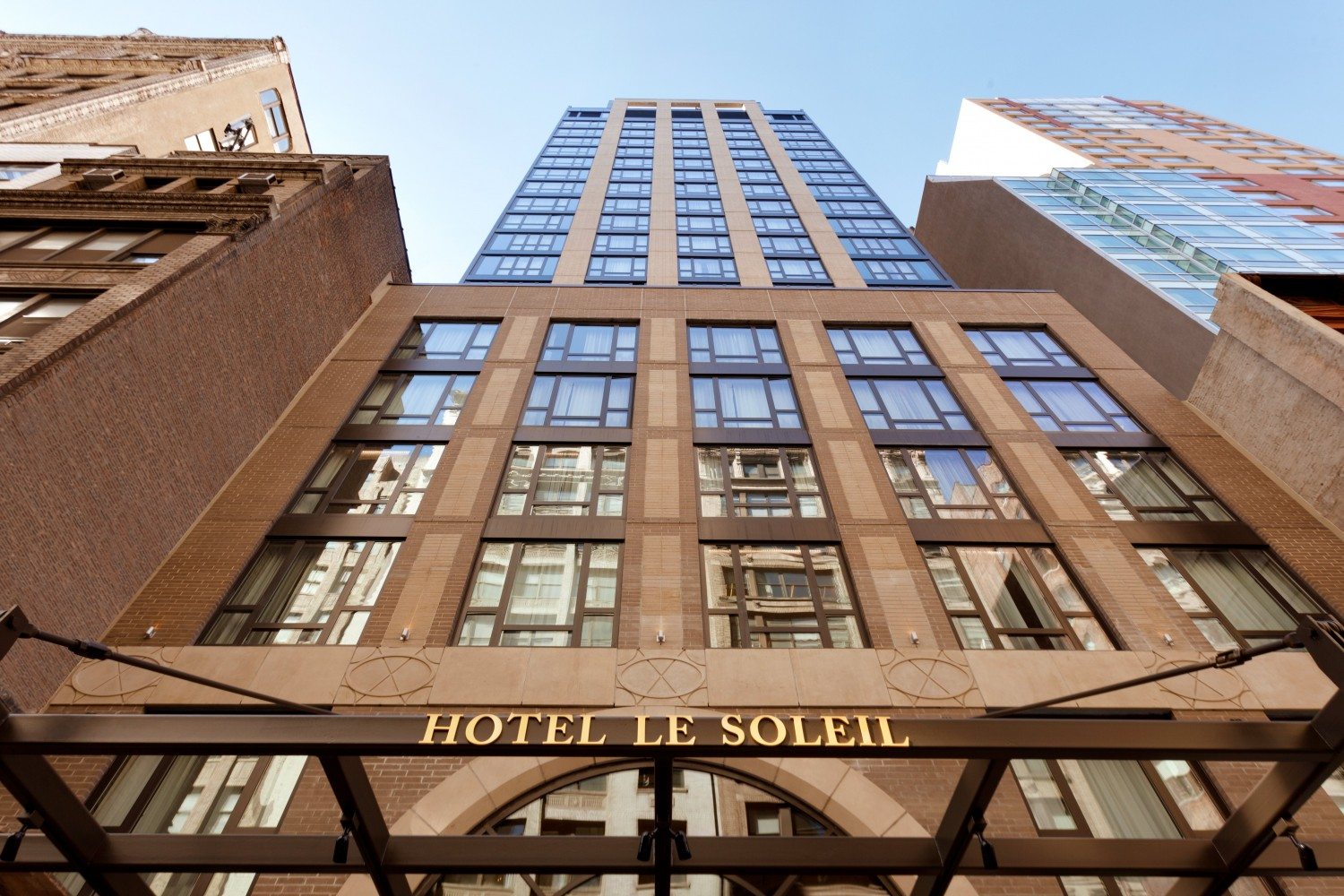 Opened earlier this year at 38 West 36th St., the Executive Hotel le Soleil New York is a 162-room luxury boutique hotel. Located near Herald Square and Bryant Park, the Executive Hotel le Soleil is a rare pet-friendly establishment in Manhattan. For those without pets or a preference for Midtown, every guest room has separate living and bedroom areas. In addition, every room above the 16th floor also has a view of the Manhattan skyline.
I had the opportunity to do some Q&A with Lowell Beebe-Center — the General Manager of the Executive Hotel le Soleil New York – a little bit after Thanksgiving. Beyond answering what makes his hotel unique from other spots in the neighborhood, Lowell was open about what life as a hotel GM can be like at its best and worst. Prior to running the Executive Hotel, Lowell had opened Midtown East's Hilton Garden Inn, the Holiday Inn Express in Herald Square, and the Sheraton Tribeca.
For more information on the Executive Hotel le Soleil New York, click on over to www.hotellesoleilny.com. That website includes the menu for their L'Espresso Café and will soon feature more information about the forthcoming Le Soleil Restaurant and Lounge, which Lowell provided more details on.
How did you wind up in the hospitality field? Was there a particular person who inspired you to pursue the field?
Lowell Beebe-Center: Most summers during high school and college I worked in hotels/resorts in Maine. I never realized this would be my profession — history major in college, started managing restaurants and night clubs. Became a restaurant manager in a new hotel in New Hampshire and realized that this is what I wanted to do. I've been very fortunate to work with several inspirational leaders in the last 25 years.
What brought you to New York City? Was it your line of work?
L: Over the years I've established myself as an opening person, acquired specific skills that help making the opening successful. I accepted a position to open the 369-room Sheraton Tribeca [370 Canal St.] in 2010.
What is the most rewarding part of managing a hotel in New York City?
L: The fast pace and very dynamic market creates an interesting and challenging condition. In the hotel industry in New York City, it's a very small world. I enjoy the networking and relationships that are cultivated over time.
How has the role of managing a hotel changed over the past decade?
L: There are more types of hotel products now then 10 years ago, but the mission is still the same, create a "guest first" culture, help sell the hotel and protect the bottom line.
Is there a movie that you feel best sums up the experience of managing a luxury hotel?
L: Back in the '80s there was a TV show called Hotel about a luxury hotel in San Francisco. Always gave me the impression of a very glamorous lifestyle, when in reality it changes every day. Some days you get Home Alone 2, Pretty Woman, Lost In Translation or Grand Budapest Hotel. Every now and then you get The Shining!
There are a lot of hotels near the Executive Hotel Le Soleil New York, but what do you feel makes it different from other nearby lodging options?
L: All about the guest and employee experience! A happy staff will take better care of our guests. Staff is empowered to make decisions. Managers are all very hands-on to support the staff and serve the guest.
Given that the word "Executive" is in the name of the hotel, is there an average sort of client or guest for the hotel?
L: Our goal is to make all guests feel like executives, whether here for business or pleasure.
I understand that your hotel is pet-friendly. Are there any requirements for someone who brings a pet with them?
L: We do charge a one-time non-refundable fee and ask that they sign an agreement stating the parameters of being a responsible pet owner.
When will Le Soleil Restaurant and Lounge be open? Do you have a favorite item on the menu?
L: It is scheduled to open March 2016. We're very excited as there will be two different concepts. Menus are being finalized. I've volunteered for tasting everything!
Are there any special events or promotions coming up at the hotel?
L: We just had a successful Thanksgiving Day Parade package. For the holiday season we have a "Retail Therapy" package. This will include gift card to Macy's, vouchers for our Espresso Bar and a wonderful suite accommodation. Our location for holiday shopping is ideal.
When you're not busy at the Executive Hotel Le Soleil New York, how do you like to spend your free time?
L: I feel I have the best of both worlds, I love working in New York City as it's the number one hospitality market in the world and I love going home to Connecticut each night. I enjoy golf and time with family and friends.
Other than your own, of course, do you have a favorite hotel to stay at?
L: There's a great traditional resort in northern New Hampshire called The Balsams. We haven't been in a while but it's a classic resort experience. Hope to go back someday.
Finally, Lowell, any last words for the kids? 
L: Please put the shower curtain INSIDE the tub!
-by Darren Paltrowitz