Broadway Cares Equity Fights Aids hosted a private screening of Every Act of Life, a documentary by Jeff Kaufman, about the life of Tony Award-winning playwright Terrence McNally.
The screening was hosted on Wednesday, July 11th at the School of Visual Arts Theatre on 333 West 3rd Street. This screening was held exclusively for the Angels Circle supporters.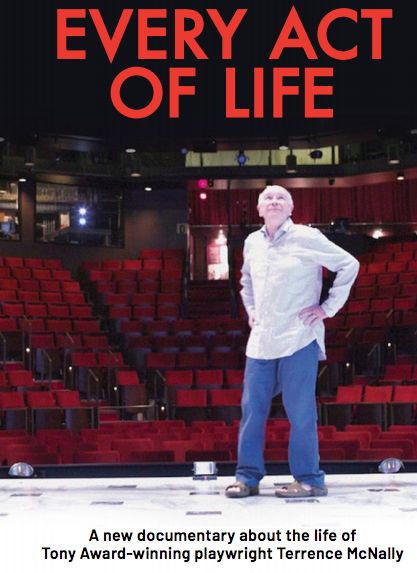 Tom Viola, the executive director of Broadway Cares, gave an introduction to the evening, as well as F. Murray Abraham, a veteran of McNally's plays, who introduced the documentary.
Every Act of Life focuses on the pivotal moments of Terrence McNally's career that molded him to the playwright he is today. It follows the life of McNally, who grew up in Corpus Christi, Texas in the 1950's as a closeted gay teen. He soon moved to New York City at the age of 17 to study at Columbia University to pursue theatre as one of the first openly gay playwrights.
Kaufman invites viewers to take a closer look at the most intimate moments in McNally's professional development.
McNally's love for the theatre was inherited from his parents who made frequent trips to New York City to see Broadway Musicals. At the age of eight, McNally finally was able to experience his first Broadway Musical, Annie Get Your Gun, starring Ethel Merman.
The film introduces the audience to influential figures in McNally's life, such as Maurine McElroy, a gifted English teacher who had a profound impact on his writing. He dedicated several of his plays to McElroy, whom he held responsible for his wildly successful career.
Many renowned actors such as Christine Baranski, Zoe Caldwell, Tyne Daly, Angela Lansbury, and many more are featured in this documentary, as they recount their experiences with McNally.
At the end of the screening, Terrence McNally himself, along with his husband, Thomas Kirdahy, a former civil rights lawyer, engaged the audience in a Q&A.
As the evening wrapped up, McNally confirmed that he is currently working on several projects and the audience should expect many more to come.
For information on future screenings and more, check out Every Act of Life's website.