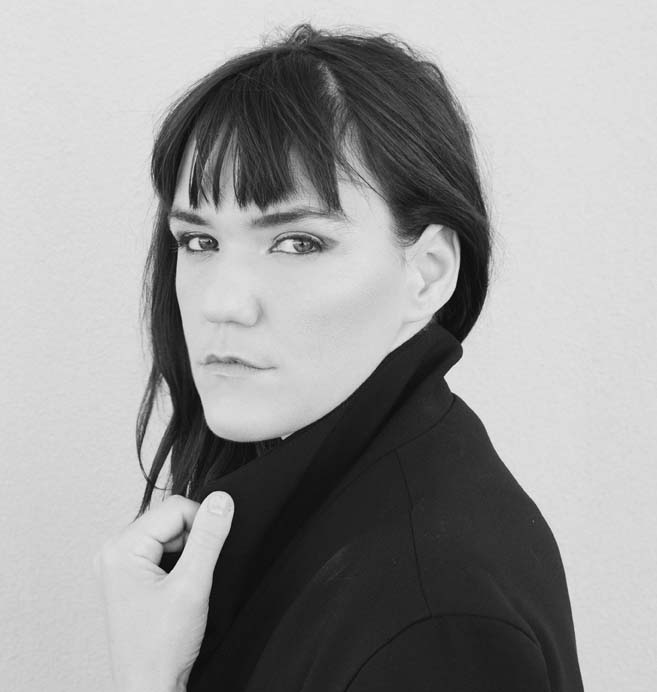 While many teens dream of making acclaimed music, Emily Wells was actually doing it, self-releasing her first cassette at the age of 13. Emily's DIY ethic ultimately led to interest from major label Epic Records, but she decided to stay on her own path. Rave reviews from outlets like NPR's All Things Considered, WNYC's Soundcheck, and The New Yorker would eventually follow, as would working with popular Brooklyn label Partisan Records.
Moving ahead to 2016, Emily Wells has released a new album called Promise through her own label, Thesis & Instrict. Long-time fans of Emily's will be happy to know that her usual blending of the folk, jazz, classical and hip-hop genres is still present on Promise. In support of that latest studio effort, she will be performing at the Bowery Ballroom on Feb. 4.
Emily kindly took the time to speak to Downtown via e-mail. Noticeably, she has a gift for the written word; over the years, she has written articles for The Huffington Post, American Songwriter, and Impose Magazine. For more info on Emily, click on over to www.emilywellsmusic.com.
You're not originally from New York, having grown up in Texas and Indiana. What is it that made you want to move to New York?
Emily Wells: This is the city where, theoretically, everything is possible and when you're here you believe it. Maybe when you're not here is when you believe it… No other city lights a spark in people's eyes quite like New York at its mere mention. I've found this to be true in cities ranging from Beijing to Paris. When younger, I got impressions: Holly Golightly, Truman Capote, Josh Baskin, James Baldwin's Another Country, Patti Smith, [Notorious] B.I.G.'s Brooklyn, the lore of the Lower East Side, CBGB, Stonewall, Diane Keaton in Baby Boom, and dare I say, Annie Hall, [Jennie Livingston's] Paris Is Burning, [Joan Didion's] Goodbye To All That…
And now I stay for people's faces on the train, Central Park in all seasons, Mast Books, the reservoir in Queens where I go running, ramen at Minca, haloumi eggs at Cafe Mogador, The New Museum, my girlfriend's endless romance with the place, the possibility of overhearing every language, and a belief that all things are possible.
Do you remember the first concert you ever attended in New York as a fan?
E: I remember going to Joe's Pub when I was around 19, though I can't remember exactly who I saw. There were also some DIY situations on the Lower East Side.
Your first few albums were self-releases, even though you had interest from Epic Records early on. What made you decide to stick with the DIY path back then?
E: I distinctly remember feeling like I could not possibly be developed enough to walk onto a world stage. I had ideas but I was seriously just a kid, like 17, 18 years old, and was being asked to write with mostly men in their 40s. This was fishy.
Having worked with Partisan Records for a few albums, what brought the decision to go back to your own label with your new album, Promise?
E: Instincts and experience, and the new age of the music business. My Utopic vision is to create a sort of collective of solo artists. We need touring partners and collaborators in unconventional ways. Thesis & Instinct could be a platform for not only releasing music, but for binding artists to one another when they need it.
How would you describe Promise to a long-time fan who hasn't yet heard the first single "You Dream Of China?"
E: I took my time here, and got humbled, and threw my ideas against the wall, and grew up, and ate dirt, and went back, and occasionally basked. Thanks for waiting. Don't worry, there are lots of violins.
What must happen in order for you to view Promise as being successful?
E: Oh, the constantly-moving question. Ultimately I hope someone 50 years from now discovers it in a jukebox in Japan and falls in love with it.  Also, not a digital jukebox.
For someone coming to see you at the Bowery Ballroom in February, what should they be expecting? A mix of songs from all your albums? Or a set mostly based on songs from Promise?
E: This will be fairly Promise-centric, but I have some re-workings of past songs for you and a few surprises up my sleeve as well.
You've collaborated with a lot of high-profile people including Questlove, Aloe Blacc, Deltron 3030, and Terry Riley, all of whom from different genres. Do you still have artists that you're hoping to collaborate with?
E: I haven't collaborated with Aloe Blacc, just for the record. Nor would I say I collaborated with Terry Riley outside of my own mind, though he was quite an influence on me this past year while creating a composition for his 80th birthday. But yes, Questlove has been an absolute arrow, and a man I've looked up to for the past couple of years!  And sure, there are plenty of collaborators I dream of. Kendrick Lamar comes to mind, and Max Richter.
When you're not busy with your career, how do you like to spend your free time?
E: I am always engaged with my work, so books, movies, music, conversations, etc., they're always touching at the seams whether I'm actively touring or recording or writing. So this is the eternal business, I guess. That said, when the dust settles next year, I want to do some traveling doesn't require me to bring anything but a backpack, and spend lots of time with my nephews. And perhaps [try] anonymous stand-up comedy.
Did you have a favorite album of 2015?
E: To Pimp A Butterfly, if it requires a 2015 release date. I also loved Dilly Dally's Sore. Francis Bebey's African Electronic Music 1975-1982, if it can be something for which I could be late to the party.
Finally, Emily, any last words for the kids?
E: Read.
-by Darren Paltrowitz