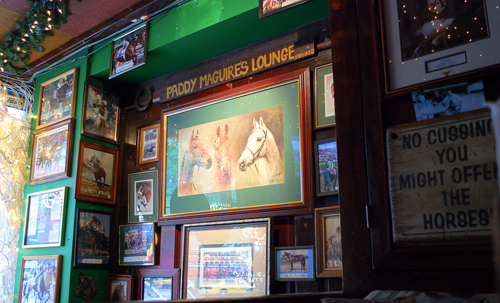 Celebrate this St. Patrick's Day in some of the best pubs in Manhattan!
McSorley's (15 E 7th St)
The oldest Irish tavern standing in Manhattan (est. 1854) is McSorley's Old Ale House, located in the heart of East Village.  Their original motto holds true till today, "Good Ale, Raw Onions and No Ladies," and the bar offers an atmosphere that is most reminiscent to 'Olde New York'.
Recommended: Chili ($3.50), Cheese and (Raw) Onion Plate ($4), Liverwurst Sandwich ($4), Two housemade Ales (light and dark make for a fantastic half and half, $5.50).
Wesbite: www.mcsorleysnewyork.com
Molly's Shebeen (Pub and Restaurant),  (287 3rd Ave)
Founded in 1895, Molly's has a rich history that survived the prohibition era and today still stands today. The fare boasts a robust list of authentic Irish food, beer and stouts.  Vintage wooden-framed portraits and a real log-burning fireplace brings a piece of the Ole Sod to the Gramercy area.
Recommended: Irish Lamb Stew ($18), Murphy's Stout (a 150-Year Old Recipe brewed in Country Cork, $7).
Wesbite: mollysshebeen.com
 Stout NYC (133 W 33rd St.)
This 16,000 Sq Ft., three-level, emporium off of Herald Square has an impressive roster of beer from Malty to Floral varieties.  Twenty beers on tap and over one hundred international brands are listed with the bar's specialty, the stout, with twenty-five unique options. A raw bar, salads, burgers, and personalized pizzas are all offered.
Recommended: One of the 25 stouts offered ($7-$22) , Burgers ($10-$15), Sweet Potato Fries ($7)
Website: stoutnyc.com
Paddy Maguire's Ale House (237 3rd Avenue)
Also located in Gramercy Park, this neighborhood staple serves up  20 oz. pints and features two pristine APA/PGA billiards tables to satisfy the pool sharks in the room.
From 11 A.M. to 7 P.M. each afternoon Paddy Maguire's provides the 'longest happy hour in New York," offer $4 pints of Yuengling, Miller, and Budweiser.
Straightforward with no frills, it's a bar for a serious celebrater.
Recommended: Jameson 12 and Black Bush combination ($8)
Website: paddymaguiresnyc.com
–Joseph Amella, Jr.