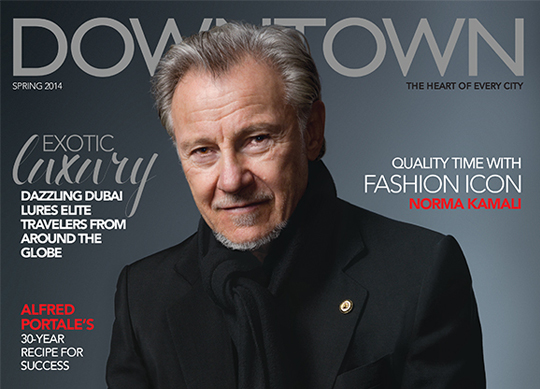 DOWNTOWN's Spring 2014 issue is out! Here is an overview of all the great stories and information available to you in the Spring 2014 of DOWNTOWN Magazine. Make sure to look for us on newsstands throughout the city.
COVER STORY
HARVEY KEITEL New York's Finest. By Mike Hammer. Photographs by Leslie Hassler
INSIGHTS
REWIND. Tammany Hall: Bringing Down The Boss
VISIONARY. Larry Silverstein: A Man With a View
DEVELOPMENT. Downtown's New Diversity
INNOVATION. Is Downtown the New Silicon Valley?
CULTURE CODE
TALENT. The Blacklist's Diego Klattenhoff.
I'M TAWKIN'. Good Day New York Anchor Greg Kelly
PASSPORT
DOWNTOWN ON. Dubai
TRAVEL. Amazing Anguilla
STYLE VAULT
WHITE FASHION. Let There Be Light
TIME PIECES. Real Time with Million Dollar Listing Stars
BEAUTY. Iluminate Your Eyes
BEAUTY. Put Your Best Face Forward
GROOMING. The Art Of Saving Face
FITNESS. Let's Take This Outside
PROFILE. Face-To-Face With The First Lady Of New York Fashion Norma Kamali.
LITTLE APPLE
KIDS FASHION. Spring Essentials
FAMILY FOCUS. Dishing With Downtown Moms: Tracy Anderson
DT PARENTING. The Top Five Reasons It's Great To Be A Downtown Parent
BARCLAY'S SPOT. A Dog Eye View Of Downtown
CITY BITES
CHEF PROFILE. Alfred Portale: The Architect Of Fine Dining