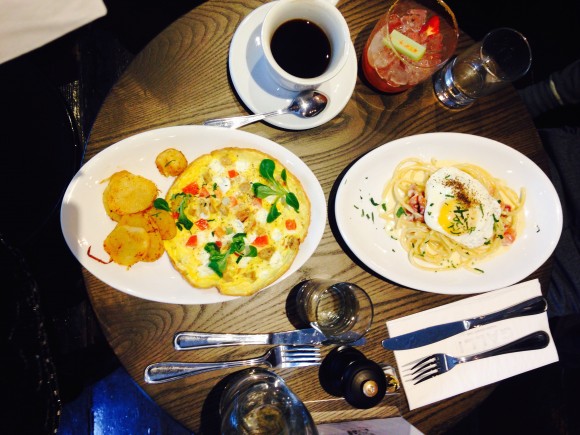 Situated in the heart of Lower East Side's restaurant and nightlife scene, Galli launched its second restaurant outside its Soho origins.
Walking in, Galli's curtain opens up to a dimly lit interior that is both intimate in space and modern in style.  Down below is a lower level that is dark and candle lit, giving the aura of an underground night lounge.
Here, Galli has introduced its new Italian breakfast menu that incorporates the Gallo family's Sicilian recipes passed down through generations. Having the Breakfast Bucatini off the menu, a pasta concoction thrown into a fusion of creamy Romano cheese, bacon, and topped with a fried egg, brings to mind the phrase, "short and sweet." Accompanying it was one of Galli's cocktails, the Mad Mary, a Bloody Mary with serious kick, or, if you want to head in a more gentle direction, try the tequila-infused Lili's Curves.
Galli began its life ensconced in the art, fashion, and shopping scenes of Soho, but has expanded into the trendy world of downtown's Lower East Side, a thriving area of underground music, and the never ending atmospheric scene of its nightlife. Galli has proven to be a lively addition to Rivington Street and the downtown food scene.
Galli can be found at 98 Rivington Street, New York, NY 10002. Visit their website for more information.
– by Anthony Bui