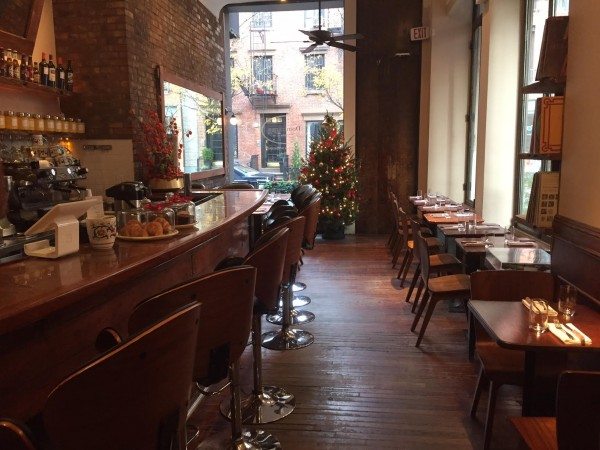 If you're looking for a delicious taste of Paris, you can avoid the airport strip search with a short jaunt to the Dominique Bistro in the heart of Greenwich Village.
Nestled in one of the most charming and historic corners of the city at the corner of Gay and Christopher Streets, this charming French Bistro successfully blends old world charm with equally traditional and sterling treatments of exquisite French cuisine.
A walk through the impressively carved and massive front door, transports you to a romantic world of antique design and welcoming warmth.
The floor to ceiling windows offer an eye watering view of the beautiful vintage New York neighborhood that surrounds you and offers a welcome backdrop to the French environment that envelops you inside.
Our hostess, Christelle extended a kind welcome as she affably explained the menu and the extensive wine list.
A delicious order of expertly prepared PEI Mussels with succulent cherry tomatoes and flavored with saffron and fennel started off what was to be an unparalleled dining experience.
My companion was dazzled by a uniquely and deliciously prepared scallop dish brought to life with a truffle potato puree with smoked lardon.
My Beef Bourguignon was perfectly braised with carrots, onions, mushrooms, potatoes and a delectable red wine demi that left it both seamlessly traditional and uncommonly special.
The meal was topped off with an amazingly delectable and opulent chocolate soufflé served hot with ice cream that was so rich and delicious it was almost criminal.
Head Chef Dominick Pepe curated the rich menu to "showcase the artisanal history of French food."
He has exceeded his goals.
The restaurant also features a downstairs bistro featuring a more bistro-like, but equally as engaging and possibly more electric environment with live music performances.
Dominique Bistro has embraced its French origins and therefore become a New York gem not to be missed.
For more information, go to http://www.dominiquebistro.nyc/