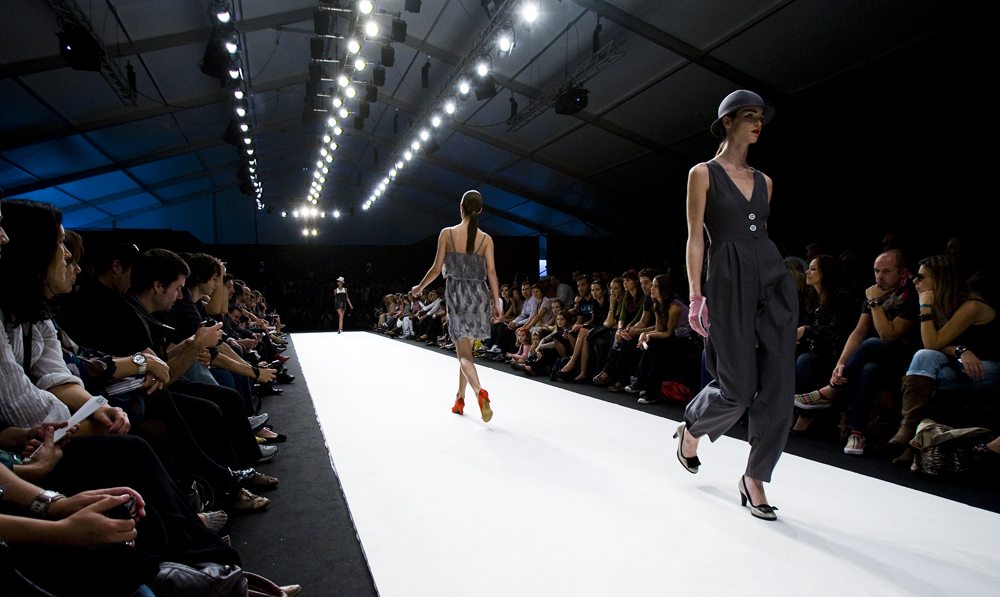 If you noticed any hysterical fashion designers, overworked photographers, or sleepy-eyed, gazelle-legged Scandinavian beauties lugging suitcases full of clothes and lighting equipment frantically up and down the city during the past few days, then you know Fashion Week is in full swing. Sunday marked day four of the iconic industry showcase, and there was a lot to see. David Beckham could be spotted front and center at Victoria Beckham's runway show, which flaunted vibrant colors and a beachy, "endless summer" vibe. Meanwhile, at the Skylight at Moynihan Station, Public School put on a streetwise, savvy, urban-nomad show.
Backstage at Diane von Furstenberg, a rockstar cast of supermodels enjoyed getting their hair done and their lashes dusted with a shimmery blue powder. Overall, the collection evoked von Furstenberg's own classic style of the 60's and 70's; an unexpected but thoroughly brilliant maneuver from the designer, who built her name on defining metropolitan sophistication. Celebrity models who came to sport her designs on the runway included Gigi and Bella Hadid, Karlie Kloss, Jourdan Dunn, Lily Aldridge and Kendall Jenner. An equally star-studded list of attendees sat front row for the show, including Kate Upton and Karolina Kurkova. The collection featured bold prints, breezy fabrics, and flowers in every model's flowing tresses.
Fashion Week will continue through Thursday, with a much-anticipated finale showcase from Calvin Klein. If you're interested in brushing elbows with New York City's rich and famous, now is the time to keep an eye out. Just be careful not to get stomped on by any frenzied fashion workers with short fuses and their scissors out.
-by Rachel Veroff