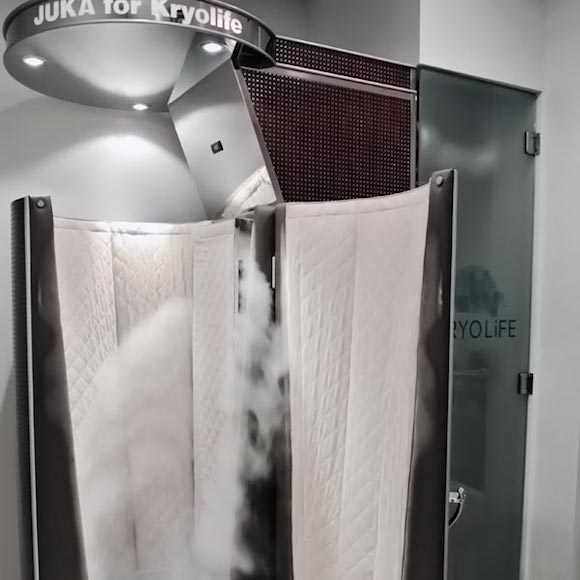 A KryoLife Cryosauna. Photo: Courtesy of KryoLife
Are your joints suffering from many years of tough workouts or from stomping around the city in shoes with minimal support? With the New York City Marathon less than 3 weeks away, runners might be looking for ways to incorporate extra TLC into their recovery program in order to get them ready for race day and this might be the perfect solution.
While ice has been proven in the past to lessen muscle tension and reduce inflammation typically caused by running, working out or injury, it is time for an upgrade…to cryotherapy. Cryotherapy is the use of low temperatures in medical therapy to treat a variety of benign and malignant tissue damage.
At the health and wellness company, KryoLife, cryotherapy is used to blast cold air to lower the client's skin surface temperature to 32 degrees Fahrenheit for 2-3 minutes. After about three minutes, the skin will react to the cold and send a message to the brain that acts as a stimulant to the regulatory functions of the body. The exposure to the extreme temperatures triggers the release of anti-inflammatory molecules and endorphins.
Clients step into an open-topped cryosauna where they're briefly enveloped by cold air. The technology lowers the temperatures inside the sauna to between -184˚F and -292˚F for a painless and refreshing treatment.
Whole body cryotherapy was invented in Japan in the 1970s and many European physicians and medical professionals further developed the therapy. Well-known celebrities and athletes, including NFL and NBA players, use whole body cryotherapy to ease their muscles and enhance their performance.
For more information check out their website and get your body cooled off today!
-Lauren Price