The Chuck Braman Vibraphone Quartet kicked off this past weekend with a free concert on the Hudson River featuring Chuck Braman on drums, Behn Gillece on vibraphone, Paul Bollenback on guitar, and Matt Clohesy on bass. The concert began at 7 pm and continued until 9 pm.
Originally intending to perform a guitar quartet, last minute changes lead to a vibraphone quartet performance.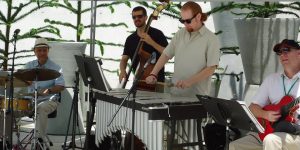 This event was organized by the Hudson River Park team as a part of their Summer Fun event.
Concert-goers were encouraged to bring a blanket so they could sit on the grass and enjoy soulful jazz as well as a view of the city while enjoying the sunset.
Chuck Braman is a jazz musician based in New York City. As a drummer and a bandleader, Braman can be found in a jazz club with his core band or performing in a summer series with his guitar trio/quartet, trumpet-tenor saxophone quintet, saxophone quartet, vibraphone quartet, or even his piano trio. With different members in each series, Braman aims to represent and recreate all aspects of music he loves.
Guitar Trio/Quartet
With either one or two guitarists, this band pays tribute to Braman's favorite jazz composers of the 1940s through 1970s. This quartet pays tribute to the compositions of Thelonious Monk by performing his pieces. Monk is known for his unorthodox approach to the piano. Unlike his peers, Monk focused on improvisions and angular twists in his music. Though Monk's style was not recognized as art and garnered harsh criticism, the Chuck Braman Band reminds us of his artistic genius by playing his classic piano tunes in his guitar quartet.
Trumpet-Tenor Saxophone Quintet
Inspired by the compositions of trumpeter Kenny Dorham, this quintet brings back it's listeners to the height of Jazz music–the roaring 20's. The Chuck Braman Band also draws inspiration from Joe Henderson, a very well known saxophonist in the jazz community. Henderson's inspiration comes from a more modern jazz as opposed to Dorham, who embodied classical jazz. The Chuck Braman Band finds the middle ground for this combination by keeping the elements of classic jazz while adding on the modern twist.
Saxophone Quartet
This band consists of a saxophone and guitar. With Chris Bacas on the saxophone, Tom Guarna on the guitar, Thomson Kneedland on bass, and Chuck Braman on the drums, the music behind this is inspired by underground compositions from the 50's to the 70's. These pieces are known to be the more challenging pieces of composition. Unlike the other styles, this particular band explores a more "avant-garde" jazz, as explained on his website.
Vibraphone Trio/Quartet
This particular band focuses on a vibraphone either by itself or accompanied by a guitar. Much of this band is inspired by vibraphonist Gary Burton's performances of Steve Swallow, Michael Gibbs, Carla Bley, and many more. This band features Behn Gillece on the vibraphone, Nate Radley on the guitar. Matt Clohsey on bass, and Chuck Braman on drums.
"The common denominator between these compositions is that, to my ears, their melodies lend themselves to the sound of the vibraphone more so than any other instrument." –Chuck Braman 
Piano Trio
In this Piano Trio, the Chuck Braman Band focuses on pieces that are often overlooked and underperformed by jazz pianist Bill Evans and Brazilian composer Antonio Carlos Jobim. Unlike his other groups that have permanent performers, Braman performs these pieces with his favorite pianists who he previously worked with. Such performers including Gary Versace, Art Hirahara, and Adam Birnbaum.
Braman's series has already performed fifteen concerts this summer alone and has more to come. His quintet will be performing in Gantry Plaza State Park on Tuesday, August 21st hosted by Kupferberg Center for the Arts (KCA) at Queens College.
The Chuck Braman band also performs private events. For more bookings and more information, visit New York City Jazz Band. Be sure to follow him on Facebook for future performances, and also be sure to check out his website.