As this summer marks the 26th year for Bryant Park Movie Nights, New Yorkers gathered another Monday night to screen the classic The Wiz.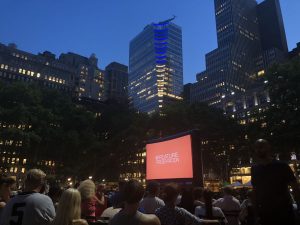 Hundreds of New Yorkers filled Bryant Park as many rushed to save their seat for the free viewing. Guests also made sure to get comfortable, as many brought their own snacks and blankets. For those who came unprepared, the park sells blankets at the Bryant Park Shop on the fountain terrace, as well as hosting a different variety food vendors such as Downeast Lobstah, Duck Season, Manousheh, Renegade Lemonade, Home Frites, Rip's Malt Shop, Manju, Breads Bakery, Oconomi, and Stax Ice Cream. The park also introduced adult beverages for the first time this year on the Upper Terrace behind the New York Public Library to enjoy either beer or wine for their legal guests.
Bryant Park's Movie Night is sponsored by Bank of America as a part of their open support for the arts, targeting to connect and enrich the lives of the public through film. This event is open to all, creating an inclusive environment for everyone. Guests are subjected to bag checks to ensure public safety.
The program originally started in 1993. Bryant Park partnered up with HBO to screen free films of the public. Since opening with the Movie A Streetcar Named Desire, the park has continued to entertain New Yorkers every summer with cult classics.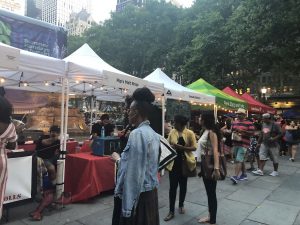 The summer was kicked off with The Breakfast Club, then screening The Phillidalphia Story, A League of their Own, Little Miss Sunshine, Fried Green Tomatoes, The Princess Bride, When Harry Met Sally and The Wiz.
With only two more Mondays left of the 2018 Bryant Park Movie Nights, they are scheduled to screen Thelma and Louise on the 13th, and The Terminator on the 20th.
Want more? Check out more summer fun that Downtown New York has in store for you!