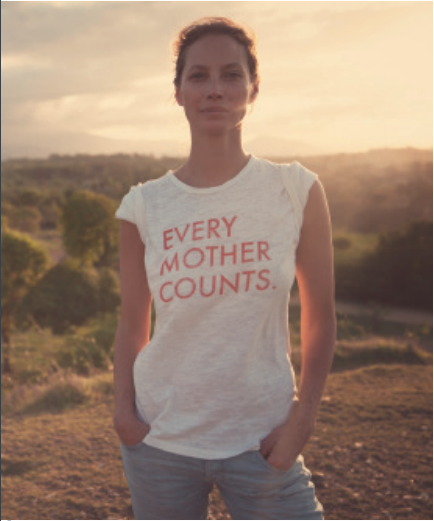 This article was published in a previous issue of Downtown Magazine
CHRISTY TURLINGTON IS BEST KNOWN for her modeling career but has also been engaged in activism since the '80s. A medical emergency during childbirth started a crusade to help the half a million women each year who die from pregnancy and childbirth-related complications. This included returning to school to obtain a master's degree in Public Health, directing a documentary, entitled No Woman, No Cry, and founding the nonprofit Every Mother Counts in 2010.
Downtown: What was the impetus to start Every Mother Counts?
Christy Turlington: I endured a pregnancy-related complication after giving birth to my daughter, Grace, in 2003. After a smooth pregnancy with plenty of options and lots of support, I experienced a painful procedure to remove my retained placenta, which resulted in a hemorrhage. I was shocked to learn that hundreds of thousands of women and girls were dying every year from pregnancy and childbirth-related complications, simply because women did not have access to skilled providers and basic emergency obstetric services that could save their lives.
DT: You say that the rate of women who die each year in the United States has nearly doubled. How can this be and why?
CT: When I first launched No Woman, No Cry, the United States ranked 41st in the world in maternal mortality, and today it ranks 46th. The US is the only industrialized country with a rising maternal mortality rate. One issue that I have been highlighting since our first film is the racial disparities in this country and the ways racism affects the health of our women of color. In the US, a black woman is 3-4 times more likely to die from complications of pregnancy and childbirth compared to a white woman. In NYC, a black woman is up to 12 times more likely to die from complications related to pregnancy or childbirth! This is outrageous and unacceptable.
DT: How has EMC grown since its inception?
CT: We started as an awareness campaign with two people and a documentary film. Today, we are a team of 12. We have raised nearly 25 million dollars over the last nine years, have produced more than 22 films, and support 11 grantee partners in six countries: Bangladesh, Haiti, Guatemala, India, Tanzania, and the United States. We have inspired policymakers and have helped shape legislation. Our storytelling has played a substantial role in elevating the issue globally and nationally, and continues to do so with an ongoing documentary film series called Giving Birth in America. The global estimates of maternal mortality have dropped significantly during this past decade, from 530,000 to 303,000. Still, the great majority of global maternal deaths are preventable, so we have a lot more work to do.
DT: What have been your biggest roadblocks?
CT: The biggest challenge for me, personally, has been growing the organization. We have an ambitious mission for a huge issue. I want the organization to grow thoughtfully while continuing to be as agile and responsive as we have been since we started. I have learned a lot over the last ten years and have built an incredible global network of allies and supporters and have a really solid team in place. I see challenges as lessons and have learned time and time again that when things get tough, there is a worthwhile lesson on the other side of it. I have to trust that pain is part of the process to create meaningful change.
DT: What can readers do to help EMC?
CT: I want people, whenever possible, to demand better, more respectful maternity care and a full range of birth options to choose from. I want more women and families to be prepared when they enter parenthood because this will help ensure good health before, during, and after childbirth. I want others to join the Every Mother Counts community to become a part of the solution. Individuals can run a race to raise awareness and funds for improved access to maternity care, purchase products that benefit programs we support around the world, or advocate for policies that improve access to care and advance models of care that are proven to lead to better birth outcomes. DT everymothercounts.org