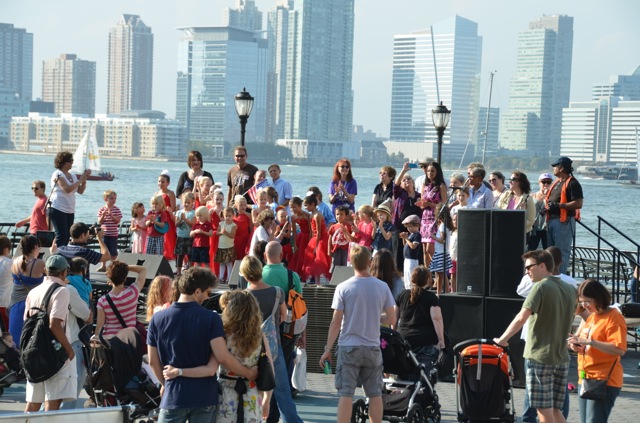 On Saturday September 27th from 11:30am to 4:30pm, head out to the Battery Park City Block Party. Located at the North Cove Boat Marina, it is sure to be a beautiful day full of fun with friends and family.
Get to know the area referred to as the "best small town" in New York City by checking out all the local businesses at the block party. Vendors will include local restaurants and markets, activities for children, activities for pets and a recycling event.
On the main stage throughout the day there will be live music and dance, a pet parade and numerous demonstrations. If you head over to the marina welcome table, purchase a ticket for a 45 minute ride on the Big Toot.  Tickets are just $5 and all proceeds go to the WOUNDED WARRIORS association. Board the Arabella and hang out during the hours of the block party and enjoy a cash bar on board.
All day your kids can enjoy arts and crafts and at 2:45 they can compete in a build-your-own scarecrow contest. Prizes will be awarded at the end of the day. If you would like to help your community raise money for Wounded Warriors local chapter, bring some baked cookies, loaves or brownies to be sold at the BPC KIDS TABLE next to the Welcome Table. Drop off your baked goods by 11:00 am and enjoy the rest of your day at the block party.
Stop by DOWNTOWN's table at the Battery Park City Block Party to check out the friendly faces of our magazine. We will have fun activities and surprises that everybody will be sure to love. See you there!
-Lauren Price