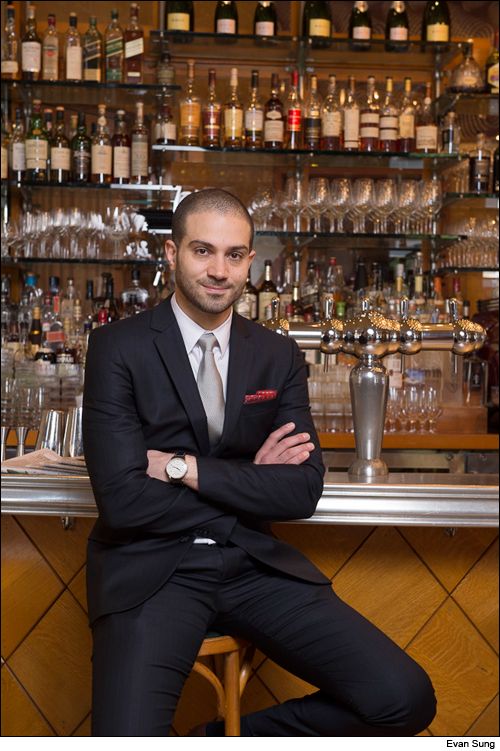 Sommelier Aviram Turgeman's work can be seen, tasted and savored all around Manhattan. As the Beverage Director of the Chef Driven Group – which includes Nice Matin, Barbounia, The Pavilion, Cafe d'Alsace, Marseille, Nizza and Five Napkin Burger among its restaurants – Aviram is not only responsible for crafting drink menus, but keeping them interesting and contemporary. He is also a partner in a number of these establishments.
Aviram kindly tackled some Q&A for Downtown, clarifying some of the finer details about life as a top New York City sommelier. Within such, he also opened up about his favorite non-Chef Driven establishment to enjoy a cocktail at. His two most recently-designed menus can be experienced at modern Spanish tavern Tasca Chino (245 Park Avenue South) and the California-inspired Playa Betty's (320 Amsterdam Avenue).
For those seeking to know more about him beyond his Chef Driven responsibilities, Aviram can be followed on Twitter under the handle @AviramTurgeman.
When did you realize that you were destined for a career within the management side of hospitality?
Aviram Turgeman: When I was in my teens, bartending in a cool restaurant overlooking the old city in Jerusalem, Israel.
What was the first restaurant in New York that you worked with?
A: The World Café on 69th and Columbus, which doesn't exist anymore.
Did someone mentor you in order for you to become a sommelier?
A: I took inspiration from Guy Goldstein, my predecessor, as well as lots of self-teaching and reading.
As you're originally from Israel, I figured I'd ask if a sommelier does exactly the same things everywhere in the world. Or are there regional differences to what a sommelier may do and be required to know?
A: The sommelier, above everything else, is a host. Knowledge can always be improved, as there is always something to learn in this dynamic industry. A sommelier should be a people's person, who makes everyone comfortable asking for his or her advice, regardless of where in the world. We should always start from the classics and benchmarks, but also follow new trends.
What is the biggest challenge of your job? Is it finding the time to visit all of the establishments that you oversee beverages for?
A: There is time for everything if you have a good team around you that is reliable, and you can count on for proper execution, because you can't be everywhere all the time. So it really takes a group of people with passion to spread the love!
Do you feel that there are any misconceptions about what you do professionally?
A: Yes, people think that I eat and taste good wine all day, as well as make delicious new cocktails, which is partially-true. This is really the fun part. The other part of looking at numbers and following up with multiple restaurants is the more challenging part. I also receive hundreds of e-mails a day, and try to be really good about replying to them all.
Has there been a movie, TV show or book that you feel accurately portrayed the life of a sommelier?
A: There are so many that highlight different aspects. Somm, the movie, was fun to watch and highlighted the educational part, for the most part, rather than the day to day routine in the restaurant. The Secrets Of The Sommeliers book was very educational as well.
For you, is being a sommelier the end game? Or are there aspirations to eventually have your own products and/or establishments?
A: I am a restaurateur above all, and already am a partner in a few of our establishments at our group. However, I am planning on opening a more wine-focused concept very soon, so please stay tuned.
Have you ever been wowed by a wine that other people refer to as "two buck chuck?" 
A: I do try to find good values all the time, and my goal is to find wines that taste better than they actually cost.
Word is that the bar prep at Tasca Chino takes longer for you than it does with other establishments. Why is that?  
A: Because we have a colorful and interesting cocktail program that demands more time. We have three different sangrias, house-made flavored syrups, foams, and many fun garnishes that are based on fresh fruits and herbs for the most part. The cocktail program at Playa Betty's is also very demanding, and it takes just as long to set up the bar.
How do you usually find out about new beverages? Word of mouth? Publications?
A: Both. I always speak to colleagues in the industry, and have multiple subscriptions to magazines as well as online.
Other than the Chef Driven Group establishments, what is your favorite bar to have a drink at?
A: Sweetwater Social on Bleecker and Broadway (643 Broadway). Mixologist Tim Cooper is uber-talented and his cocktails are creative, delicious, and look great too.
What is your personal drink of choice?
A: Champagne or a pilsner.
When you're not busy with your work, how do you like to spend your free time?
A: I like to cook, drink old French wine, and watch the European Soccer Champions League.
Finally, Aviram, any last words for the kids?
A: Be humble and open-minded, never say never. There is always something new to learn from the veterans that have been around the block. Always strive for perfection, so the results end up excellent, as nobody is perfect.
-by Darren Paltrowitz