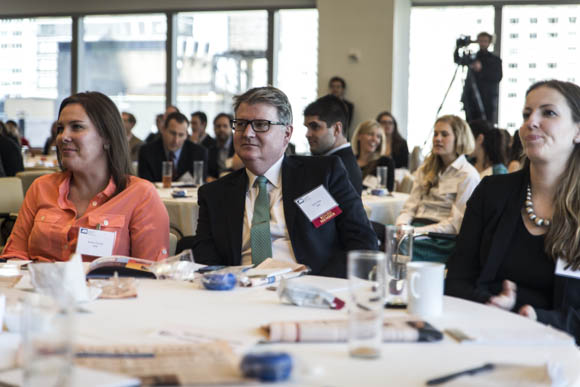 [slideshow_deploy id='45565′]
You might not be able to deduce exactly what happened last Thursday morning in the 10th Annual Global Marketing Summit unless you're a sterling mathemetician, but let's see if you can pass a quick test: If you multiply three panels by five panelists, you may think you get just 15 speakers, right?
Actually, the answer is that you get so much more! What you really adds up to is a stimulating glimpse at the future of marketing and online communication.
The Time Warner Center hosted an annual summit that brings together some of the top professionals in the international advertising community. This year's focus was "Finding The Right Balance Between Man, Money, Media And Machine."
"It's an exciting time for all of us in communications," said Amanda Rubin, Managing Director, Brand And Digital Strategy of Goldman Sachs.
Professionals from various industries gathered to discuss best practices, issues and challenges. Representatives of American Express, MasterCard, Goldman Sachs and among 250 others were in attendance.
"There are five computing devices for every person on Earth," said Paul Donato, Executive Vice President and Chief Research Officer of Nielsen Holdings N.V.. "In the end it's all about the user interface."
The Global Marketing Summit 2014 was presented by the International Advertising Association New York Chapter and sponsored by Financial Times and The Washington Post.
IAA's next stop will be a new Luncheon Series event on May 9th at the Princeton Club, with Barbara J. Basney, Vice President of Global Advertising Xerox, as your main speaker. You can register here
– Xavi Ocaña.