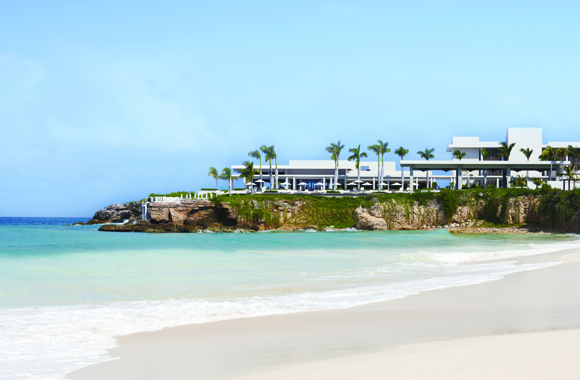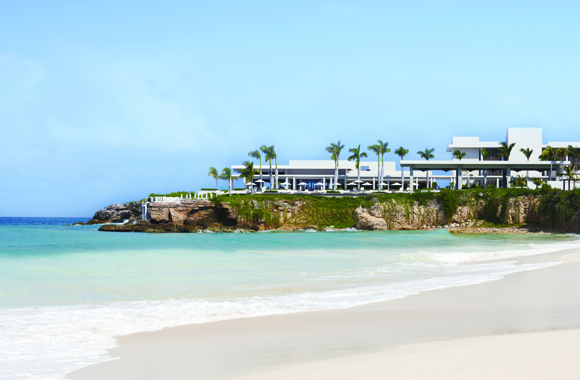 ALL-STAR ACCOMMODATION, FIVE-STAR FOOD AND UNPARALLELED NATURAL BEAUTY ARE JUST A SHORT FLIGHT AWAY IN THIS UNDERSTATED JEWEL OF THE CARIBBEAN
BY KATIE MCELVEEN
Nobody will confirm it, but there's a rumor that Lady Gaga recently stayed in the house—the aptly named Ultimacy Villa—where we're currently having lunch. It's easy to see why. Located off an unmarked road near Shoal Bay East, the excruciatingly private, star-worthy villa has eight bedrooms, ten bathrooms, three kitchens, a gym with two treadmills and a full-time staff that includes a butler, a security team and a housekeeper. Although there's no beach—the home is perched on a rocky bluff overlooking the endless blue sea (and Michael Dell's manse)—the stunning pool and tiled pavilion more than make up for it.
Lady Gaga isn't the only celebrity who's been spotted on Anguilla, a diminutive isle located just a few miles, yet a world away, from bustling St. Maarten. Islanders report regular sightings of A-listers like Uma Thurman, Paul McCartney, Michael Jordan and Beyoncé. "They come because they know no one will bother them," says our boat captain as he takes us past a villa where Denzel Washington may or may not have stayed. "We're pretty laid back."
And why shouldn't they be? Rimmed with billowy pale-pink sand lapped by evanescent turquoise water, Anguilla is a star in its own right, as beautiful as any island and as tranquil as a daydream. You could spend all your island time listening to the waves, snorkeling, sailing or just walking along the beach. Or you could do as we did and eat your way through the island. Continues…
Anguilla is the highlighted Passport location of DOWNTOWN's Spring 2014. You can find more on what Anguilla has to offer in our latest issue on newsstands now!