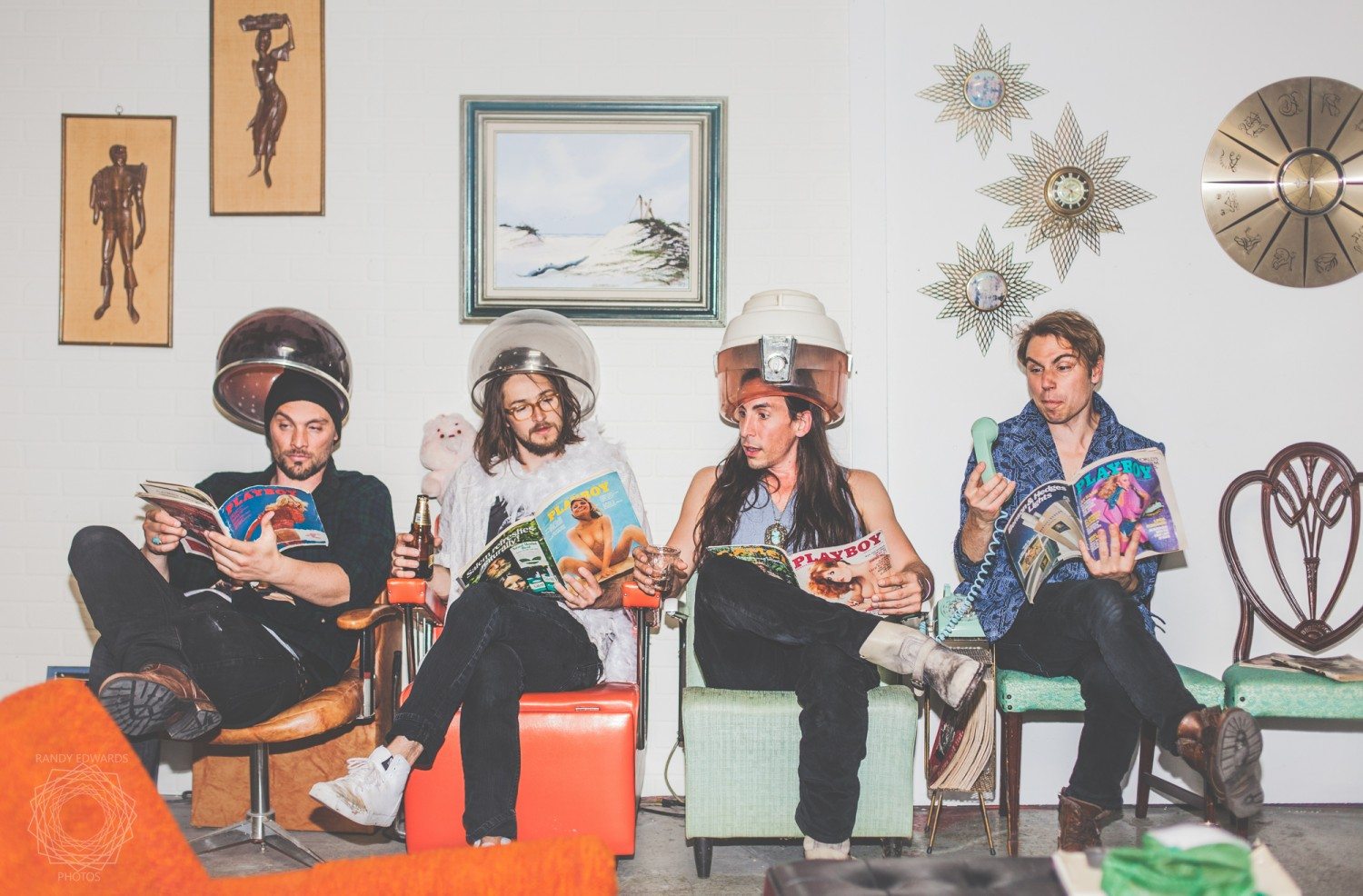 Alternative rock group, Vinyette, is playing B.B. King Blues Club & Grill tonight at 10 p.m. The group recently completed a world tour hitting art hubs like Colorado, Germany and the Netherlands—and their New York show will be one of the final three opportunities to catch them this summer.
Vinyette originated in Brooklyn in 2008 and has since released album Every Little Mouse Run, single, "Just to Get Away," and shot three music videos.
Guitarist, Danny Monico, who has been with the band since its inception, produced all three videos through his company, Scoundrel Films. Monico's close involvement in crafting the group's cinematic presence has made establishing a brand and connecting with fans unchallenging.
Vinyette puts on high-energy performances and focuses on the fluidity of their sound, rather than the structure of a set list. Expect to hear them jam, interchange between covers and original music and even sample demos.
Monico shared his primary goal for the group to establish a sound that is reminiscent, but contemporary. According to him, Vinyette has been recording tracks that are more indie grunge than alternative, and have hints of funk.
Monico also gave us his take on the cultural differences between touring in Europe versus the United States, Vinyette's go-to downtown venue—Arlene's Grocery, and his experience writing, producing and starring in the music video for "Twenty Dollar Doctor" 24 hours before Hurricane Sandy hit New York.
You can get tickets for their show at B.B. King here.
Downtown had the opportunity to speak to Monico about this group:
Is Vinyette Brooklyn or Manhattan-based?
We're both. All of us live in Brooklyn nowadays—we still practice in New York, so I would say that we're New York-based…I think we use Brooklyn as a motivating factor to put ourselves out there.
What is your favorite venue to play at in New York?
I think Arlene's is just sort of dirty and ditchy…and they have lighting, they have their own beer. There's a certain vibe there that sort of makes us get weird. We feel comfortable really getting up there and kind of just going nuts—there's something about that place.
You just finished a tour in Europe, and played several shows in Germany—how was that?
I think all of us had been to Europe, but it was our first tour there. It was awesome, it was incredible. It put some things into perspective. You don't really know what touring is until you do eight shows in a row and you know what that's like. It's cool because you can just hear the music evolve…you kind of let your guard down a little more, and are a little more loose when you're on the road. You have fun with it, and keep things in a groove. In New York, all the shows are 40 minutes and out—it's a great difference. In Europe we would have two hour sets sometimes…we would just play everything…we would jam on the spot, go from an original song to a cover song. But yeah, Germany is really cool. I love that country a lot. We went to Italy, the Czech Republic and Austria. Looking back on it now, it was very, very, very cool.
What was the process like creating Every Little Mouse Run?
We had lost our second guitarist…who actually was 90% deaf, but could play the guitar like Eric Clapton. He was quite a virtuoso, so our sound sort of changed when he left, so we had to make ourselves a little more groovy, more funky. We sort of embraced the weird…we had to embrace that identity and it took us about two years to get the right record and tour with the album…it was fun but it feels like ages ago now.
You shot three music videos of songs from the album—how was that experience?
They were all amazing. I would say that "Twenty Dollar Doctor" was more fun for me because that's sort of what I do during the day. I'm a film director and that was the first project that I had written and produced and gotten people together and got people on set for…and shot it in one day. It was actually right before Sandy hit. We filmed it in a house all in one day the day before, and then the power went out—it was crazy. "Tattoo Crazy" was amazing too, because we went up to Cape Cod for the weekend and shot a bunch of stuff, hung out, played music, drank a bunch of beers, and we had a concept in mind in the beginning of "Should we set a story line and focus just on cinematic stuff?" Music videos are fun but they're a lot of work though if you care about it…I kind of like the way music videos are stories. I remember the music videos from the 90s and shit like that.
Which took longer—reshooting scenes or editing footage after the shoot?
We shot everything in one day and then I edited it in three days. It kind of helped because when Sandy hit I couldn't leave my apartment, so the only thing I worked on was our music video. But we didn't have to do any other shooting or anything like that. We did everything in one day, and for "Tattoo Crazy," that's what we went up to Cape Code for.
What subgenre of rock is Vinyette?
Alternative? I don't know—I hate that, but it makes some sense. I would say alternative, maybe like indie grunge, or I don't know—alternative if you want to put a more familiar category to it. I just think we're weird. We're not like rock, there's a little funk in there as well. We got a new bassist after Every Little Mouse Run—Marc Ligenza, and we sort of shifted our focus from rock funk, to indie grunge—a little more fun, a little more acceptable.
Who are your musical influences? Personally? As a group?
I would say in general, we definitely listen to the classics—we're all over the place. I swear to God our radio when we go on tour—there's stuff from Killer Mike and Tupac, and then to Pink Floyd and Nirvana…The Pixies, Smashing Pumpkins and stuff like that. We sort of grab from all over…what bothers me is that so much sounds the same today, and I think we're always trying to push to have that reminiscent sound, but somehow its new…like what Amy Winehouse did—she did an amazing job of having that soulful voice but she made it her own too, and it just blew everyone out of the water. So, yeah—we like to stay weird.
What's the story behind the band name Vinyette?
I studied film at UMass, and when I graduated I met the drummer John Crowley and I was sort of just obsessed with effects. There is an effect in film called vignette, and I love that name, so I looked up the definition of it. It's basically just a series of realistic pieces of life—a small series of windows into reality, like a comic strip sort of. I think that that's a really interesting term for music, because the way I listen to music—sometimes I'll see it. Certain songs, certain bands will put me in certain moods and that's I want to do with Vinyette. I want to bring people to a memory or something that they've never thought of as well, just to provide prospective. When I told John about the name—I described it to him, we were at his apartment and he was like "Dude that's so weird," and I was like "Why?" and he pulled out a handwritten letter that he had gotten from his grandmother and it was titled The Vignette. We were like "That's karma, okay, thank you" and we stuck with it since. It's funny, I look back at it now and I'm like, "It sounds so pretentious"…so we had to get swanky with it and we changed the "g" to a "y" for some reason. I don't know why but we did. I looked up the name to see who had it, and it was a bunch of women that had been missing and were named "Vignette," spelt the traditional way with a "g," and it tripped me out—I was like no I don't want to use anyone's name, lets change it. I think a "y" will work in there. We've had some really funny readings of the name while touring when people read it aloud.
Finally, what does the future look like for Vinyette?
We have so much because we did the tour of the Midwest a couple of months ago. We just have a lot of things we want to finish up and continue writing. I think we're probably going towards the "Just to get away" phase of the sound, with a little more of a grungy feel—but definitely that mix between the two. We're trying to take our time and make sure we get it right. If it requires a little bit more time to do then I think it's worth it in the end. We have a couple of shows lined up for after our B.B. King Show as well. One is in Saratoga and one is in Providence, RI. Other than that we're going to be writing, we're going to be chipping away. We want to give ourselves a couple of months to gear up and record an album. We're always recording stuff, too. We just recorded some stuff in the studio…we released that as a demo. Just trying to keep busy, keep productive.
-by Katie Garry
Leave a comment